Comiket Special is held only once every five years, and the opening for Comiket Special 6 draws near. In recent years, Japan's national broadcasting company NHK and automobile manufacturer Toyota have approached otaku culture by exhibiting at Comic Market. This time, the professional soccer club Kawasaki Frontale (hereafter referred to as Frontale), will exhibit at the Comiket Special as Team Kawasaki.
If We Do This, We Do It All The Way
Frontale is a Division 1 club in the J-League, Japan's professional soccer league. Two of Frontale's members, Yoshito Okubo and Kengo Nakamura, also played for Japan's national team in the World Cup. This team is very strong, and last year they competed in the AFC Champions League, where high-level professional leagues from various Asian countries battle it out.
Frontale is currently working together with the tourism association of Kawasaki, their hometown, and the doujinshi printer Neko no Shippo, which is also based in the same city. On Neko no Shippo's suggestion, Kawasaki's original character, Kawasaki Maruko, was created to liven up the city. Various teams have tried collaborating with anime. However, Frontale is the first in the J-League to create their own original bishoujo character.
Frontale's merchandising director, Mr. Tamura, explained that, "Frontale is always thinking about ways to bring happiness to Kawasaki's people in order to support the idea of a close community. Since the collaboration is with Neko no Shippo, a company also in Kawasaki, there is a strong mutual understanding between the groups. We follow the idea that if we do something, we do it all the way, so we are very particular about our merchandise."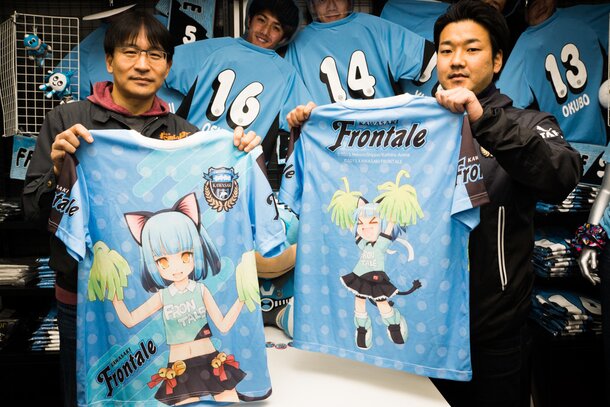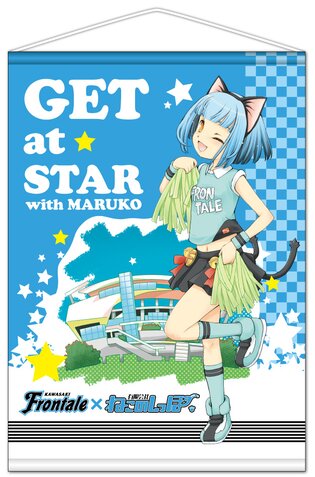 When the original character Kawasaki Maruko was completed, the enthusiasm was visible among the Frontale staff, who go by the motto "If we do this, we do it all the way."
"Corporations exhibiting and selling doujinshi at Comiket is no different than circle participants doing the same thing. There was talk that, though Team Kawasaki would be participating this time, only selling items they already have is a little boring," said Mr. Uchida, the managing director for Neko no Shippo, while thinking back to the start of the project. "We wanted something for the event, so we requested a manga artist named Keitaro Arima, who is close to our company, to create an illustration. Mr. Arima used to live in Kawasaki, and he would often walk or bike to our company."
Players Who Participated in the World Cup Also Give Their Support
Frontale's community-based approach is something that is also wished for by their members. Okubo, who is known for his enthusiastic fighting spirit while playing matches, became a topic of conversation by wearing the new moe uniform printed with an illustration of Kawasaki Maruko.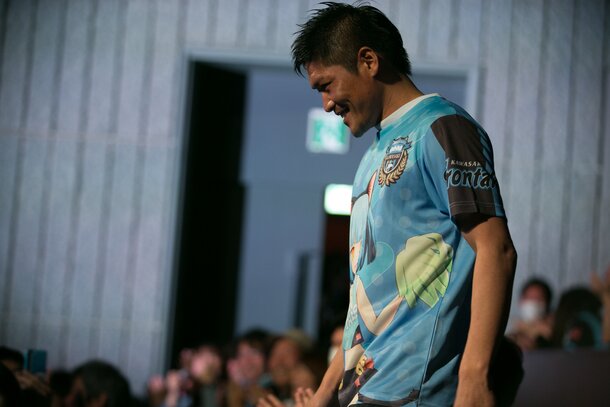 "Honestly, I was surprised. Okubo doesn't have the image of being related to anime or things like that, but unexpectedly, he was in high spirits and paid attention to being well dressed," an astonished Tamura revealed. "It is the third year since he was transferred to the team, and I think Okubo understands what kind of team Frontale is. I asked Okubo to wear the Maruko T-shirt at the conference announcing upcoming plans for the team, where it would also be announced that Frontale would appear at Comiket. I gingerly hid the shirt behind my back when I entered the waiting room and explained the plan to Okubo. And then, he willingly agreed by saying, 'If it's interesting, I'll do it.'"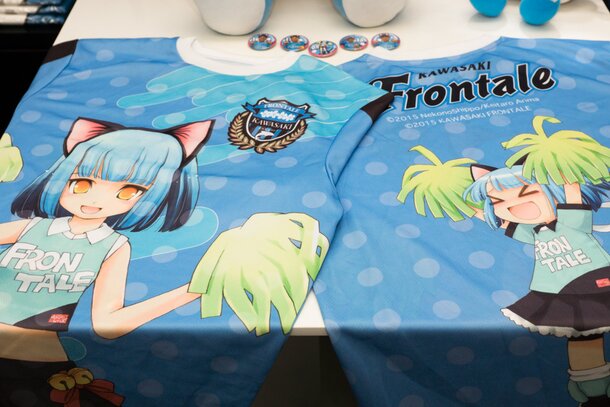 Reactions to the newly unveiled Kawasaki Maruko are already appearing. People are uploading illustrations on the web saying, "I drew Maruko," and other comments like, "On the day of Comiket, I will cosplay as Maruko." For the same project, aside from the T-shirts, tin badges featuring the soccer players with cat ears have also been produced.
"Just because we wanted an item with the players, the idea for the tin badges was born. And for the sake of this project, we asked the players to put on cat ears… Since Frontale's players are habitually requested to do a variety of things, the athletes understood the club's activities and willingly cooperated."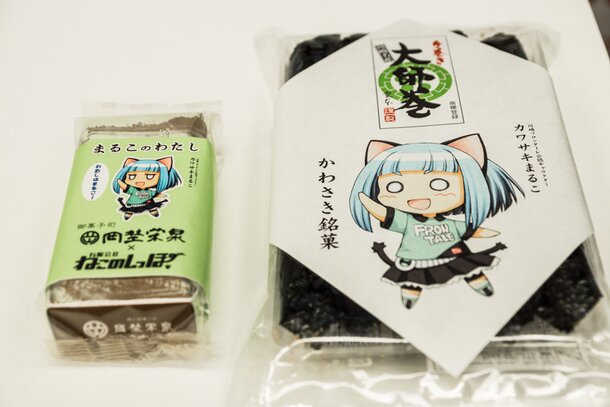 This time, Frontale's efforts include many different ideas. Tamura has his sights set on both the J-League and all of Japan: "I hope that through this upcoming Comiket, we can create new connections. I also wish that other teams take on new challenges and combine other things with sports to forge new connections for the J-League as a whole. For each locale to get on board would be great. We are a club that manages professional soccer teams. Using this opportunity, we hope to draw people to our games."
Comiket Special 6 will be held on March 28 and 29. This successful initiative and unique collaboration by Team Kawasaki to combine soccer with otaku culture is sure to not only catch the eyes of many visitors, but the eyes of corporations and industries as well.
This is a Tokyo Otaku Mode original article.