Elastic hugging the skin. And the plumpness of the thigh that gently overflows. It's called zettai ryoiki or "absolute zone," and men's fascination with it is unceasing. Zettai ryoiki created by knee-high socks are a common staple in anime, and it is already becoming a standard for moe icons as well.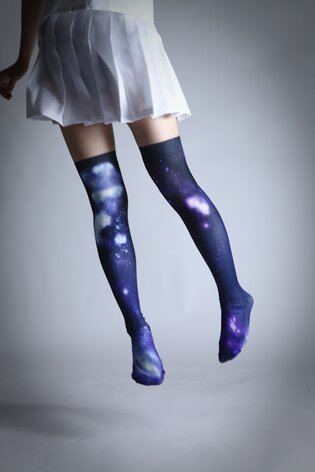 Why are knee-high socks loved so much? In search of the answer, we asked three people with an obsession for knee-high socks.
First up, it has been about a year since it began, and the Japan Knee-High Socks Association (Kneesocks Project for short) renewed its site recently, making it even more cute. What kind of person is the chairman, who loves knee-high socks so much he created a project around them? To find out, we talked with Chairman Mitsuhashi.
––Please tell us about the Kneesocks Project.
We are working to propagate the "cuteness" of girls wearing knee-high socks and to appeal to even more people on the charms of knee-high socks. Basically, we publish photos of models wearing knee-high socks and we hold events (public auditions, talk shows, etc.). We have also had the privilege of holding collaboration projects with the anime Bladedance of Elementalers and Beauties World Map. We currently have a little under 50 models. We have idols and models, "Uttemita" girls from Niconico Douga - everyone is unique.
––Why did you establish it?
Because I liked knee-high socks! But when I asked girls about knee-high socks, I received back many discouraged replies like, "They're embarrassing," and, "They're haughty," and, "They're cute, but not for someone my age…" That's when I established the Kneesocks Project with the goal of breaking down the barrier holding women back from wearing knee-high socks.
––In your opinion, Chairman Mitsuhashi, what are the charms of knee-high socks?
Knee-high socks are versatile items that match will all kinds of clothing. Moreover, girls who wear them look extremely cute! Of course, zettai ryoiki is also moe. Personally, I like best when a bit of thigh shows above the knee-high socks. Of course, a small amount of thigh is pretty too!
––What has been the response since opening the Kneesocks Project?
The day it opened, Nov. 1, so many people accessed the site, the server was about to burst. And the following day, we held an event at Shinjuku Loft Plus One, which was mostly packed. We held our second event in March, which I can thankfully say was a success.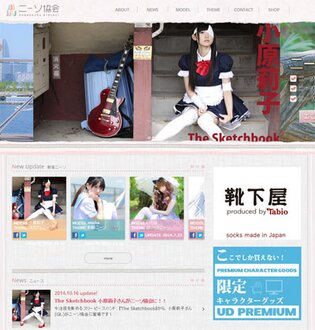 ––What kind of event is it?
There are public auditions and talk shows. For the public audition, we judged in advance one by one those who applied on Twitter, and on the day of the event we decided which girls will become Kneesocks Project models. For the talk shows, five or six Kneesocks Project models appeared on stage and talked about topics of various themes.
––Please tell us more about the public audition!
We received between 50-60 applications on Twitter. The girls who applied are truly a diverse bunch. There were underground idols, students, magazine models, gravure models, and even girls who have absolutely no experience in such areas. Of the roughly 10 people who made it past the first judging, three were chosen collectively for the People's Choice Award, Chairman Special Award, and the Cameraman Special Award.
––What do you look for in photos?
I want to convey the "cuteness of girls wearing knee-high socks." Of course, we also have other pictures that don't include knee-high socks as well.
On the flipside, I think a characteristic of the project is that there are pictures of knee-high socks only and close-ups of the zettai ryoiki. There are also photos of situations like taking off knee-high socks and putting them on, so the charms of girls wearing knee-high socks are able to be conveyed.
––Has anything good happened since you established the Kneesocks Project?
The first good thing was receiving an email that said, "Until now, I have had a complex about my legs and haven't been able to wear knee-high socks. But after learning about the Kneesocks Project, I'd like to try wearing them." It made me think, did my wish of wanting to break down that barrier when I established the project come true?
––Please share with us your three favorite knee-high socks!
The first are Kurumi Kohinata's knee-high socks. I think this is a photo that expresses a kind of situation in which the viewer feels "My eyes are uncontrollably drawn to it!" Another good aspect is that the very cute knee-high socks match the outfit!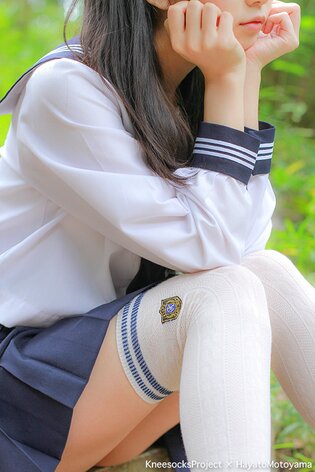 The second are Maamu's knee-high socks. Knee-high socks are cute by themselves too, but the act of putting them on is a moe focal point.
The third are Shimarisu Mashima's knee-high socks. Her knee-high socks are amazing, from, of course, everyday clothes, uniforms, and cosplay, to even loungewear. Loungewear knee-high socks are a definite must for the cold winter!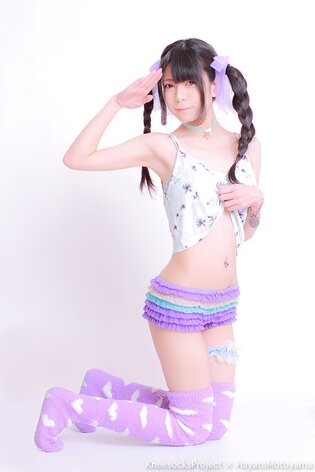 ––What are your plans from here on?
It's a standard, but I want to make a photo book. Other than that, we're thinking of expanding with Kneesocks Project original knee-high socks, garters, and other items, and we want to be able to implement collaborations with creators. There are projects we are already advancing on, so please look forward to them. Please continue to support knee-high socks and the Kneesocks Project!
At the same time Harajuku fashion is catching on to the point where "kawaii" is becoming common lingo, the Kneesocks Project is playing a huge role in dispersing the charms of knee-high socks online throughout the world. We invite those who are interested to check out the Kneesocks Project official site.
Source: Da Vinci NEWS
Source article written by Hashimoto Shoten, Yanagi Ao, Mihoko, and Tetsuya Yamamoto.