Touhou Project is the (nearly) one-man project of ZUN, the founder of the independent game group Team Shanghai Alice. Touhou features a lot of characters, but each one has a unique personality, which can be enjoyed through the conversations within the game.
In this article, we'll briefly introduce some of the major characters of Touhou Project. The large size of the Touhou universe makes it difficult to cover everything within this one article. However, there are numerous sites and blogs online featuring detailed information of the setting and characters, so if any character introduced here strikes your interest, we highly recommend that you search online to find out more about them.
Reimu Hakurei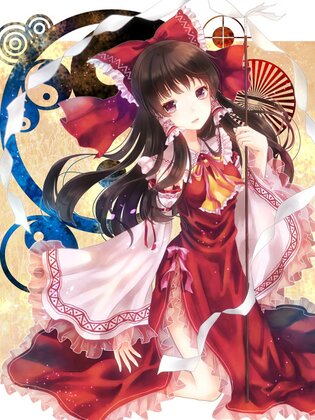 Reimu is a key person of Gensokyo, the setting of Touhou, and the protagonist of all of the games of the Touhou Project series, which came out for the PC-98 (a computer released by NEC) before games were developed for Windows.
She is a shaman who works at the Hakurei Shrine, and in order to solve the unusual incidents that threaten Gensokyo, she dons the red and white garb of a miko (shrine maiden) and engages in danmaku (barrage) battles with specters, ghosts, and even gods.
She doesn't like training, but has a powerful combat strength from her natural talent. She is an upfront and honest person and treats humans, youkai, and fairies all the same.
Because her outfits always reveal her underarms, she is often referred to as the "underarm miko" and other similar names among fans. She loves to drink.
Marisa Kirisame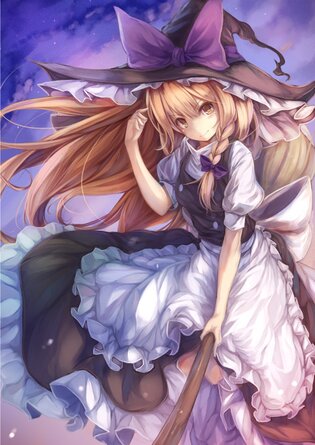 Marisa is a good friend of Reimu and, like Reimu, is a character that first appears in the PC-98 versions of Touhou Project. She is a human magician who lives in the Forest of Magic and wears a black outfit that resembles a Gothic Lolita style. She is a contrary person, but is also straightforward and hard-working. She collects magical tools and books of magic (grimoire). She is known for speaking in a gruff manner. Like Reimu, she also loves to drink.
Suika Ibuki
Suika is an oni girl who first appears in the fighting game Immaterial and Missing Power. She has a strength that doesn't fit her cute looks, like the big ribbon in her blonde hair, and wields a special power to transform her body, such as making it giant or creating other versions of it.
She has a headstrong personality and is treated as a miscreant by her fellow oni. She later appeared as a playable character in games such as Shoot the Bullet. She loves alcohol and is always drinking.
Alice Margatroid


Alice is a female magician (not a human magician, but a type of youkai species called "magician") who lives in the Forest of Magic. She has a special magic power allowing her to control dolls that can move around.
Though she appears to not care about people and only has an interest in seeking magic, she has also shown a nurturing side to herself. She welcomes visitors to her home and will help those lost in the Forest of Magic find their way out. She probably likes to drink?
Cirno


Cirno is an ice fairy who lives in Gensokyo. In contrast to her charming image as a fairy, she is extremely impulsive and aggressive. She is arrogant and will often use words like "genius" and "powerful" to describe herself. However, all the other characters think she is stupid, and she actually is. But that quality can be said to be very charming.
She first appeared as a boss in the beginning stages, but was the main character in Fairy Wars.
Remilia Scarlet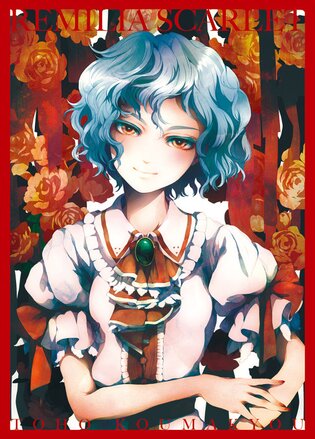 Remilia is a major character who was introduced in the first Windows game, The Embodiment of Scarlet Devil. She is a female vampire who has lived for over 500 years, though she looks no older than 10, and lives in the Scarlet Devil Mansion.
She is a vampire princess and therefore has the extremely charismatic attitude of a leader. She also has a unique habit of losing focus when speaking. She can also be caring toward her family and employees. Her favorite type of tea is "type B blood."
Flandre Scarlet


Flandre is Remilia's younger sister who also first appeared in The Embodiment of Scarlet Devil. She hasn't left the Scarlet Devil Mansion in 495 years, so she knows little about the world. She has no youkai she is close with inside the mansion, either, and she doesn't interact much with other people. It's unclear what her favorite drink is, but for some reason, she thinks of humans as being a type of drink.
Sakuya Izayoi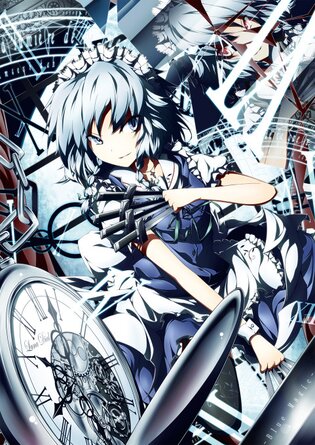 Sakuya is a character introduced in The Embodiment of Scarlet Devil. She is a maid at the Scarlet Devil Mansion who takes care of Remilia and the others. She is good at wearing down enemies using throwing knives and has the ability to stop time.
She has a strong sense of loyalty toward Remilia, which is often escalated in fan-fiction. Her origins are not revealed, making her a girl of many mysteries even among the numerous characters with unknown backgrounds who appear in Touhou.
Yukari Yakumo
Yukari is a character introduced in Perfect Cherry Blossom. She is a youkai within the highest strength class in Gensokyo and is often called a sage. She has the ability to manipulate boundaries and can teleport using "gaps" (or sukima).
She appears in any type of location and summons various things. From her superhuman knowledge and the numerous interactions she's had with people for a many years, she is known as a sly and troublesome old woman within Touhou. She loves to drink.
Youmu Konpaku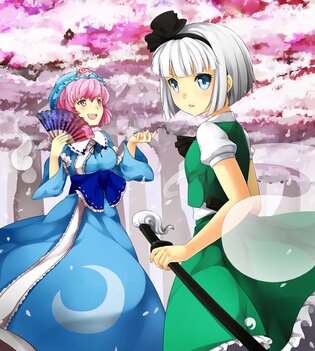 Youmu is a character who first appears in Perfect Cherry Blossom. She leads a complicated existence as a half-human half-phantom. She always carries around a sword and says, "The things that cannot be cut [...] are next to none!" In keeping with these words, she will make bold moves such as suddenly slashing at someone she believes to be an enemy.
Yuyuko Saigyouji
Yuyuko is a character introduced in Perfect Cherry Blossom. She is a ghost who lives in a mansion in the underworld called Hakugyokuro. She no longer has any of her personality or memories of when she was alive. She has a flighty personality and it is difficult to tell what she is thinking. She is Youmu Konpaku's master.
Reisen Udongein Inaba


Reisen is a rabbit from the moon who first appeared in Imperishable Night. She runs away to Earth to escape a war on the moon, and visits Eientei, the home of Kaguya Houraisan, who also came from the moon.
Her fairly unique costume that includes rabbit ears and a necktie stands out among the characters of Touhou. Also, she is considered by fans to be the most level-headed and worldly of the characters in Imperishable Night and is depicted as an unfortunate character in fan-fiction. She is often called "Udonge," but she is never shown to particularly like udon or carrots (despite being a rabbit).
Kaguya Houraisan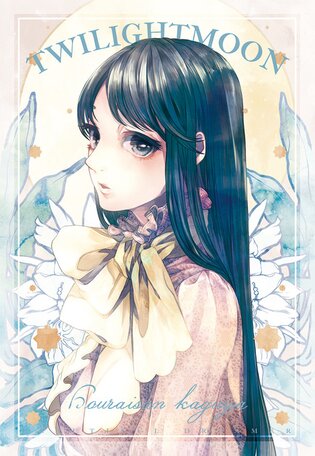 Kaguya is the mistress of the mansion called Eientei in Gensokyo and first appeared in Imperishable Night. She is actually a princess from the moon, and is the Princess Kaguya of the story The Tale of the Bamboo Cutter. Her body doesn't age and she will live through eternity. She will not die no matter what harm comes to her.
Though she is kind and considerate of her subordinates, in fan-fiction she is often depicted as someone who doesn't work and loves to go on the Internet and stay in bed. Fans have given her the nickname "Teruyo." This comes from an alternative reading of the Chinese characters for "Kaguya."
Huziwara no Mokou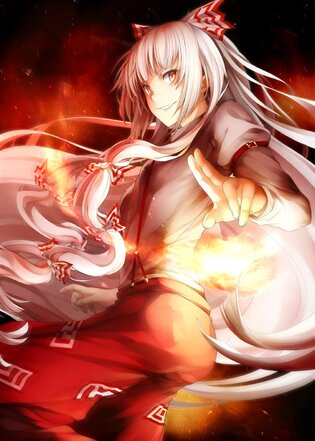 Huziwara no Mokou is the final boss in the Extra Stage in Imperishable Night. As a girl, she drank the Hourai Elixer and gained immortality. She repeatedly engages in fights to the death with Kaguya Houraisan. Because she keeps herself hidden due to her immortality, she is very shy around people. She is well-loved among fans, who call her "Mokotan."
Aya Shameimaru
Aya is the main character of the fanbook Bohemian Archive in Japanese Red. She is a species of youkai known as crow tengu and has the title of "Traditional Fantasy Bunya" (bunya is a Japanese slang word for reporter). She publishes the Bunbunmaru Newspaper and is both its reporter and editor. She has guts as a journalist, never making a mockery of the profession.
Yuuka Kazami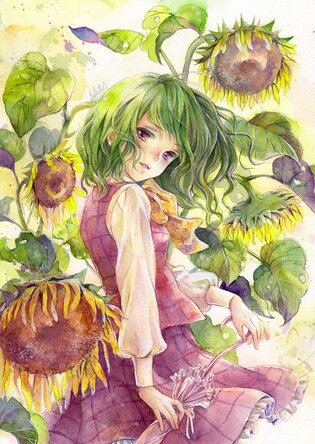 Yuuka is a long-time character who first appeared in the PC-98 versions of Touhou. She is a youkai who loves flowers and yields a great power. Because her characterization in the pre-Windows Touhou games was done away with, it is unclear whether or not she is the same character. She is someone who likes to push people's buttons, so she is not very compatible with humans. She also routinely bullies fairies and youkai.
Sanae Kochiya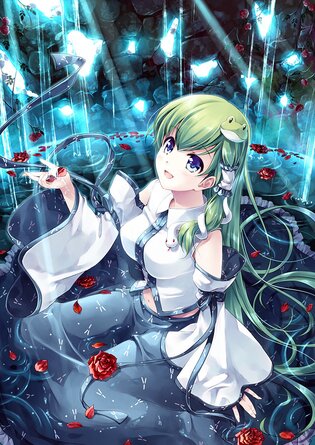 Sanae is a character who first appears in Mountain of Faith. She is from the world outside Gensokyo and is a priestess who worships the wind god. However, as they lost the belief of the people where they lived, she and her gods moved to Gensokyo.
She is one of the few human characters (or arahitogami, a god in the form of a human) in Touhou, and has a rare "normal" personality among the eccentric cast of characters. But as she continues to interact with the youkai, fairies, and people of Gensokyo, she becomes resolved to break down the stereotypes she holds. She doesn't particularly like to drink and is a lightweight.
Tenshi Hinanai
Tenshi is a character introduced in the fighting game Scarlet Weather Rhapsody. She is a member of the Celestial species who reside in Heaven. In contrast to the virtuous nature of her species, she has a selfish and snobbish personality. She can also be sly, doing things like losing a battle on purpose to suit her own goals. She possesses a tough body that can withstand even Sakuya Izayoi's knife.
The Celestials live a life of drink and dance, so she can hold her alcohol.
Rinnosuke Morichika
Rinnosuke is a rare male Touhou character. He is the narrator of the novel Curiosities of Lotus Asia, written by ZUN.
He is half-human and half-youkai and runs a small goods shop called Kourindou that sells everything from junk to magical tools.
He also trains at the Kirisame household (though what kind of training it is is unclear), and has a close friendship with Marisa Kirisame. Reimu Hakurei also frequents Kourindou and has a friendly (?) relationship with Rinnosuke that involves her drinking his tea and getting him to do favors.
He has a curious nature, often discussing Gensokyo and the world outside it and having an interest in various objects that come into Gensokyo. He is also a specialist with a vast knowledge of magic, developing Marisa's magic item "Mini-Hakkero" and making Reimu's "Purification Rod."
He is a major character in fan-fiction, where he takes on a variety of roles, from handyman or guardian to Marisa or Reimu to being a pervert or the object of teasing from the female characters.
Material in this article provided by Ichijinsha.
© Ichijinsha
This is a Tokyo Otaku Mode original article.