An event to commemorate the popular Sanrio character Cinnamoroll's 15th anniversary will be held at Sanrio Puroland beginning on Feb. 10. Celebrating 15 years, a new Cinnamoroll Fuwamoko Town area will be opening on the fourth floor of Puroland. Shinagawa Monjiro, Kapuemon, and Shifomaru will also be making appearances.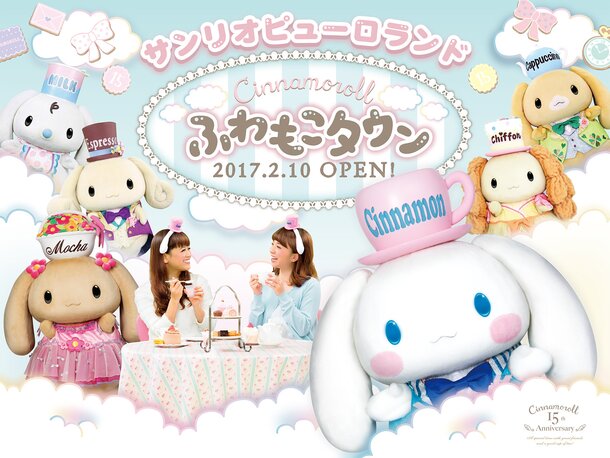 Shinagawa Monjiro has made occasional appearances on the official Cinnamoroll Twitter account (@cinnamon_sanrio) since April Fool's Day in 2014, and this will be Monjiro's first appearance at Puroland. Monjiro may be shaped like Cinnamoroll, but the mysterious samurai character's true shape hasn't been revealed. The combination of his hakama and top-knot in addition to the Cinnamoroll resemblance has made him really popular among fans. Those same fans will now have the opportunity to see Shinagawa Monjiro in person at Puroland. Shinagawa Monjiro, the castle official Kapuemon, and the female ninja Shifomaru will be greeting everyone, adding to the Cinnamoroll anniversary event. Commemorating Monjiro's appearance, there will also be Shinagawa Monjiro goods on sale that you can only get at Puroland!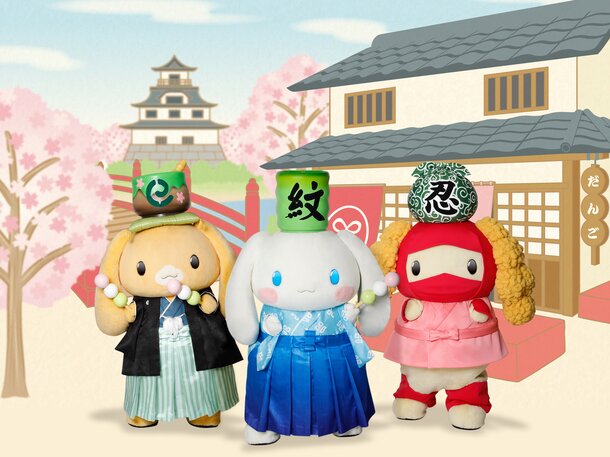 There are other plans to look forward to, as well, like a discount for dressing in Cinnamoroll's colors, blue and white, and a birthday party (early reservations required) on March 6. This cutie is popular among both men and women, so anyone can come to the birthday party, but there is also a special Cinnamoroll no Otoko Matsuri party (early reservations required) specifically for male fans. The entrance is also appropriately decorated, and once you're inside, you'll get to enjoy the celebratory mood.
Cinnamoroll 15th Anniversary Event Details
■ Date: Starts Feb. 10 (Fri.), 2017 (End date not yet decided)
■ Event Contents:
- Live character appearances by Shinagawa Monjiro, Kapuemon, and Shifomaru
- New Cinnamoroll Fuwamoko Town (Photo Spot, Cinnamoroll Dream Cafe, Cinnamoroll Anniversary Shop) area on Puroland 4F featuring an original menu and goods for sale, as well as a discount for people dressed in Cinnamoroll colors
- Men-only special Cinnamoroll no Otoko Matsuri party (paid admission event on March 4; reservations start on Jan. 31)
- Cinnamoroll Birthday Party Exhibit (paid admission event to be held on March 5, 6, 11, and 13; reservations start on Feb. 1)
- And more!