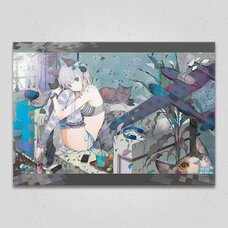 Featured
An Airplane Flies Through a Room of Relaxing Cats

A room with old Famicom equipment like the Family Computer Robot, Virtual Boy, and Power Glove. A P-38 from the strategy game "1943" flies through this room occupied by relaxing cats.

Touka Sekai

This was a front cover illustration for an art book. I remade it a bit.

Rei Ayanami (Cat Suit)

I wanted to have Rei wear the cat-eared suit that Asuka drew.

In an Old Town, Waiting in the Cold

In an area in which the townscape has been preserved a figure waits after school for her friend or someone. Being early to the cafe, she has no choice but to wait outside. ___The town of Kurashiki in Okayama Prefecture is a place with beautiful districts.
About Me
Haruaki Fuyuno

Illustrator / Japan

I'm a freelance illustrator. I made my commercial debut in 2008 with the light novel "Zefagard." I mainly focus on work for light novels, CD jackets, magazine covers, and the like. In 2012, I published my first art book, "Touka Sekai." In 2013, I published "Seifuku Shoujo, Juki Artworks," which is themed after girls and guns. I exhibit my works at a manga exhibition held at the World Museum in Rotterdam, Holland.
Profile
Creator Name

Haruaki Fuyuno

Genre

Illustration

Nationality

Japanese

Gender

Male

Date of Birh

06/19

Blood Type

O

Zodiac Sign

Gemini

Active Region

Japan
Experience
2013 - 2014Exhibition at the World Museum in Rotterdam, Holland - display of workP-1 Grand Prix - judgeCelsys Plugin Contest - judgeFigure LittleArmory (TomyTec) - package illustrationGagaga Bunko "Sevens Hole Witch" (Shogakukan) - front cover, inside illustrationsFamitsu Bunko "Boku no Gakkou no Ansatsu-bu 1-3" (Enterbrain) - front cover, inside illustrationsPublication "100 Painters Generation 2" (BNN) - pin-upPublication "Illustration 2013" (Sotechsha) - artist information publishedPublication "Guns & Girls Illustrated: Beigun Genyou Juuka-hen" (Ikaros Publications) - front coverDengeki Bunko "Rakuentou kara no Dasshutsu 1-2" (AMW) - front cover, inside illustrations2013 and priorNatsu Hime (WaniMagazine) - mangaKikan Gelatin (WaniMagazine) - mangaSD Bunko "Harukakanata no Nendaiki" (Shueisha) - front cover, inside illustrationsKadokawa Sneaker Bunko "Houkago no Majutsushi 7" (Kadokawa Shoten) - front cover, inside illustrationsIchijinsha Bunko "Gimmick Shinigami no Kagemusha" (Ichijinsha) - front cover, inside illustrationsPublication "Saigo Kousatsu Umineko no Naku Goro ni Series" (AMW) - front coverHayakawa Bunko JA "Space Probe" (Hayakawa Shobo) - front cover, inside illustrationsAkihabara Mogra "Anison Matrix" - illustrationsEvent "Anison DJ Gachi Battle" - main illustrationTouhou art book "Touhou Gensou Gahou Tokubetsu Hen: Shin Gensou Kikou" (Toranoana) - illustrationsVarious other projects
Q&A
How did you get into drawing?
I was influenced by my father who is an artist, and I began drawing when I was a child.
What do you focus on in your work?
The sense of atmosphere is important.
How long does your work take to create?
It varies anywhere from one day to several months.
When do you come up with ideas for your work?
I'm always thinking of ideas.