Featured
be lovely, and be strong.

Sakura Exhibition2014/gr@phic prize

GLAB

"ANIME & MANGA FEST 2014 : Collabo! Collabo!"
Gallery
more

About Me
uebow

Illustrator / Japan

I'm a resident of Tokyo. I have been active as an illustrator since 2010. I mainly draw girls with a somewhat gloomy spice using Illustrator. I aim for aesthetics that are simple and stylish. I mainly work on flyer designs and character designs for game apps. I formed the illustrator unit pRizmagiC in 2011. I held my first exhibit titled "Touto Futatsu" in July 2012.
Work Environment: Mac OSX, Illustrator, Photoshop
Creator Name

uebow

Genre

Illustration

Nationality

Japanese

Gender

Undisclosed

Birthday

9/17

Blood Type

O

Horoscope

Virgo

Years Active

4

Active Region

Tokyo, Japan
Experience
■ Exhibitions ■2011.2 Participated in "Joshi Ten"2011.3 Participated in "Shitagi Joshi 1.5"2011.5 "Shitagi Joshi ni - Hanatori"2011.6 "Nouryou Sensu Ten"2011.9 "Sengoku Ryouran"2011.9 "Doragon Ten"2011.10 "Girls Exhibition #15 Artbook"2012.3 "Sakura Exhibition 2012"2012.5 "Design Festa Vol. 35" @pRizmagiC2012.7 "Solo Exhibit: Touto Futatsu"2012.11 "Niji Tsubasa" Creators Trump Design Festa 36 [Spade A]2012.11 "pRizmagiC 2nd Exhibition [PRISM]"2013.6 "Ninja*arts #3 Kimono Rock 'n' Roll Art Show"2013.12 "Ninja*arts #6 Happy Holidays Art Show 2013"
Q&A
How did you get into drawing?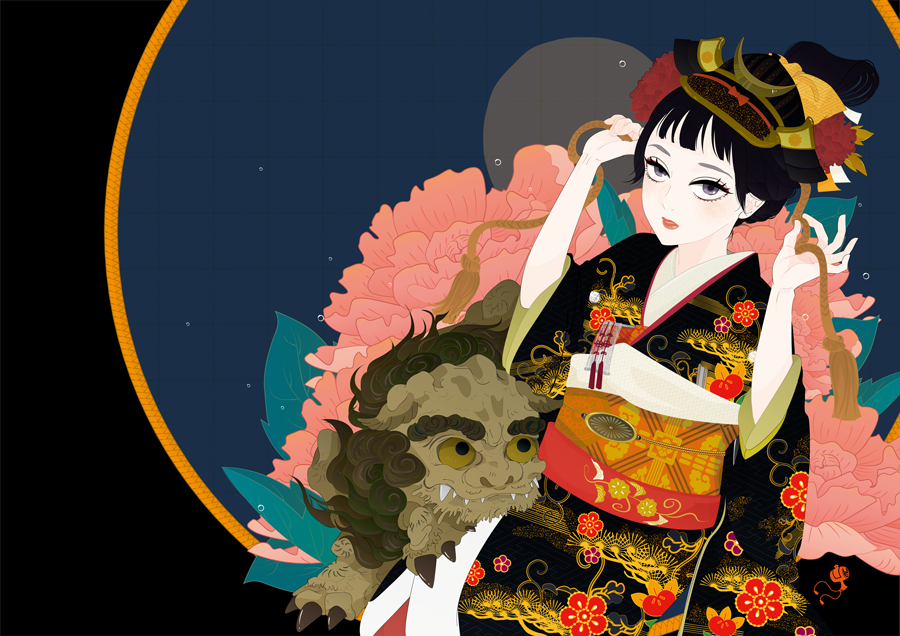 It started by surfing the net and finding out about illustration exhibition events. I have liked drawing since I was a kid, but I had no relationship to any illustrator community so I was surprised to find out about exhibits that anyone could freely enter.
What are you particular about in your work?
Simple Bezier curves and color palettes that clearly shows a depth of colors. It may be contradictory, but my motto is simple over flashy.
How long does your work take to create?
The shortest time is around 3 days. But there are also times when it takes about 3 weeks if I draw a little bit each day.
When do you come up with ideas for your work?
When I'm commuting in the morning. I'm always hurriedly writing memos on my iPhone.