Alpacasso, The Popular Plush Toy is Collaborating with Evangelion to Become Adorable Battle Weapons!
Tokyo Otaku Mode Inc. (incorporated in Delaware, U.S.; representative: Tomohide Kamei; CEO: Naomitsu Kodaka; herein referred to as TOM) has opened pre-orders for the Limited Edition Evapacasso Set of 3 + NERV HQ today, July 4th, at 10 AM Japan time.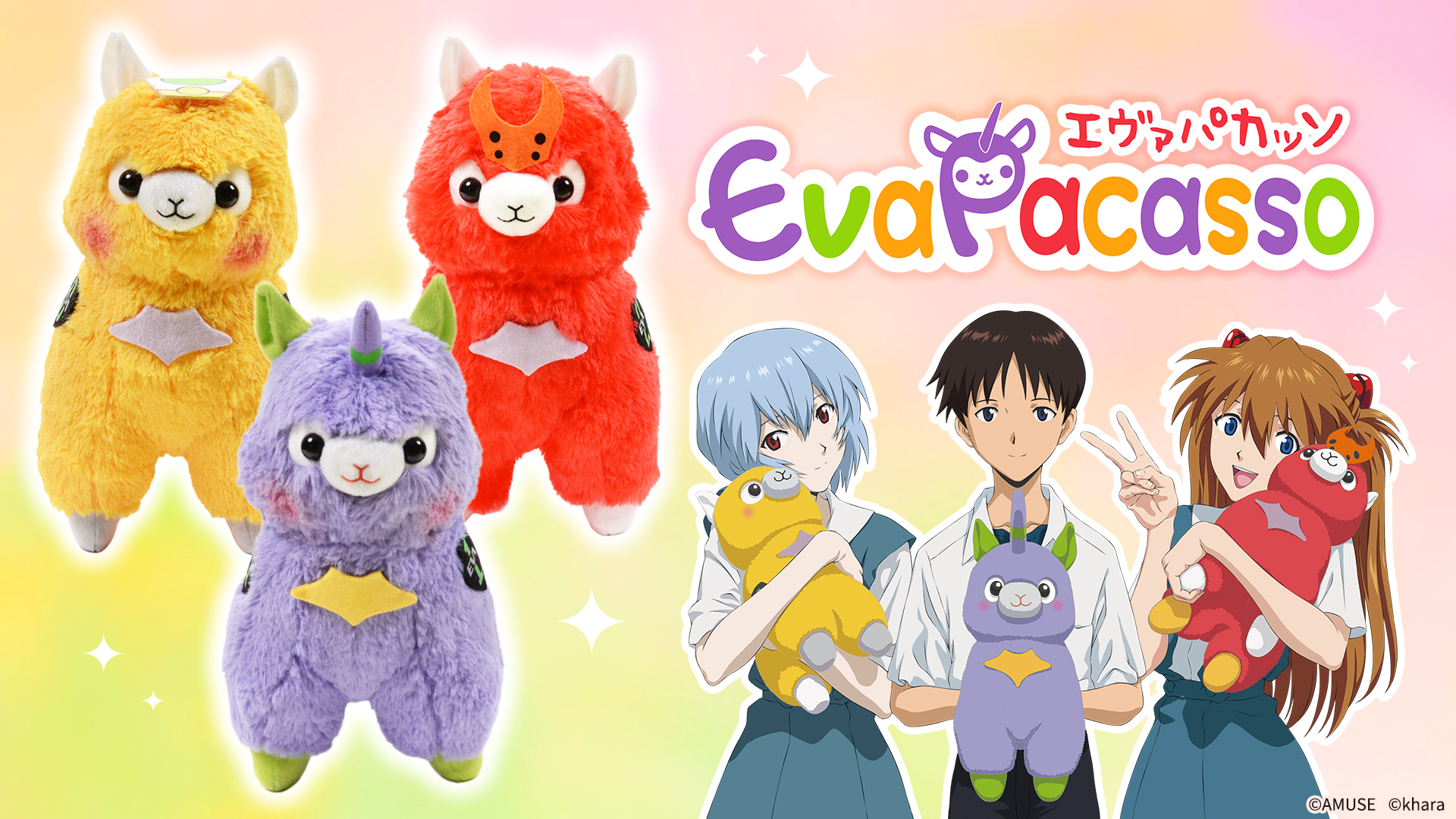 Evapacassos are characters born from a collaboration between Alpacassos, a plush toy series based off alpacas, and the extremely popular Evangelion series. The bright-eyed, fluffy alpacas are decked out in the colors and decorations of Unit-00, Unit-01, and Unit-02, having become Ultimate All-Purpose Artiodactyl Decisive Battle Weapons.
The Evapacassos come in three sizes: the Jumbo, which is perfect for hugging; the Standard, which can decorate your workspace; and the Mascot, which can be used as a keychain. Also, this limited edition set comes with glittery versions of the unit number badges and the NERV HQ where the Evapacassos live.

The fluffy plush Evapacassos may cause a Soothing Impact. Please love your Evapacassos so much that you mentally link up with them.
[Product Details]
Prices:
Jumbo - Set of 3: 9,600 yen (excl. tax)
Standard - Set of 3: 5,850 yen (excl. tax)
Mascot - Set of 3: 4,200 yen (excl. tax)
*Each set is made up of Unit-00, Unit-01, and Unit-02 of the same size and comes with a matching NERV HQ.
Plushies
Sizes:
[Jumbo] 6.7 in (17 cm) wide x 11.8 in (30 cm) tall x 10 in (26 cm) long
[Standard] 3.9 in (10 cm) wide x 7.1 in (18 cm) tall x 5.5 in (14 cm) long
[Mascot] 2.8 in (7 cm) wide x 5.5 in (14 cm) x 3.9 in (10 cm) long
NERV HQ
Sizes:
[Jumbo] 15.4 in (39 cm) wide x 15.4 in (39 cm) tall x 14.6 in (37 cm) long
[Standard] 8.3 in (21 cm) wide x 8.3 in (21 cm) tall x 7.9 in (20 cm) long
[Mascot] 5.9 in (15 cm) wide x 5.9 in (15 cm) tall x 5.5 in (14 cm) long
【Pre-order Period】
July 4th to 11:59 P.M. (JST) on July 31, 2019
【Estimated Shipping Period】
Late November 2019
【Project Page】
https://otakumode.com/projects/evapacasso
【About "Evangelion"】
The Evangelion series began in 1995 with the TV series Neon Genesis Evangelion and became a social phenomenon. It has expanded into comics, movies, games, and other forms of media. In 2007, the movie series Rebuild of Evangelion began, becoming hugely popular mostly with young people. So far, three movies, Evangelion: 1.0 You Are (Not) Alone., Evangelion: 2.0 You Can (Not) Advance., and Evangelion: 3.0 You Can (Not) Redo. have been released. The third film, released in the autumn of 2012, was seen in theaters by 3.8 million people and made more than 5.8 billion yen. The DVD/Blu-ray releases of the movies alone have sold more than 2 million copies. The final movie in the series, Evangelion: 3.0+1.0, is scheduled for release in 2020.
Evangelion Official Site
https://www.evangelion.co.jp/
[About Alpacasso]
Alpacassos are character merchandise by Amuse, Inc. that can mostly be found in crane games. The alpaca characters Shiro-chan, Momo-chan, Sora-chan, Beyan, and more, wear different outfits to show off their cute and stylish appearances. Other than plushies, there are keychains, backpacks, hand puppets, and many other types of products available.
Official Site
https://www.amunet.co.jp/character/alpacasso.html