Alpacassos, with their fluffy fur and round eyes, have grown quickly, but they've gotten even bigger! They've fused with NERV's Multipurpose Humanoid Decisive Weapon, Artificial Human Evangelions, and have become cute artiodactyl decisive weapons (?) called Evapacasso!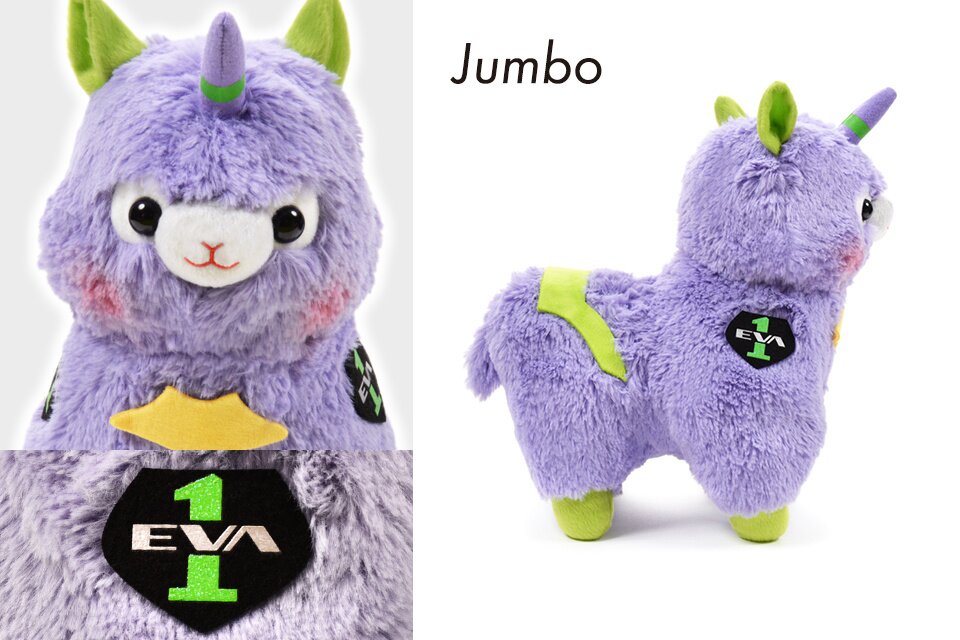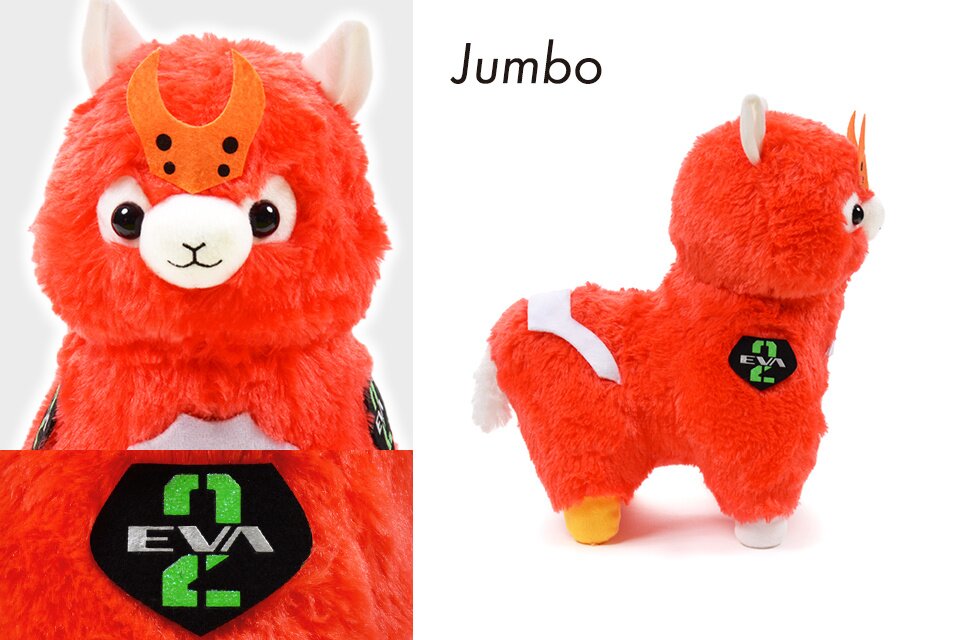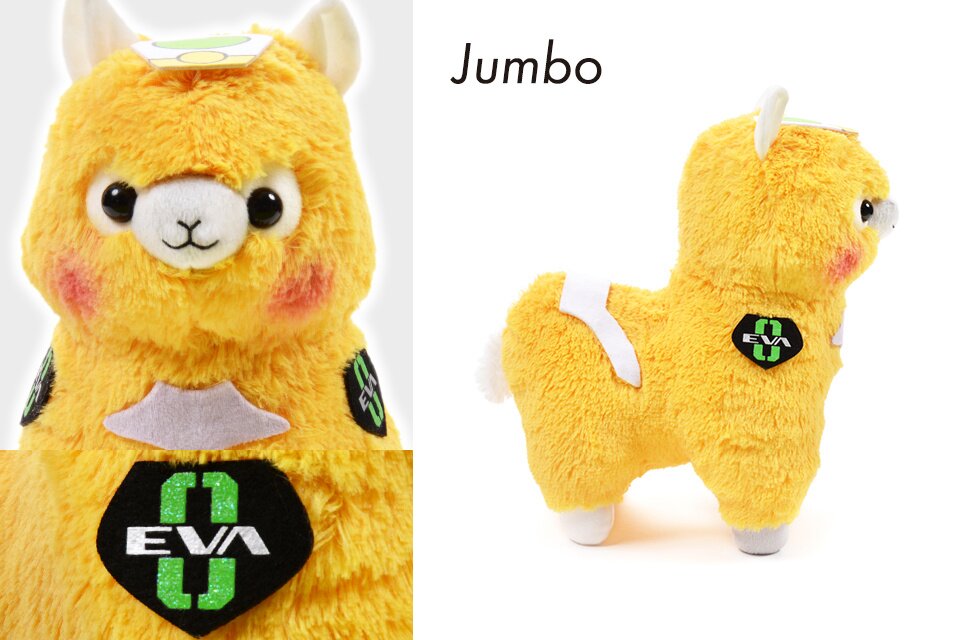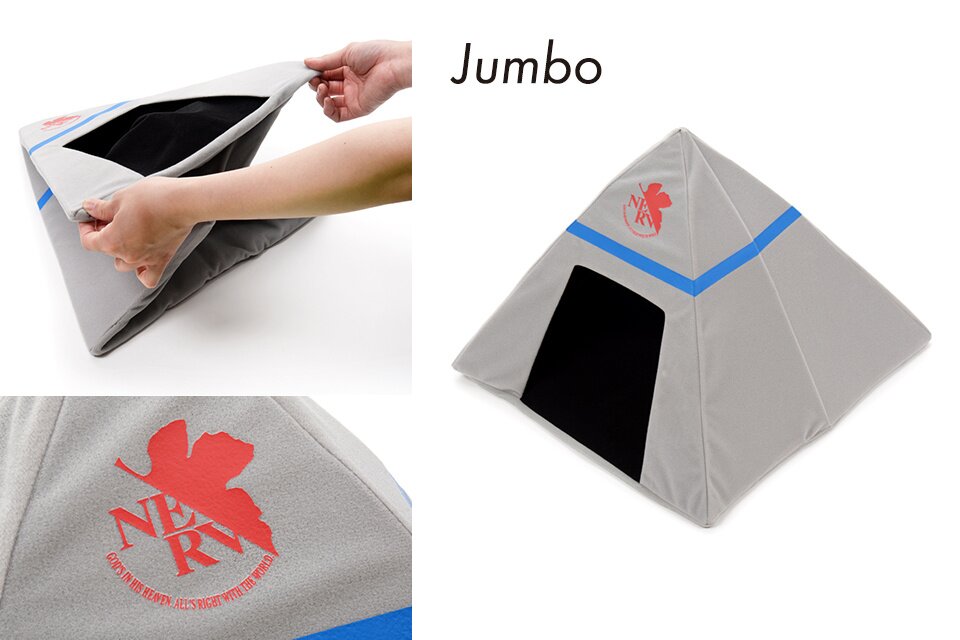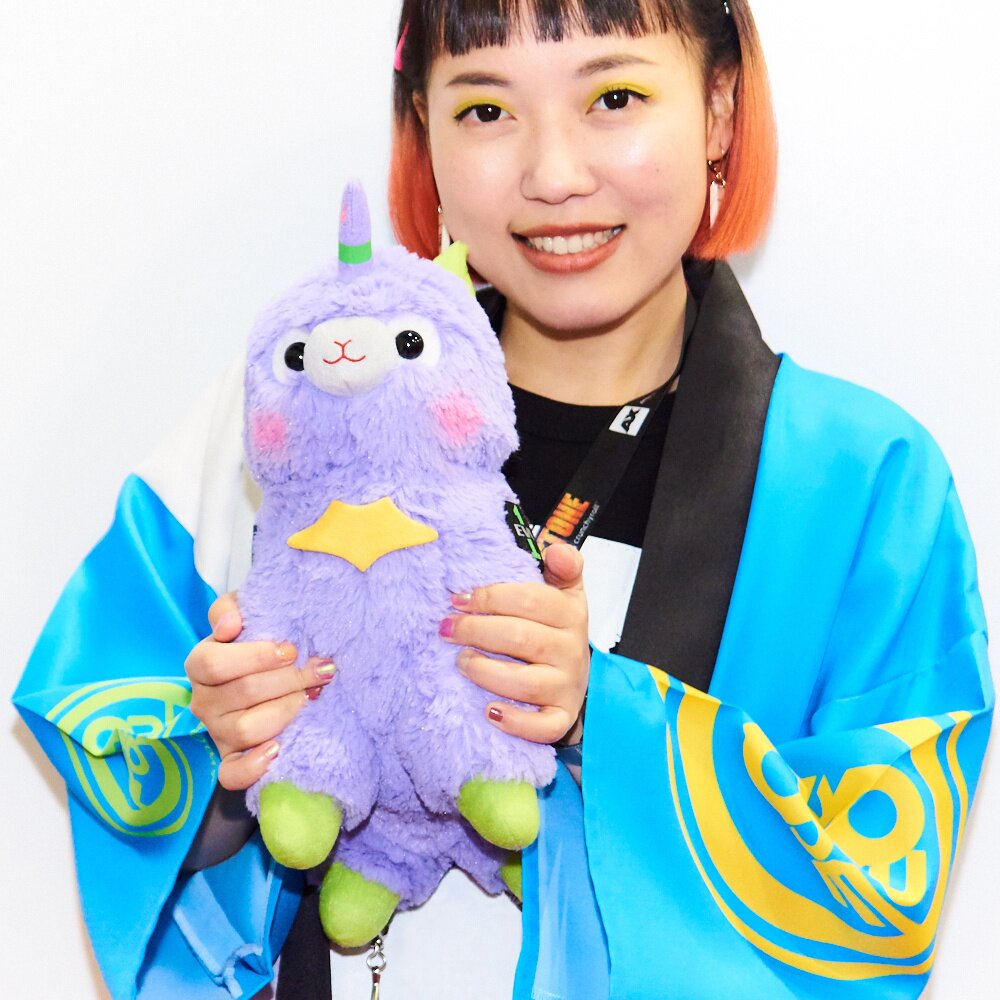 Evapacassos are characters born from a collaboration between Alpacassos, a plush toy series based off alpacas, and the extremely popular Evangelion series. They're designed after Unit-01, Unit-00, and Unit-02 and each of these units have had their characteristics woven into the Alpacassos. The cute Alpacassos with their big eyes have been fused with the Evas' unique coloring and decorations.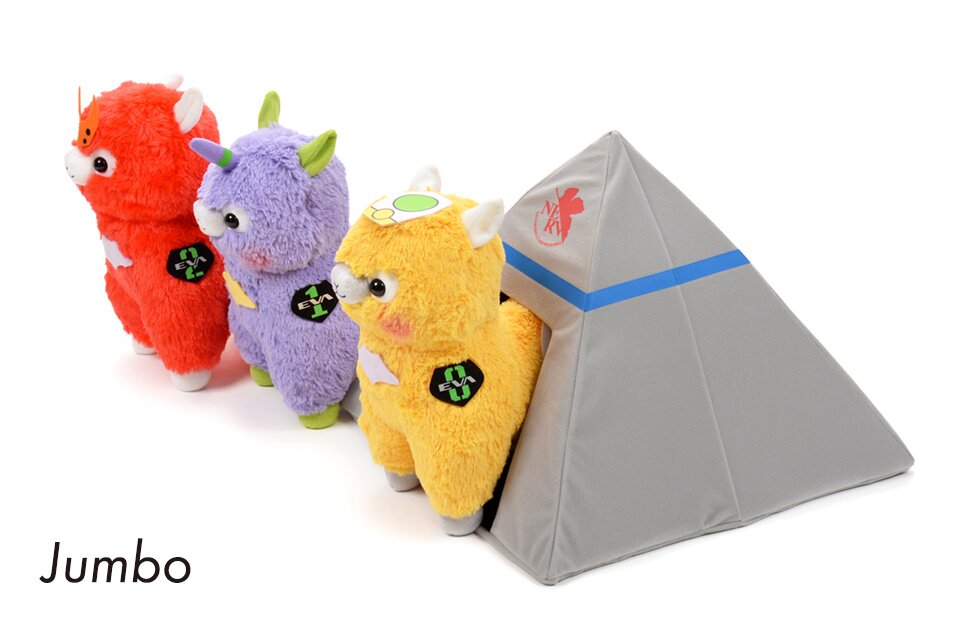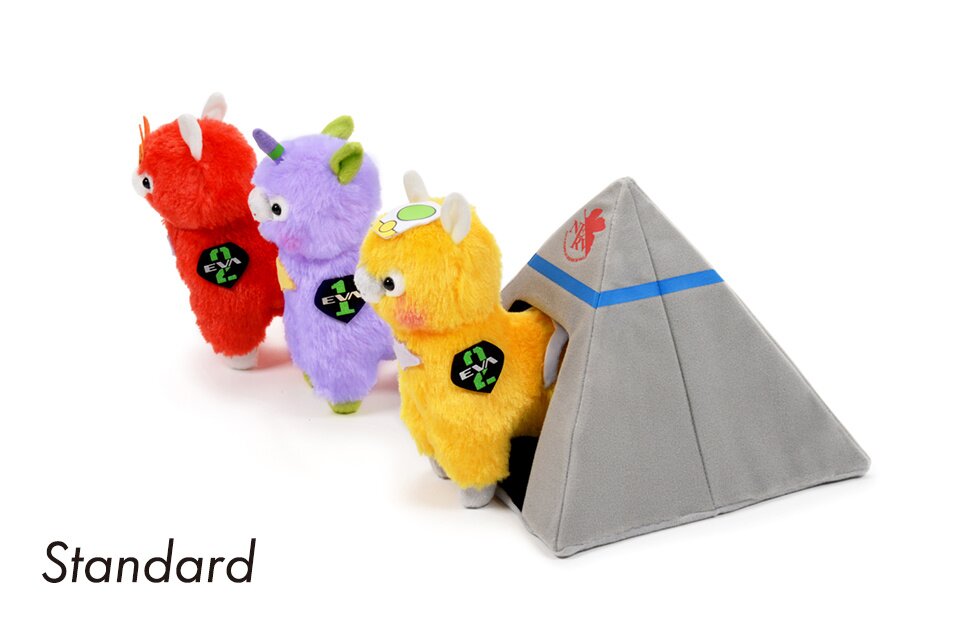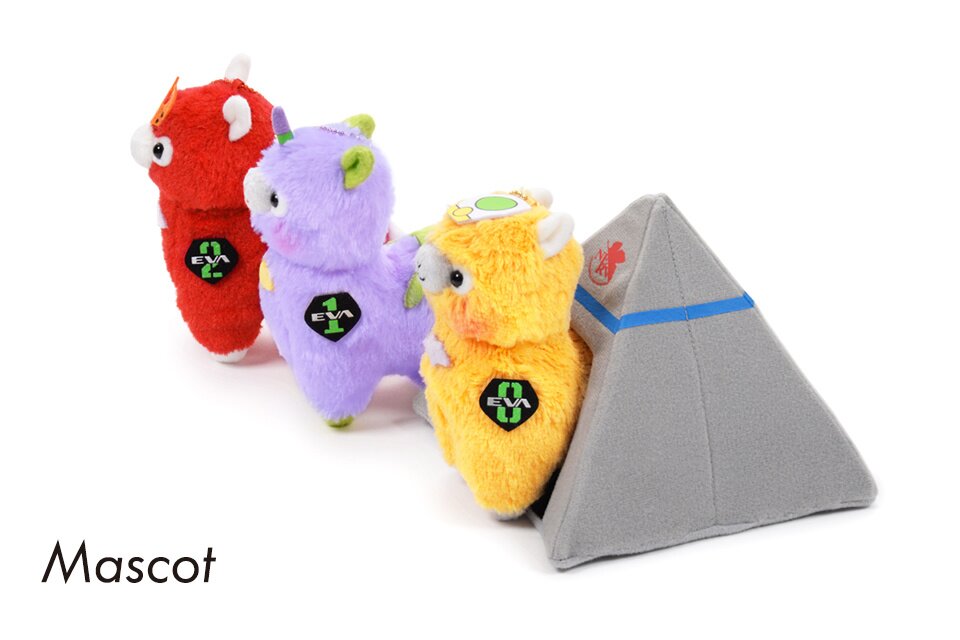 There are three Alpacassos: the jumbo, which is almost 12 inches tall, the standard at 7 inches tall, and a small version with a ball chain that can sit in the palm of your hand called the mascot.
These sets come with glittery badges displaying the unit numbers as well as the NERV HQ where the Evapacassos live! These badges and the NERV HQ can only be received through this pre-order, so don't miss this chance!
Note: The product is under development. The actual product may vary from the images.
Plushie
Size:
[Jumbo] 6.7 in (17 cm) wide x 11.8 in (30 cm) tall x 10 in (26 cm) long
[Standard] 3.9 in (10 cm) wide x 7.1 in (18 cm) tall x 5.5 in (14 cm) long
[Mascot] 2.8 in (7 cm) wide x 5.5 in (14 cm) x 3.9 in (10 cm) long
NERV HQ
Size:
[Jumbo] 15.4 in (39 cm) wide x 14.6 in (37 cm) tall x 15.4 in (39 cm) long
[Standard] 8.3 in (21 cm) wide x 7.9 in (20 cm) tall x 8.3 in (21 cm) long
[Mascot] 5.9 in (15 cm) wide x 5.5 in (14 cm) tall x 5.9 in (15 cm) long
---
The *Evangelion* series began in 1995 with the TV series *Neon Genesis Evangelion* and became a social phenomenon. It has expanded into comics, movies, games, and other forms of media. In 2007, the movie series *Rebuild of Evangelion* began, becoming hugely popular mostly with young people. So far, three movies, *Evangelion: 1.0 You Are (Not) Alone.*, *Evangelion: 2.0 You Can (Not) Advance.*, and *Evangelion: 3.0 You Can (Not) Redo.* have been released. The third film, released in the autumn of 2012, was seen in theaters by 3.8 million people and made more than 5.8 billion yen. The DVD/Blu-ray releases of the movies alone have sold more than 2 million copies. The final movie in the series, *Evangelion: 3.0+1.0*, is scheduled for release in 2020.
Evangelion Official Site
https://www.evangelion.co.jp/
Alpacassos are character merchandise by Amuse, Inc. that can mostly be found in crane games. The alpaca characters Shiro-chan, Momo-chan, Sora-chan, Beyan, and more, wear different outfits to show off their cute and stylish appearances. Other than plushies, there are keychains, backpacks, hand puppets, and many other types of products available.
Official Site
https://www.amunet.co.jp/character/alpacasso.html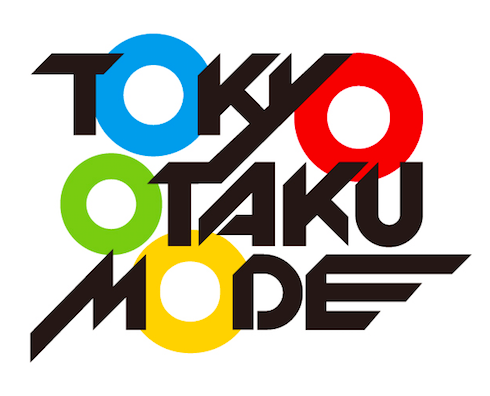 Tokyo Otaku Mode (TOM) shares with the world the latest Japanese pop culture news through its Facebook page, which has over 20 million likes as of June 2019 and sells official products related to Japanese anime, manga, games, music, and fashion through its website, the Tokyo Otaku Mode Shop. Tokyo Otaku Mode Projects is a service aimed to connect Japanese companies with fans around the world by offering Japanese products, even outside of the otaku genre, and will continue offering various goods overseas and in Japan.
Please visit the corporate site for information about product development, shipping agencies, and our other businesses.
Corporate Website: https://corporate.otakumode.com
© AMUSE © khara
Q: When will rewards be shipped out?

A: They are scheduled to be shipped starting in November 2019 after production is complete.

Q: What payment methods are there?

A: We accept credit/debit card and Paypal.

Q: Where will rewards be shipped from?

A: Products will be shipped directly from Tokyo Otaku Mode in Japan.

Q: Why can't I press the "Reserve" button?

A: Please ensure that you have filled out your payment method and shipping information and try again.

Q: Are the rewards that ship to Japan and ship internationally different?

A: No. The rewards are the same. The only difference is the shipping cost.

Q: How will you ship the rewards?

A: Rewards will be shipped by EMS.

Q: Will I need to pay any additional import duties, VAT, customs taxes, or local handling fees when receiving my reward?

A: Depending on your country's customs laws, you may be required to pay a tax before obtaining your package. In some areas, such as the United Kingdom and France, the local postal service may charge an extra handling fee for processing packages affected by customs taxes. Payment of customs taxes and any possible handling fees is the responsibility of the purchaser.

Q: Can I change my Shipping address?

A: Shipping address can be changed via your [My Projects](https://otakumode.com/projects/profile/myprojects) page. Please note that the shipping address is no longer changeable after we enter shipping preparations. The option will disappear once we enter shipping preparation.

Q: Can I cancel any order?

A: We do not accept cancellations.

Q: What should I do if the package for my product arrived damaged?

A: The package is for protecting the actual product, and cannot be exchanged.