Erica Branch's Review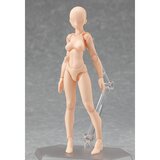 1 out of 1 people found this review to be helpful.
This wonderful little Figma, though quite small, is very intricately designed and assembled very elegantly! I have a few ball jointed dolls that I like using as models but I don't always want to grab them and leave them on my work table, this small little figure is perfect to leave on my drawing table and the myriad of poses she can hold is mind blowing! I do wish I had one a little larger as well, but I'm very satisfied with quality and craftsmanship of this item! Probably the best figma I've ever owned and definitely the most useful for art purposes and rendering the human form in motion!