Hiyoko's Review
US $2.39 - $22.99
( US $2.99 - $22.99 )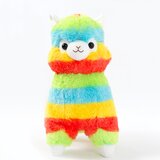 3 out of 3 people found this review to be helpful.
I ´m very very happy to receive this new integrant in my little alpacasso family .
She is so big, cute, huggable, very colorful and is everything i expected from the picture. <3
She makes good couple with the Standard Alpacasso Rainbow, my Alpaccasso family is growing...