memiry's Review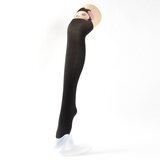 I got these tights for 6.89, and they are fantastic. If you look closely, you can see stranding on the mouth from the different colours, and the edges on all the black parts have stray threads (secured), but frankly it's just amazing that intarsia can even be done on such a small scale, and it's honestly not even noticeable unless you're looking for it. Good quality tights and my knees are adorable sheep. Life is great.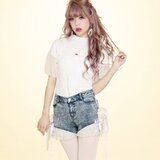 I got this in pink, and the lace on the front is really lovely, you can't really see it from the picture. I have about a 36" chest, and this fits, but only because it is a knit fabric so it has some stretch. That said, it's not too tight, and it has a good amount of room in the shoulder area. My main complaint is that the sleeves (which are poofier than is probably suitable for casual wear) are made of a see through fabric that can be a bit scratchy around the armbands. Other than that, it's very well made and a lovely top.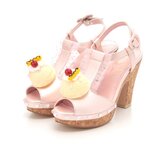 I wear size 6.5/7 shoes (depending on whether I'm wearing heels or flats). I got these shoes in the M size and they fit perfectly. If you have slightly bigger feet, they will probably still fit, but you may need to punch another hole in the strap. The ice cream decorations are removable. One of them detached from its pin the first time I wore them, but I hot glued it back on and it's been fine ever since. These are excellent shoes and I try to find an excuse to wear them whenever I can!