FallenShadow000's Review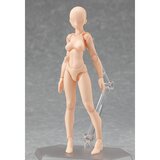 3 out of 3 people found this review to be helpful.
Forget those stiff, wooden art mannequins. They hold no candle to the flexibility of Figma; I ordered both the male and female archetype. The Archetype series can achieve a far wider range of poses and positions, making them excellent for an artists needing a consistent point of reference for the human figure.

Aside from a two month delay, the tracking system was accurate to my shipment. I also got a wonderful presentation for my package. We just need a little more transperency in HOW LONG products are delayed for.