Strike Witches is the multimedia phenomenon centered around cute young girls who fly through the sky and do aerial combat with their legs whilst also not wearing any pants!
Created by Humikane Shimoda in a series of magazine columns, Strike Witches has since gone on to conquer the skies of anime, manga, light novels and video games. Strike Witches takes place in a World War II inspired alternate history timeline in which the Earth has been invaded by aliens known as the Neuroi. As a last line of defence, the military calls on young girls with magical abilities who can use the Striker Units to do combat in the skies.
The anime adaptation, produced by Gonzo and directed by Kunihisa Sugishima, follows the adventures of the 501st Joint Fighter Wing and Yoshika Miyafuji - a girl from the Fuso Empire who is investigating the death of her father. By contrast, the light novels follow Suomus Independent Volunteer Aerial Squadron and a dogfighter named Tomoko Anabuki, and there is also a spin-off anime, Brave Witches which is centered around the 502nd Joint Fighter Wing.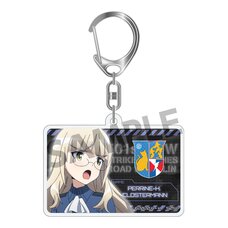 ---