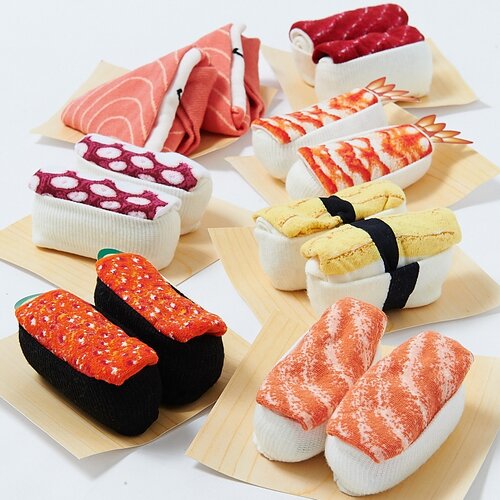 Fun to look at and fun to wear! These Sushi Socks look just like delicious sushi when rolled up. Your sock drawer will never be the same! They are also comfortable and durable. The sushi detail is knitted into the sock with colored thread instead of being printed. Seven versions are available: Masuzushi (trout sushi), Shrimp, Octopus, Red Caviar, Tuna, Salmon, and Egg. These Sushi Socks made in Toyama, Japan make a great gift for fans of Japanese cuisine!
Other product from the Sushi Socks series!
Details
Product Name: Sushi Socks
Video
Product Details

Versions: Masuzushi, Shrimp, Octopus, Red Caviar, Tuna, Salmon, Egg
Specifications: 1 pair of socks
Size: free / fits sizes 22-27 cm (8.7-10.6 in) best
Material: polyster and cotton.

Help
FAQ

Read the TOM Premium Shop FAQ.

Read the TOM Premium Shop Terms of Use.

Contact Us

Have a question, request, or need help?




Please contact us.
Payment & Shipping
You may pay by card or PayPal using the "Instant Checkout" or "Add to Cart" feature.
All orders over $100 qualify for free international shipping.
If you'd like to pay by bank transfer, please contact us