Tokyo Otaku Mode Launches First Figure Project, Opens Pre-orders for Spice and Wolf Holo Wedding Dress Ver. Figure!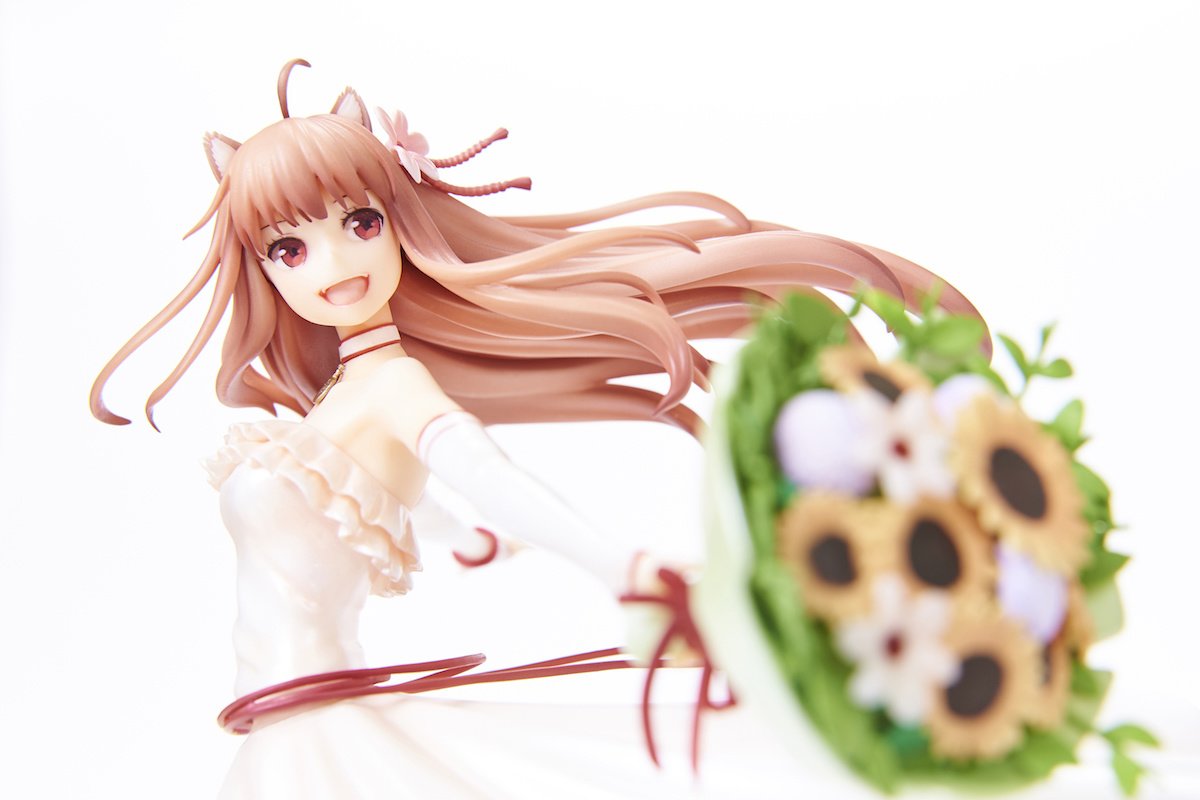 ©支倉凍砂/アスキー・メディアワークス/「狼と香辛料II」製作委員会
Photos shown are for reference only. The actual product may differ.
Tokyo Otaku Mode Inc. (incorporated in Delaware, U.S.; representative: Tomohide Kamei; CEO: Naomitsu Kodaka; herein referred to as TOM) announces the opening of pre-orders for a figure of Holo, the main female character in the hugely popular light novel series Spice and Wolf. The figure, titled Spice and Wolf Holo Wedding Dress Ver., is the first figure project undertaken by TOM and was created in collaboration with figure maker Myethos.
About the Spice and Wolf Holo Wedding Dress Ver. Figure
Spice and Wolf is a fantasy series that began as a light novel published by Dengeki Bunko beginning in 2006 and has a large fanbase due to its extensive developments including a manga adaptation, anime, and visual novels. Last year, the series reached the 10th anniversary since its initial publication, and to date a variety of new projects have been announced including the opening of the Spice and Wolf & Isuna Hasekura 10th Anniversary official site. Joining in the celebration, TOM has collaborated with figure maker Myethos on the Spice and Wolf Figure Project to produce a figure of Holo wearing a wedding dress as seen in volume 17 of the light novel as well as on the cover of the artbook Ju Ayakura Artworks: Spice and Wolf. The figure costs 11,800 yen (plus tax) and was first unveiled to the public at the TOM booth at Wonder Festival 2017 [Winter] where it drew big crowds.
Pre-orders Now Open on Tokyo Otaku Mode Projects
Pre-orders for the Spice and Wolf Holo Wedding Dress Ver. figure are open now, and additional details can be found on Tokyo Otaku Mode Projects.


Tokyo Otaku Mode Projects Spice and Wolf Page:
https://otakumode.com/projects/spice_and_wolf_10th_anniversary

Where to Pre-order: Tokyo Otaku Mode Projects (link above)
Price: 11,800 yen (plus tax and shipping)
Pre-order Deadline: March 13, 2017

About Tokyo Otaku Mode
On March 24, 2011, Tokyo Otaku Mode (TOM) began sharing Japanese pop culture on its Facebook page (http://www.facebook.com/tokyootakumode). Within 22 months, the page garnered 10 million likes. As of October 2016, it has reached 19 million likes and is among the top 50 world-leading brands on Facebook.*

In 2013, the TOM ecommerce site, the TOM Premium Shop (otakumode.com/shop), launched to serve fans worldwide. TOM works directly with manufacturers to guarantee authentic products and supports independent artists through product collaborations. To date, orders have been delivered to customers in over 120 countries/regions worldwide. In September 2014, TOM secured funding through the third-party allocation of shares led by Cool Japan Fund Inc. and continues to work to advance their mission of "bringing happiness to the world with otaku culture."



*Source: Social Bakers (http://www.socialbakers.com/)

Facebook is a trademark or registered trademark of Facebook, Inc. All other brand names, product names, or trademarks mentioned herein are registered trademarks of their respective companies and belong to their respective holders.

[Inquiries]
Company: Tokyo Otaku Mode Inc.
Email: press@tokyootakumode.com