Memories of the most remarkable scenes… Restored through brilliant gold necklaces!
Part III of the Sword Art Online x Tokyo Otaku Mode Merchandise Collection offers beautiful Sword Art Online 5018 (Kotoba) necklaces.
The 5108 (Kotoba) necklaces are exceptional pieces of jewelry that use the power of words to improve their designs. Similar to Part II, a total of three models are available. One for Kirito's Elucidator and the Dark Repulser, one for Asuna's Lambent Light, and one for Sinon's Hecate II. In addition to the weapons, the characters' names are also featured on the necklaces.
The accompanying display cards contain dialogue from the most remarkable scenes, as well as a shot of the scenes showing them in their original glory. The dialogue is printed in both English and Japanese.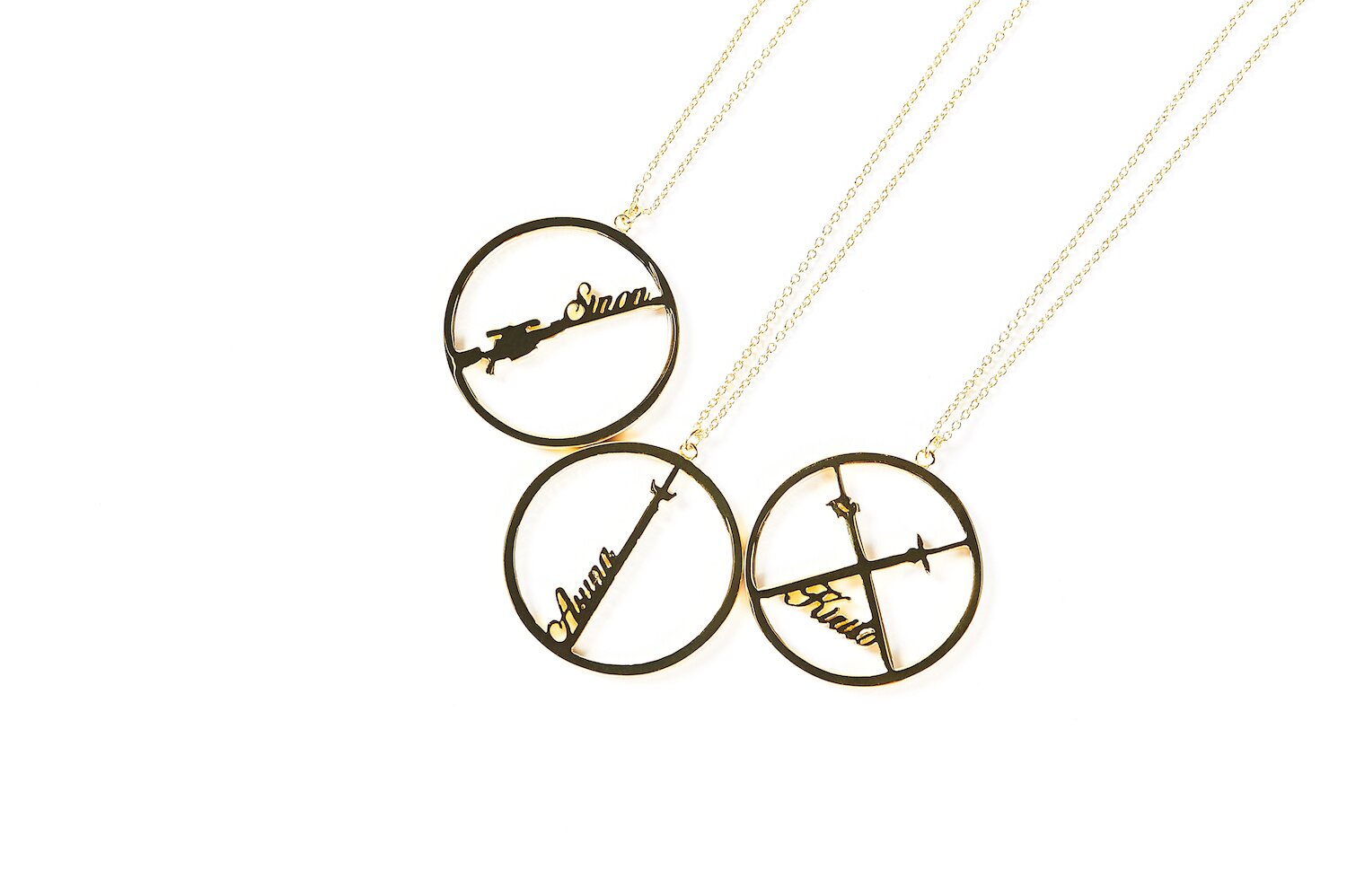 俺が生きている間はパーティーメンバーを殺させやしない……それだけは絶対嫌だ……!
While I'm alive, I won't let any party members die. I will never let that happen!
As the flames burst behind him, Kirito shouts out his feelings for his party members. This scene was ranked first in the Recording Award category of the 2014 Sword Art Online Award and was chosen for the Kirito Model.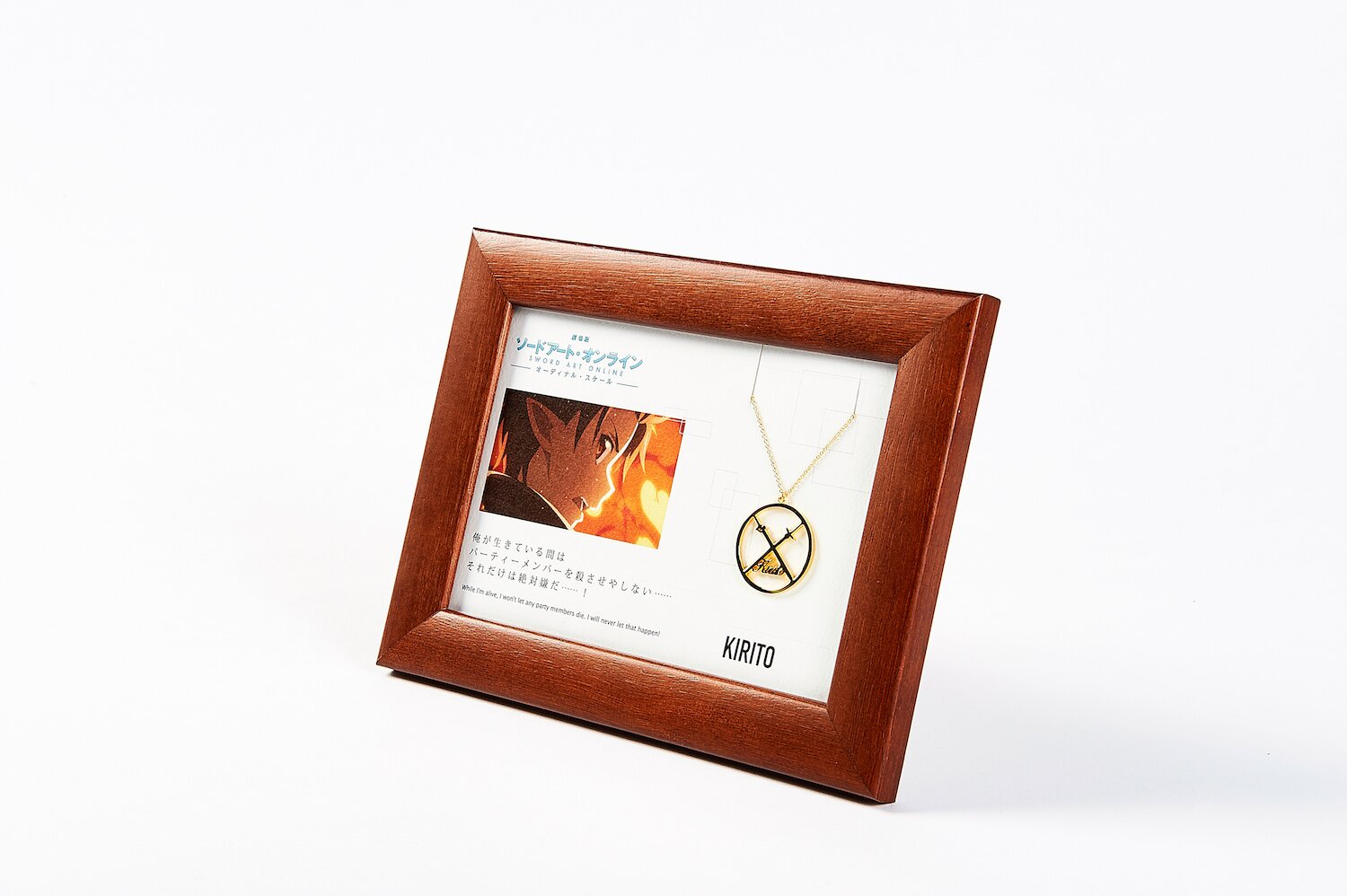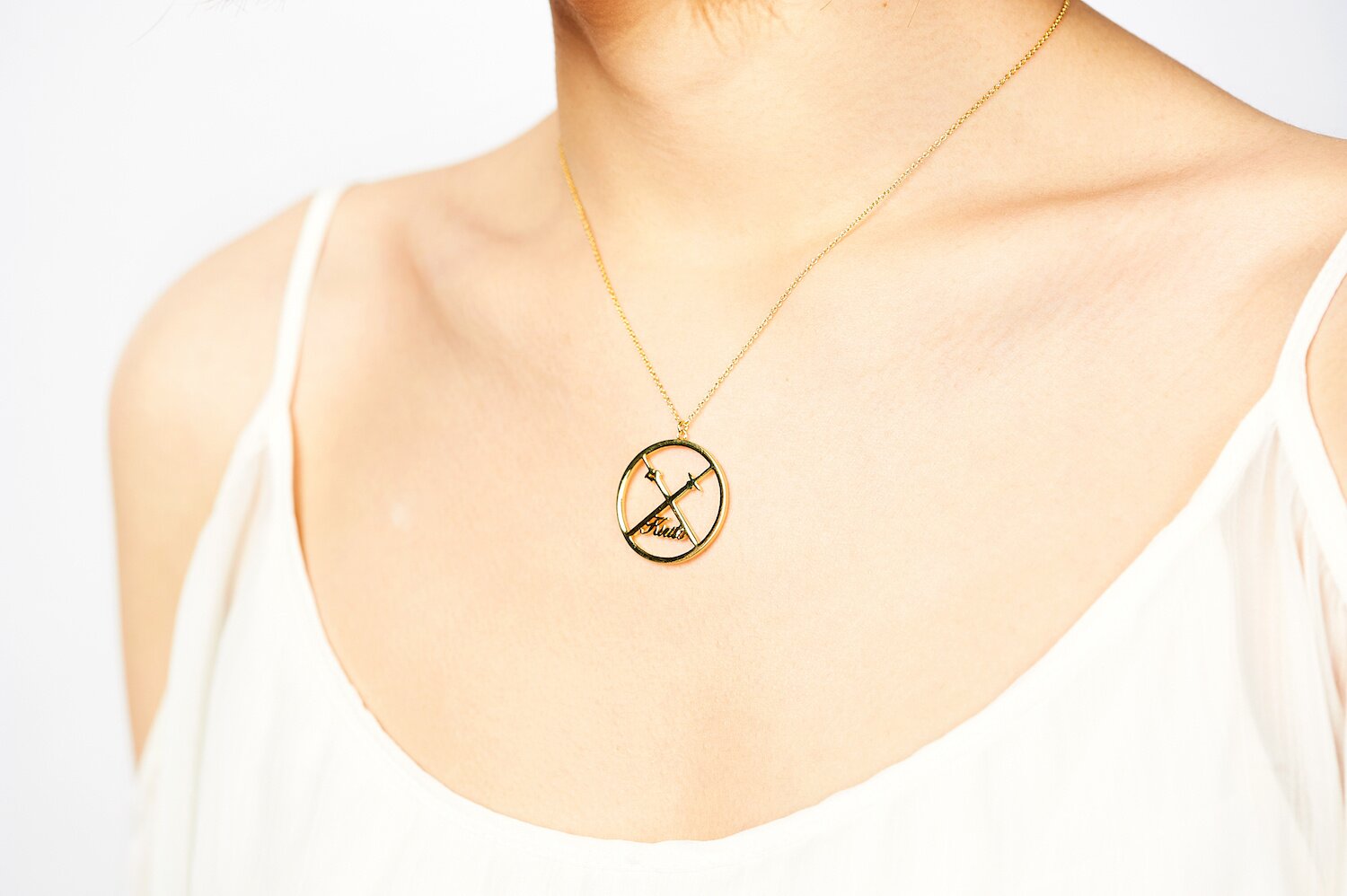 ![file](https://d3ieicw58ybon5.cloudfront.net/ex/780.75/project_description/f3b124a583f946f7beb09a0b8428822f.png) #### 私は死なないよ。だって私は、君を守るほうだもん。 #### I'm not going to die. Because I'm the one who will protect you.
Asuna's words are filled with her love for Kirito, as well as her own determination.
This scene ranked tenth in the Recording Award category of the Sword Art Online Award.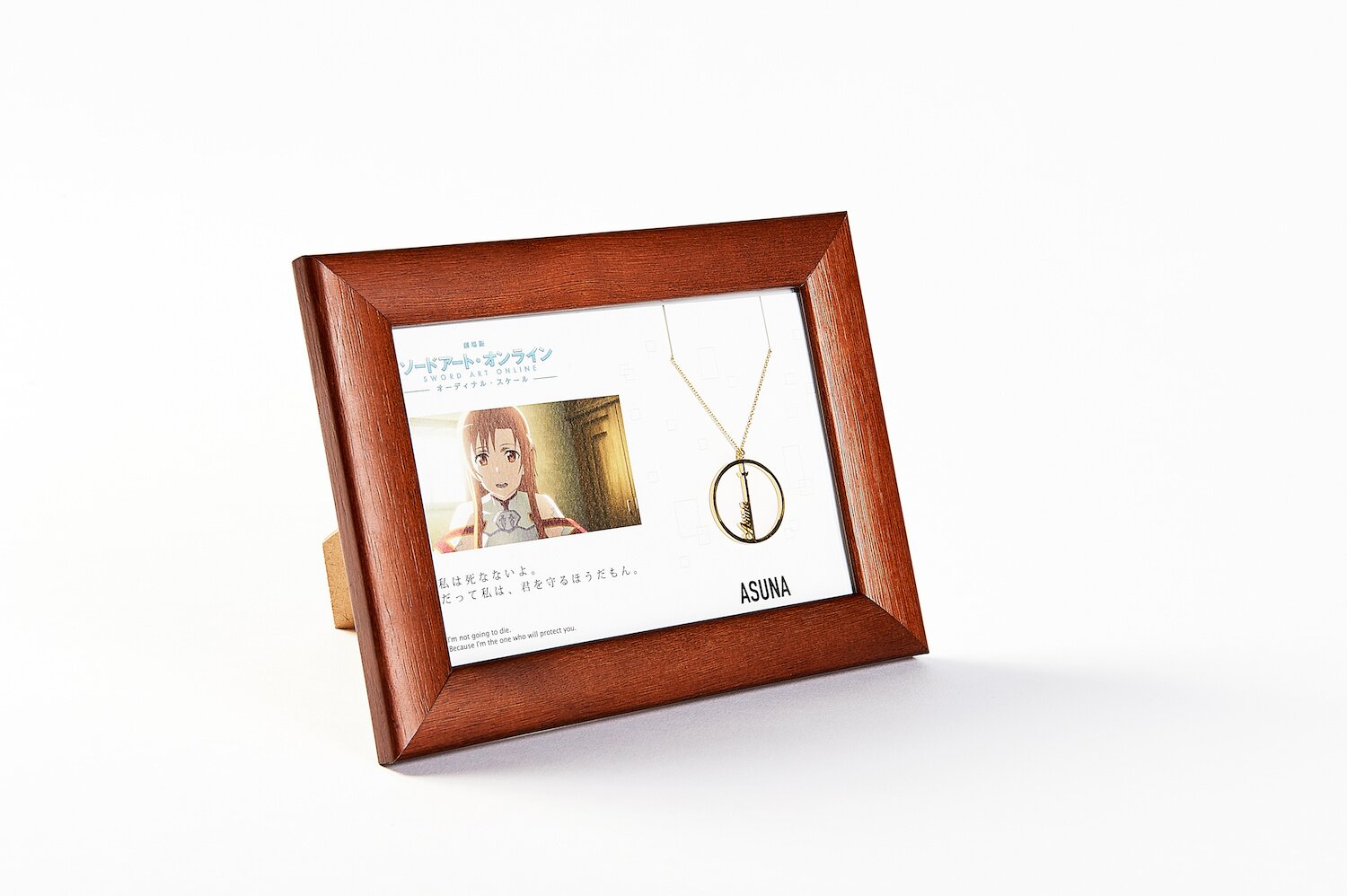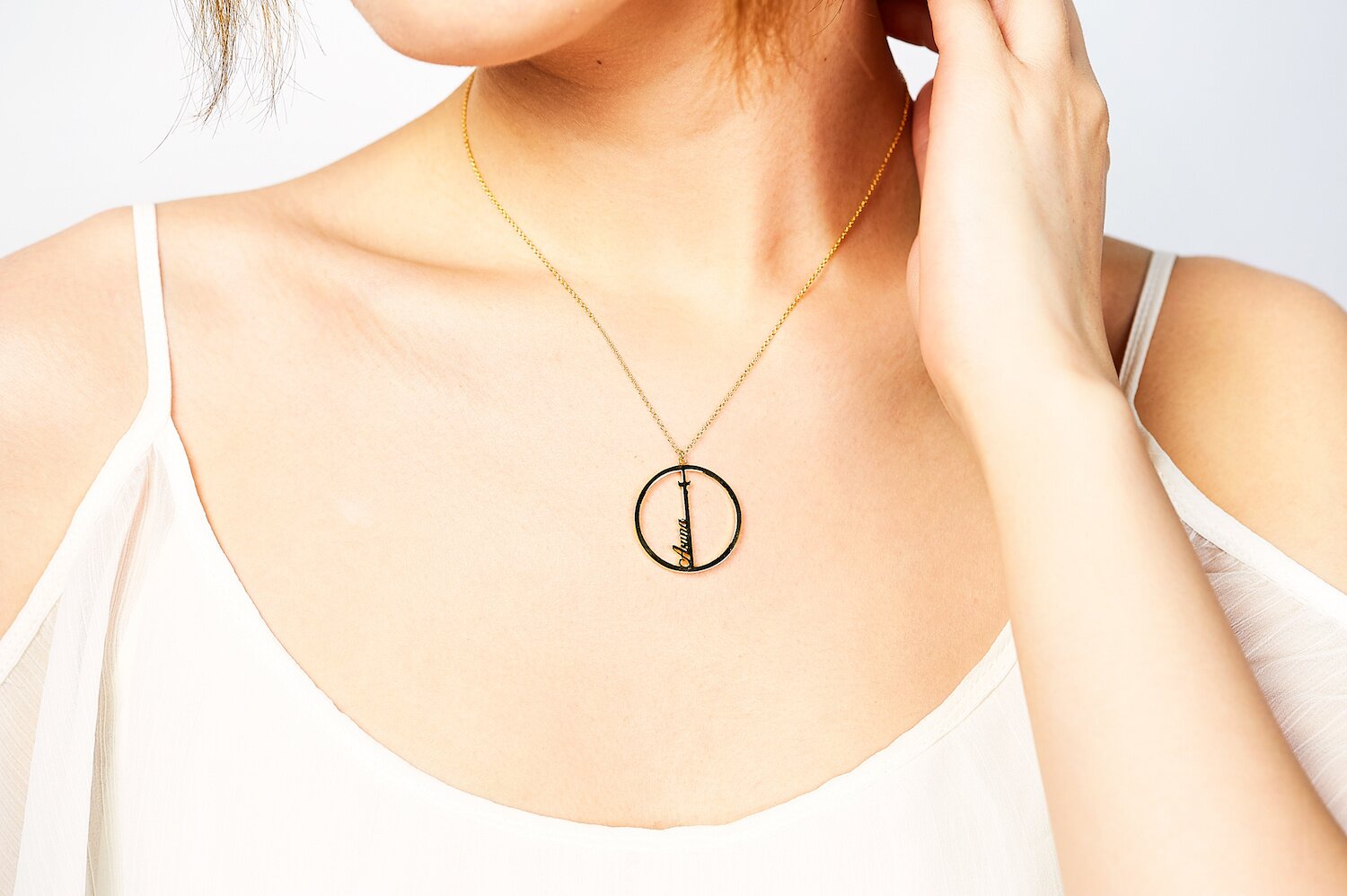 ![file](https://d3ieicw58ybon5.cloudfront.net/ex/780.75/project_description/4fce91a885a04cbeb7fbf4fb2b8c4ca9.png) #### 決勝まで来るのよ。これだけ色々レクチャーさせたんだから、最後のひとつも教えておきたい。敗北を告げる弾丸の味。 #### You'd better make to the finals. I've taught you so much, and I want to teach you one last thing. The taste of the bullet that means defeat.
These are Sinon's final words to Kirito before the GGO finals.
They also offer us a glimpse of her strong resolve in joining the tournament to overcome her trauma from the past.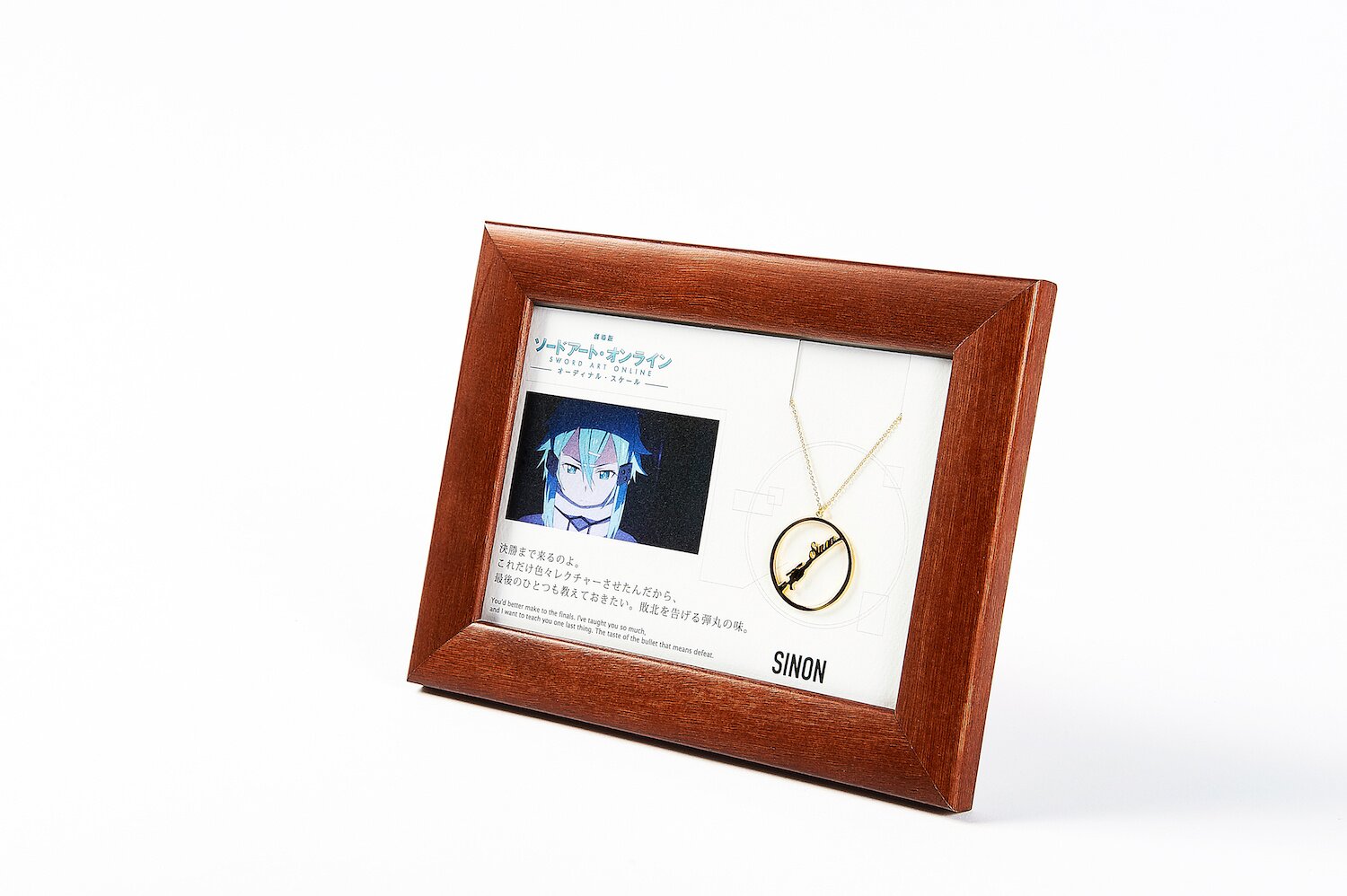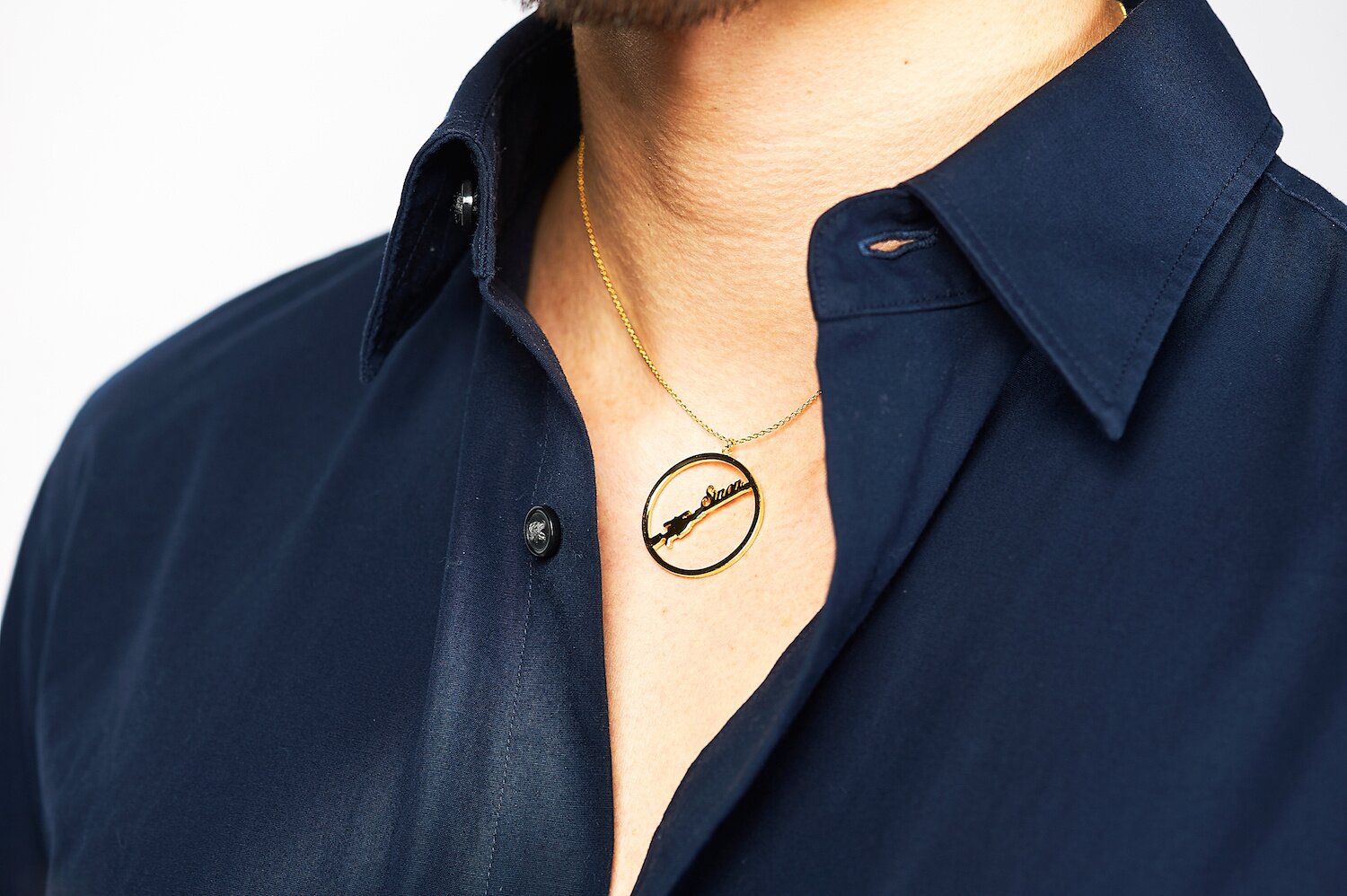 Wear it as a personal accessory, give it to someone significant in your life, or frame it and have it on display. Relive the most remarkable scenes through the Sword Art Online 5108 (Kotoba) Necklaces.
Memorize the Japanese dialogue and link yourself to the SAO universe in Japan!







Composition: Brass
Chain Length: Approximately 38 cm (15 in)
Charm Diameter: Approximately 2.5 cm (1 in)
Display Card Size: Approximately 15 cm x 10 cm (6 in x 4 in)
The display cards are approximately the same size as regular postcards.
Made in Japan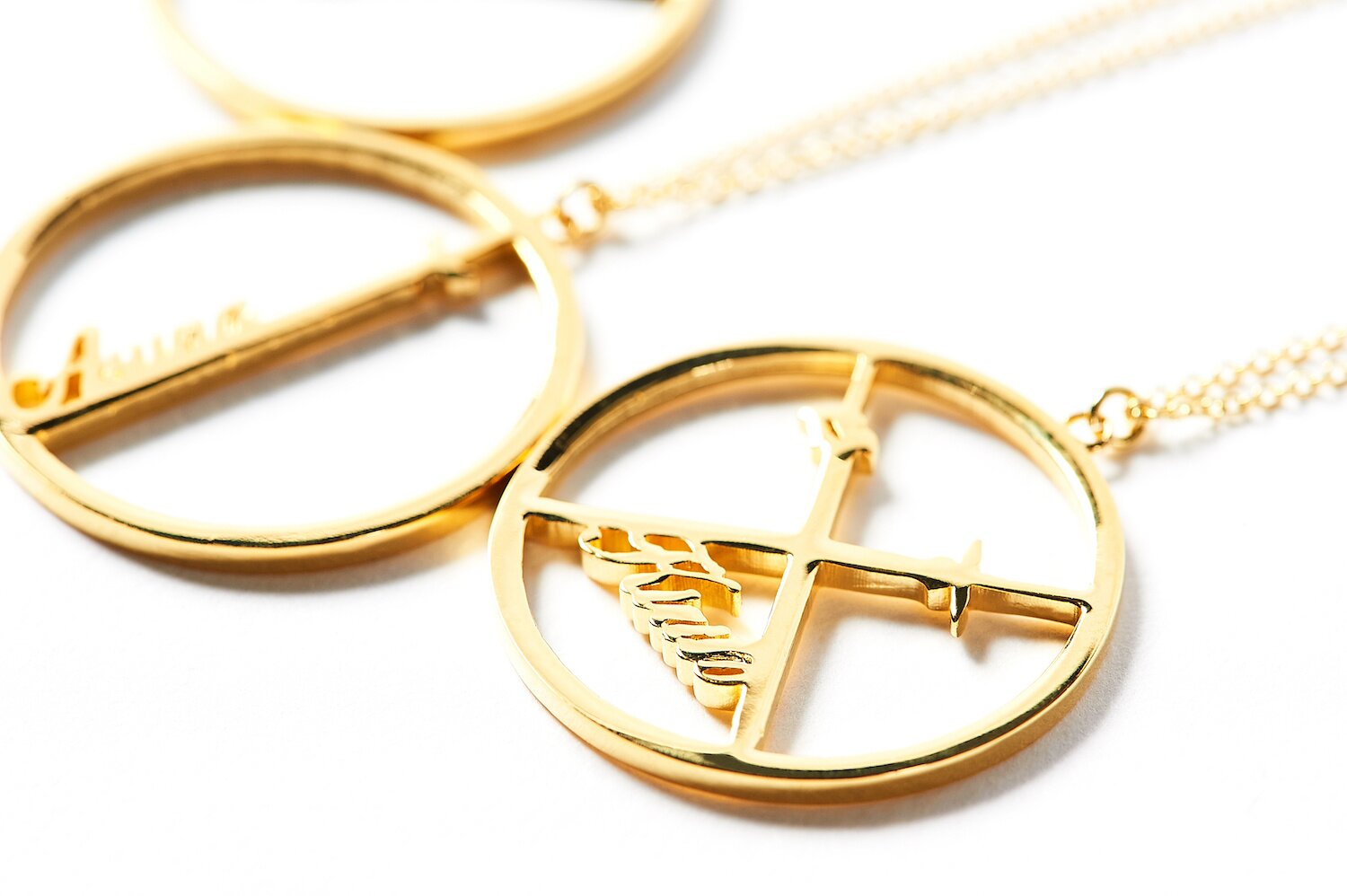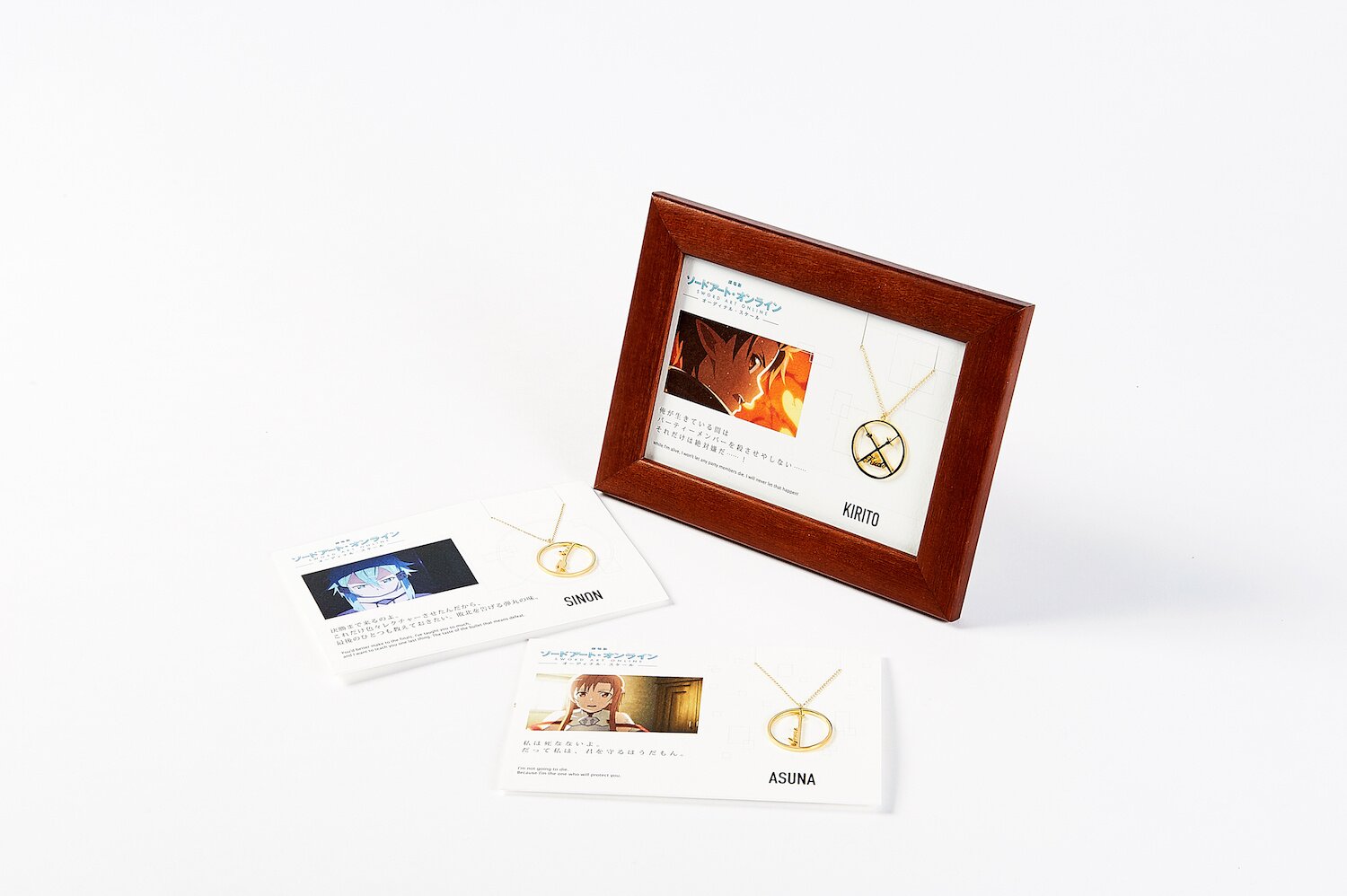 Notes:
Taxes are included in all listed prices.
Photo frames are not included and should be purchased separately.
---
**5108 (Kotoba)** The [5108 (Kotoba)](http://5108.co.jp/) brand is very particular about how its products are manufactured. Therefore, it works only with reliable Japanese manufacturers in the processes of mold-making, casting, polishing, finishing, and inspecting. This is true for the chain, the charms, and all other components of its products, even the raw materials that are used. All processes are performed in Japan with great care and patience by skilled craftspeople.
Each necklace is made of high-quality brass that is resistant to rust and the deterioration or malfunctions it may cause. The gold plate finish gives the necklaces a soft and beautiful shine.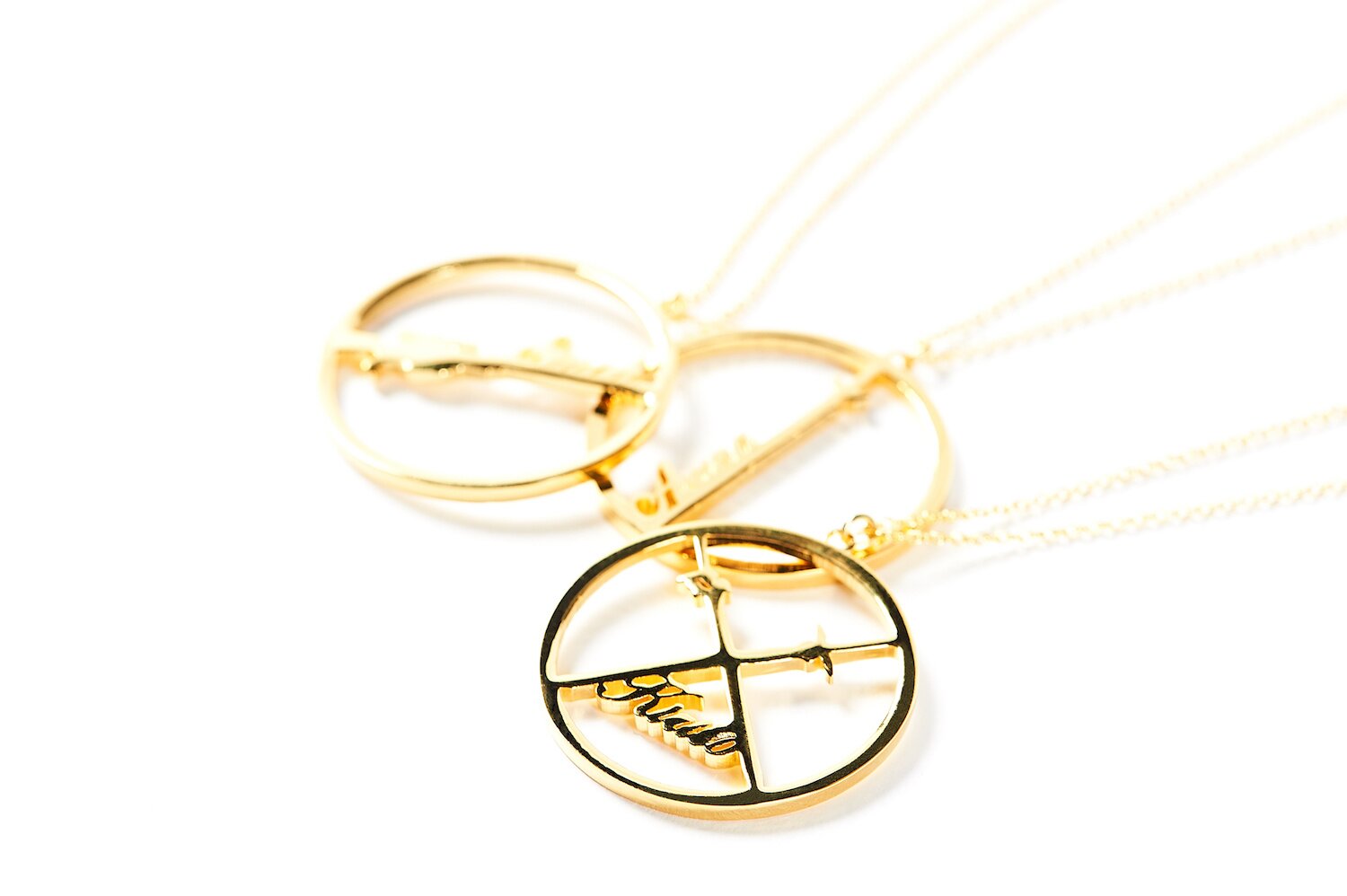 Sword Art Online x Tokyo Otaku Mode
Based on Reki Kawahara's original light novel series, the Sword Art Online anime series illustrates Kirito The Black Knight's heroic saga that unfolds in "Sword Art Online", a futuristic virtual reality game.
Over twenty million copies of Sword Art Online light novels have been sold worldwide, and the series has been adapted into a variety of media formats, such as anime, games, and comics. In 2017, its film based on an original story by Kawahara titled "Sword Art Online The Movie: Ordinal Scale" opened in theatres, crossing borders and gaining tremendous popularity worldwide.
As the official international media partner of Sword Art Online, Tokyo Otaku Mode has continued to share information about the series with fans around the world since November 2016. We have experience collaborating with numerous manufacturers to produce merchandise based on a variety of different series, and this time, we were truly inspired by the voices of all you SAO fans. Your feedback and requests motivated us to produce SAO merchandise unlike anything that has been made before.
Through this Sword Art Online × Tokyo Otaku Mode project, we will produce an exclusive Sword Art Online merchandise collection that truly captures the essence of the series.
http://sao-movie.net/us
https://otakumode.com/sp/sao-movie

**Q: When will I be charged?** **A**: You will be charged immediately upon backing the project.
Q: When will rewards be shipped out?
A: Rewards are scheduled to be shipped out in November 2017.
Q: Where will rewards be shipped from?
A: Rewards will be shipped directly from Tokyo Otaku Mode in Japan.
Q: I noticed that all prices are displayed in Japanese Yen. If I am paying with foreign currency, how will exchange rates affect my payment?
A: Rates may differ between credit card companies. Please contact your credit card company for further information.
** Q: Will I need to pay any additional import duties, VAT, customs taxes, or local handling fees when receiving my reward?**
A: Depending on your country's customs laws, you may be required to pay a tax before obtaining your package. In some areas, such as the United Kingdom and France, the local postal service may charge an extra handling fee for processing packages affected by customs taxes. Payment of customs taxes and any possible handling fees is the responsibility of the purchaser.
Q: Why can't I click the "Reserve" button?
A: Please ensure that you have filled out your payment method and shipping information and try again. Instructions are available here.
Q: Are the rewards that ship to Japan and ship internationally different?
A: No. The rewards are the same. The only difference is the shipping cost.
Q: My skin is sensitive to metal. Can I wear the necklace?
A: Although the necklaces are gold plated, we recommend contacting your dermatologist before reserving if you are allergic to metal alloys. If you experience any irritation after wearing the necklace, please discontinue use and consult your physician.







See more TOM Projects!




©R/A/S ©R/KA/SII ©RK/KC AMW/SM