A vampiric Vida flower, a shipping capsule, and children. These items and characters from the popular serialized comic The Promised Neverland (Story: Kaiu Shirai; Art: Posuka Demizu) have become simple, monotone t-shirts. The designs are symbolic of the series' world and have been completed in a calming black and white design.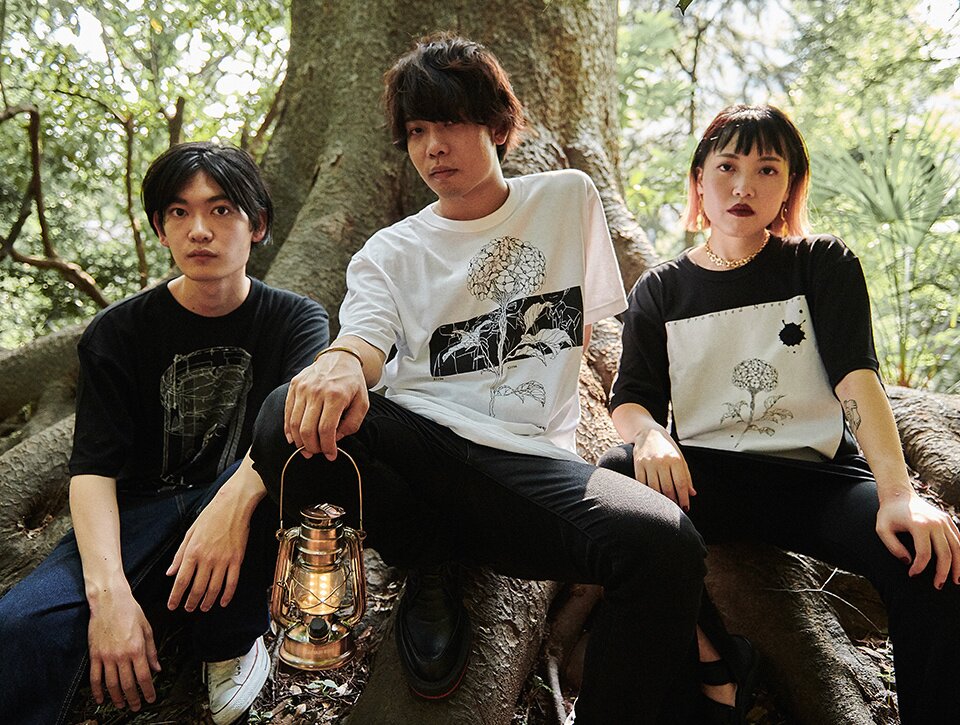 Flower
This t-shirt has the design of a Vida flower, which is used during harvest. The design represents the serious atmosphere throughout the series.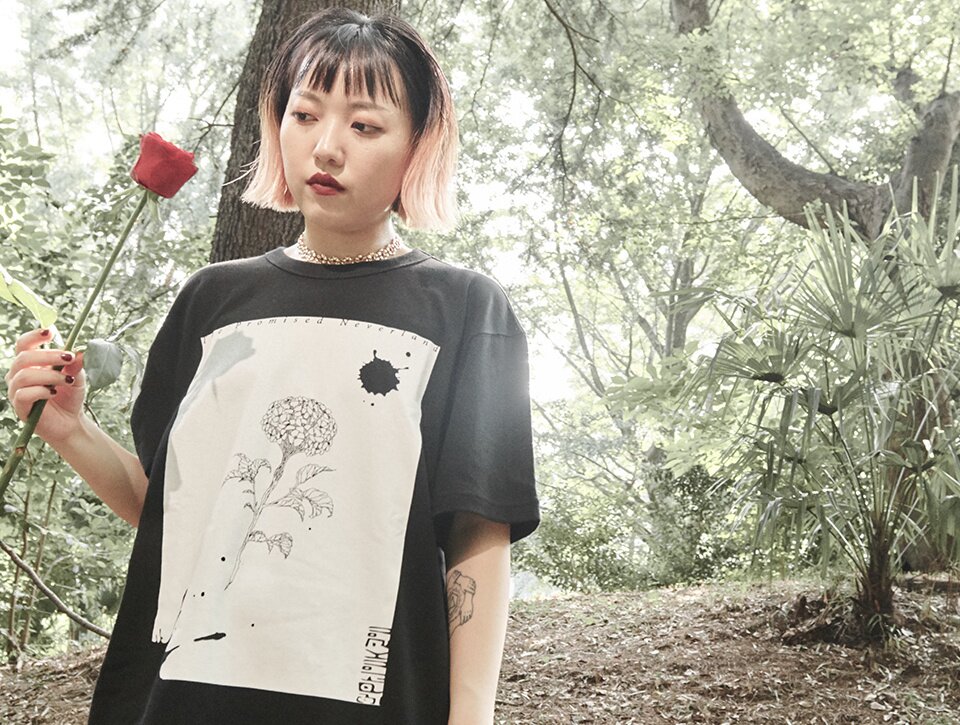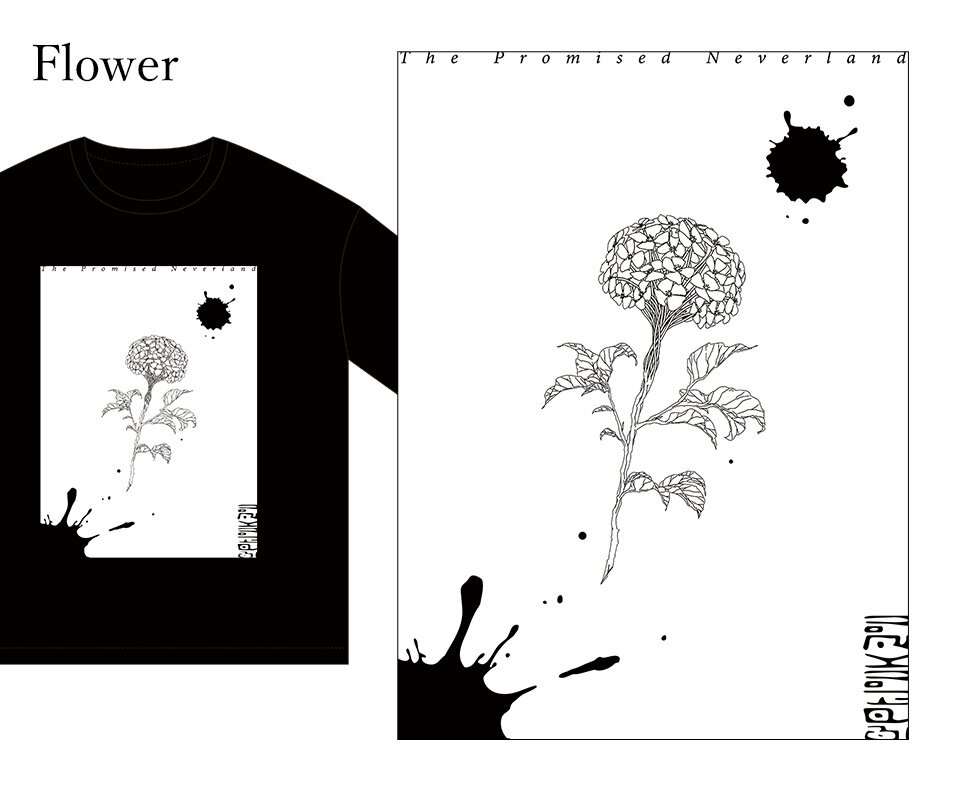 Capsule
This t-shirt has the motif of a capsule, which is used to preserve the harvest. Fans of the series should understand the suspense this t-shirt gives off.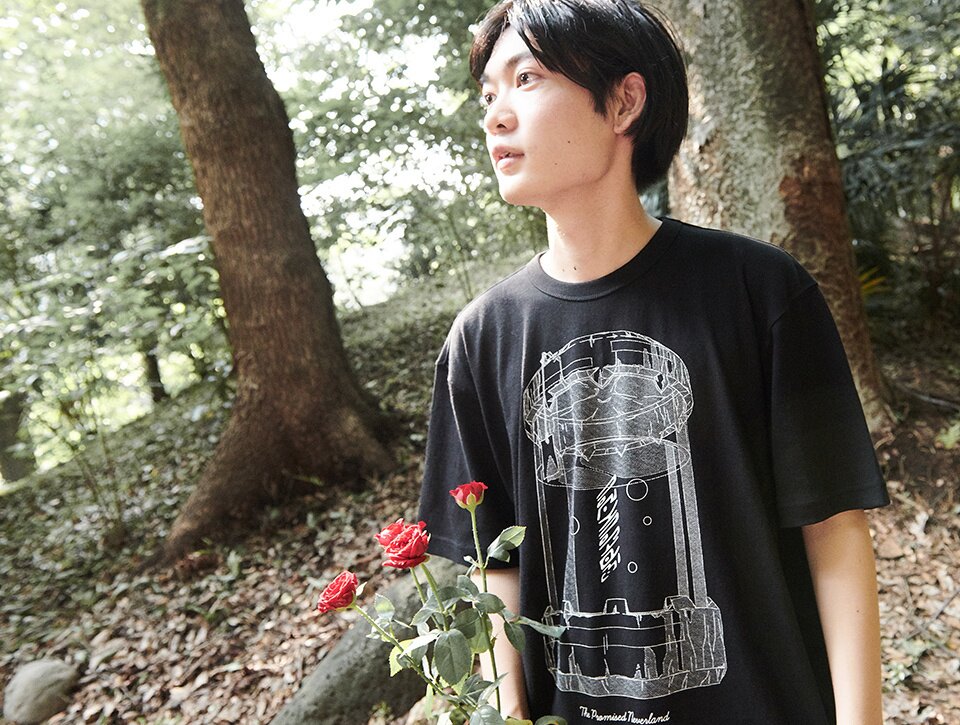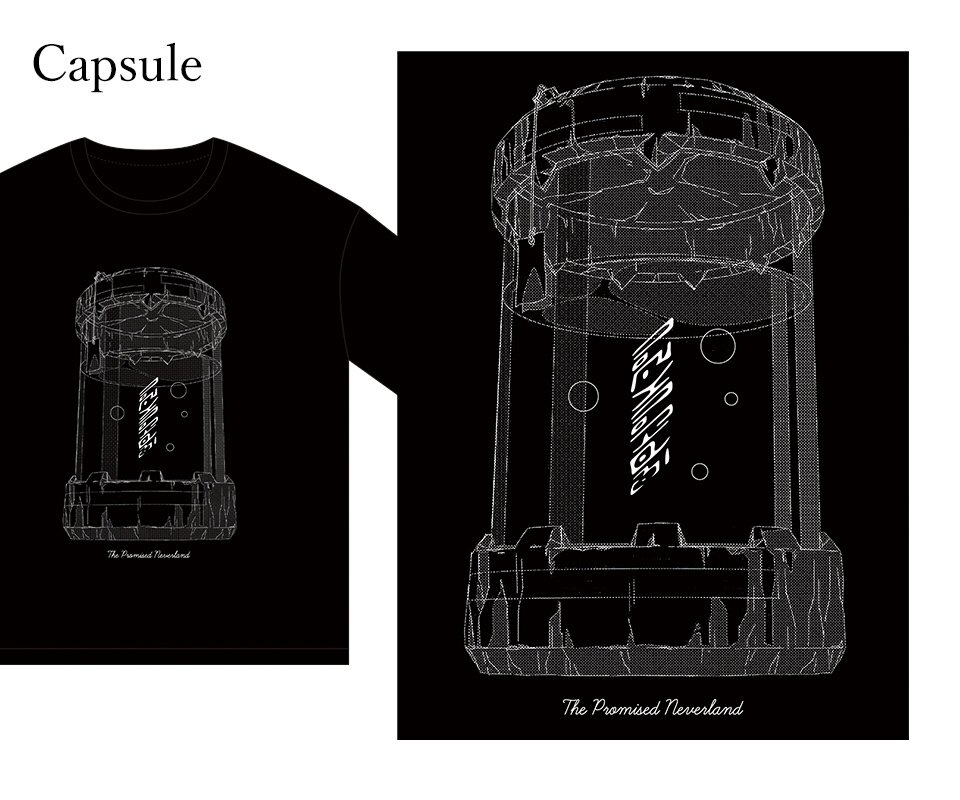 Children
A design with the three protagonists, Emma, Norman, and Ray. This t-shirt allows you to experience a brand of fear that only The Promised Neverland can provide.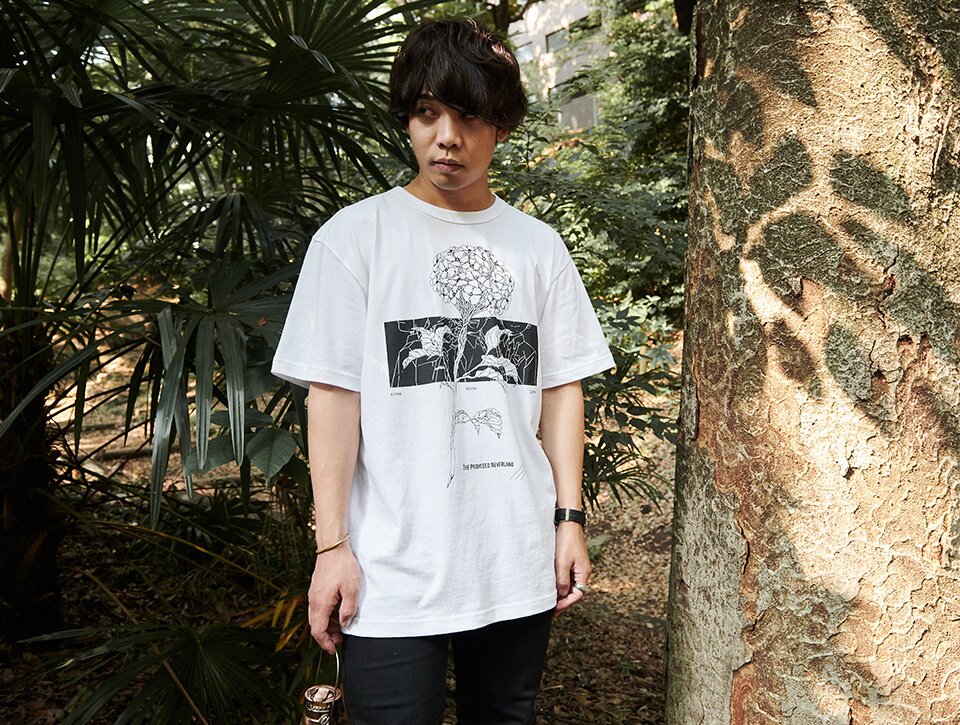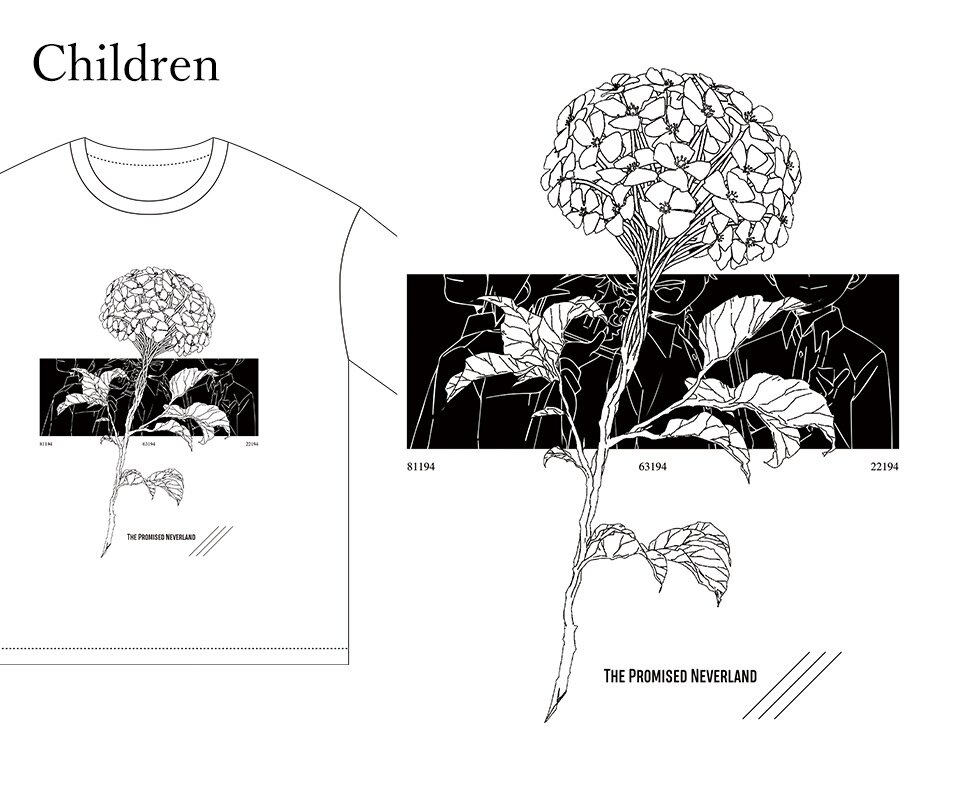 In order to design these t-shirts, we focused on the atmosphere and vibes of the The Promised Neverland world and placed importance on creating designs that represent the world of the series. We also wanted the designs to be appropriate for wearing out and about. These t-shirts are products that we would definitely recommend to all fans of the series.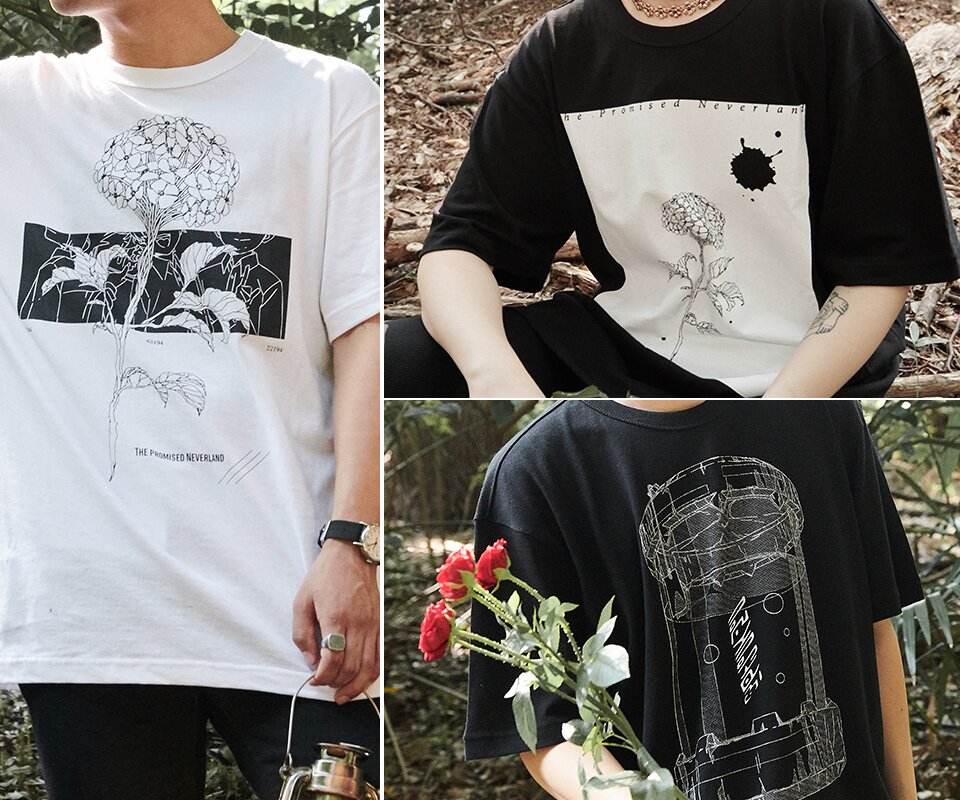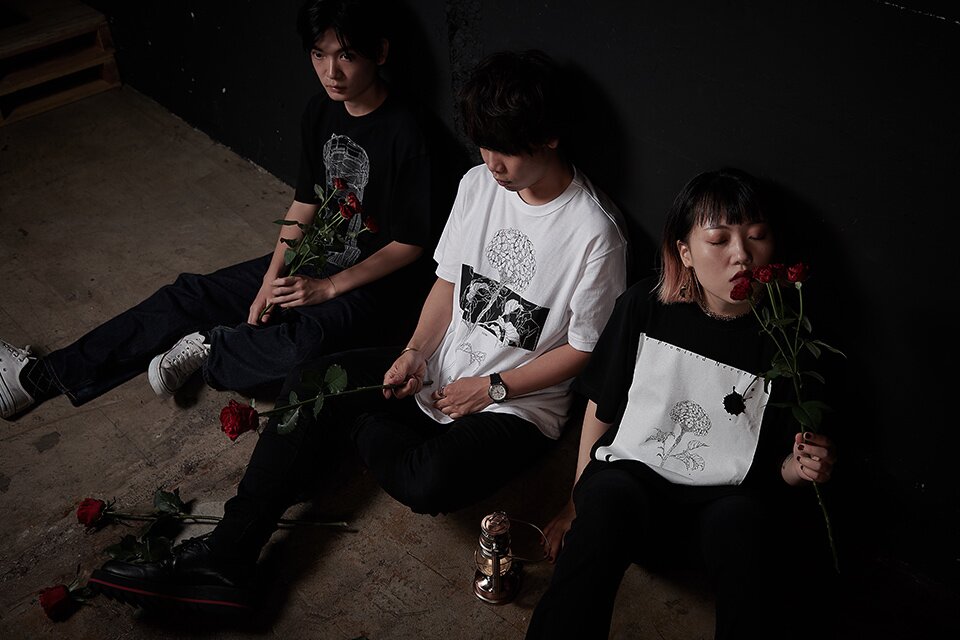 *Products are currently under development and may differ from images shown.

Materials: 100% cotton
Sizes:
L: 73 cm (28.7 in) long, 61 cm (24 in) wide, 25 cm (9.8 in) sleeve length, 58 cm (22.8 in) shoulder width
XL: 77 cm (30.3 in) long, 64 cm (25.2 in) wide, 27 cm (10.6 in) sleeve length, 61 cm (24 in) shoulder width
---
The woman they love is not their mother. They live together, but are not siblings. This is Grace Field House, a small orphanage.
Emma, Norman, and Ray have spent their days there peaceful and happy. But one day, their everyday life is shattered by a sudden revelation…
What misfortune is waiting for them?
Official site
https://neverland-anime.com/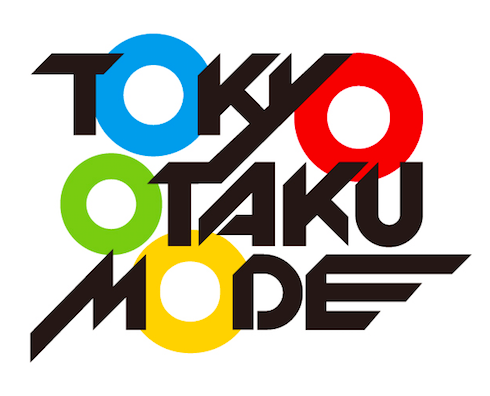 Tokyo Otaku Mode (TOM) shares with the world the latest Japanese pop culture news through its Facebook page, which has over 20 million likes as of June 2019 and sells products related to Japanese anime, manga, games, music, and fashion through its website, the Tokyo Otaku Mode Shop.
Tokyo Otaku Mode Projects is a service aimed to connect Japanese companies with fans around the world by offering Japanese products, even outside of the otaku genre, and will continue offering various goods overseas and in Japan.
Please visit the corporate site for information about product development, shipping agencies, and our other businesses.
Corporate Website:
https://corporate.otakumode.com

©Kaiu Shirai & Posuka Demizu / Shueisha & The Promised Neverland Committee

Q: When will rewards be shipped out?



A: They are scheduled to be shipped starting in October 2019 after production is complete.



Q: What payment methods are there?



A: We accept credit/debit card and Paypal.



Q: Where will rewards be shipped from?



A: Products will be shipped directly from Tokyo Otaku Mode in Japan.



Q: Why can't I press the "Reserve" button?



A: Please ensure that you have filled out your payment method and shipping information and try again.



Q: Are the rewards that ship to Japan and ship internationally different?



A: No. The rewards are the same. The only difference is the shipping cost.



Q: How will you ship the rewards?



A: Rewards will be shipped by EMS.



Q: Will I need to pay any additional import duties, VAT, customs taxes, or local handling fees when receiving my reward?



A: Depending on your country's customs laws, you may be required to pay a tax before obtaining your package. In some areas, such as the United Kingdom and France, the local postal service may charge an extra handling fee for processing packages affected by customs taxes. Payment of customs taxes and any possible handling fees is the responsibility of the purchaser.



Q: Can I change my Shipping address?



A: Shipping address can be changed via your My Projects page. Please note that the shipping address is no longer changeable after we enter shipping preparations. The option will disappear once we enter shipping preparation.



Q: Can I cancel any order?



A: We do not accept cancellations.



Q: What should I do if the package for my product arrived damaged?



A: The package is for protecting the actual product, and cannot be exchanged.