Hatsune Miku Arm Cover Shoulder Bag
![file](https://d3ieicw58ybon5.cloudfront.net/ex/960.580/project_description/453d1edd49c748908289e9559444a5e5.jpg) The designs of Hatsune Miku's arm covers and skirt have been transformed into a shoulder bag. The nylon materials recreate Miku's shininess, resembling her iconic features. The "01" logo is placed on the front, and the "10th anniversary" logo is on the back.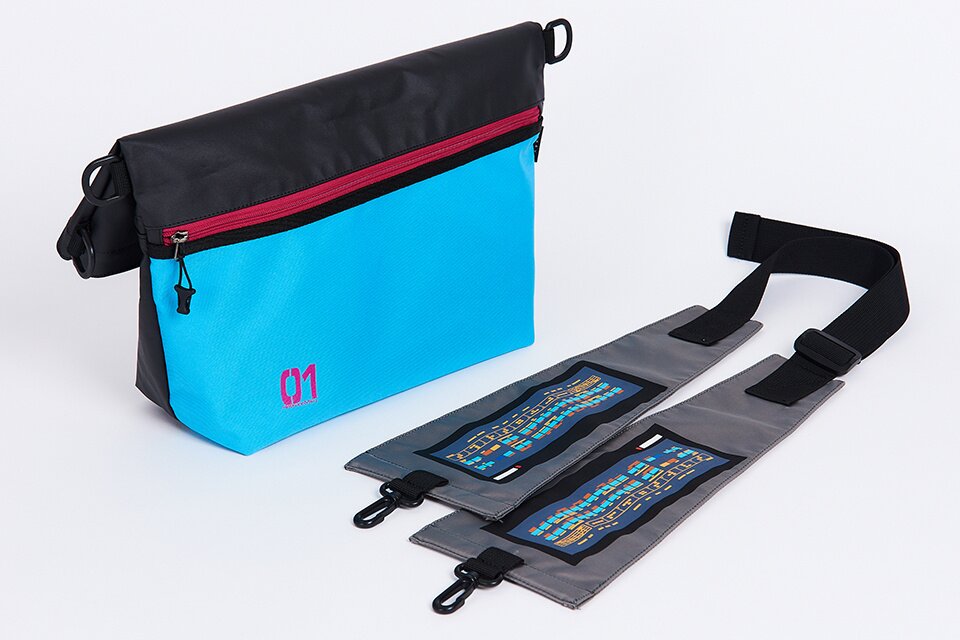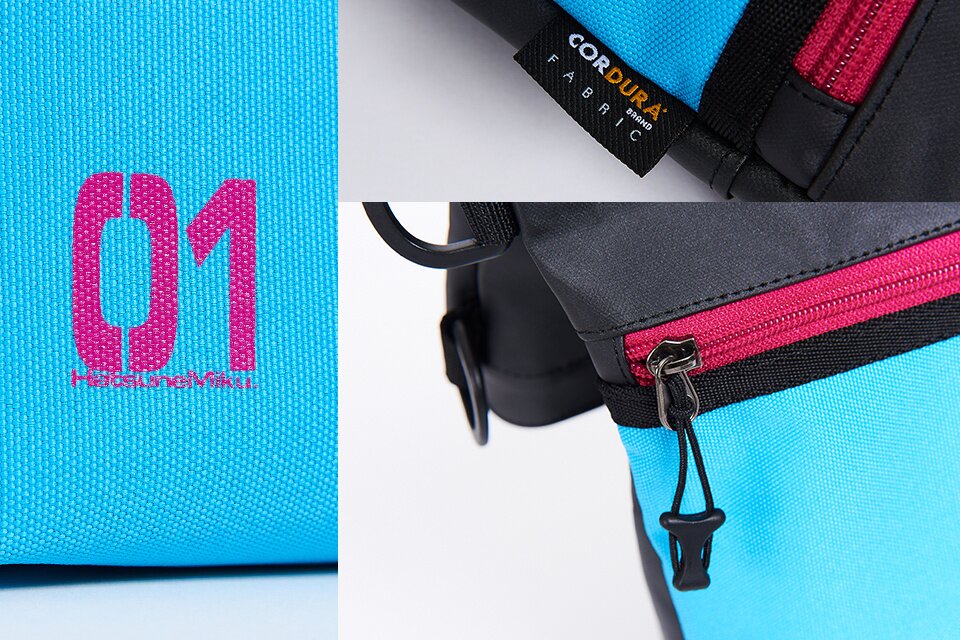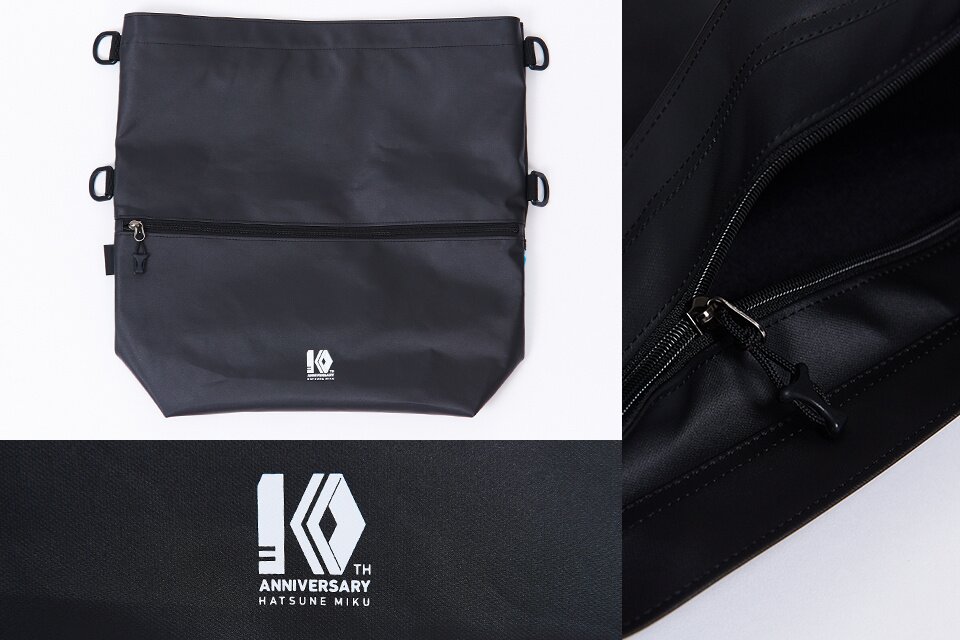 The bag can be used in two ways as a handheld bag and as a shoulder bag, and it is large enough to fit letter size papers (A4 size), making it perfect for commuting. The position of the shoulder tape attachment can be changed to transform the bag into a sling backpack. It is a bag that can be enjoyed in various coordinations.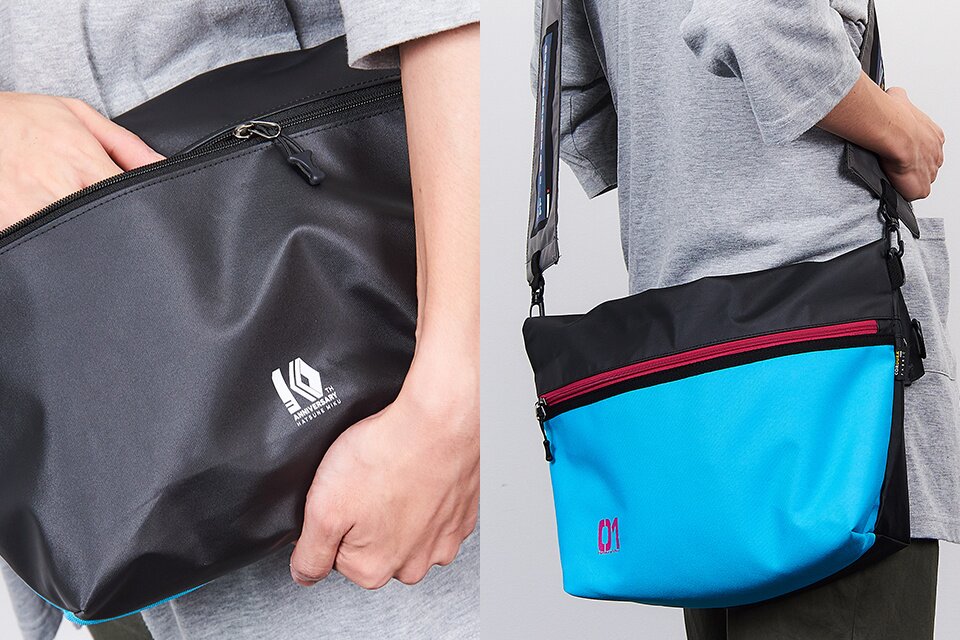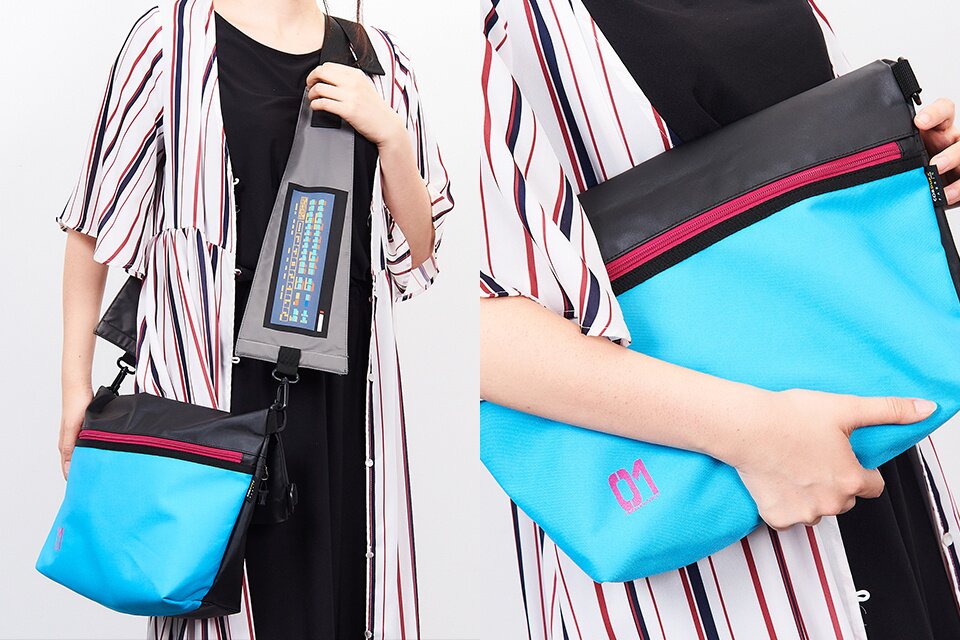 ---
Kagamine Rin / Len Reversible Shoulder Bag
![file](https://d3ieicw58ybon5.cloudfront.net/ex/960.580/project_description/68c79f1b70334adb9f442741794f3d0b.jpg)
A shoulder bag decorated with designs resembling Rin/Len's fashion. The bag is made using Cordura nylon. The red number "02" is arranged on a black background, along with yellow decorations that resemble Rin/Len. A design featuring the two standing back-to-back was chosen as the main image. A shoulder bag perfect for fans of Rin, Len, or both of them.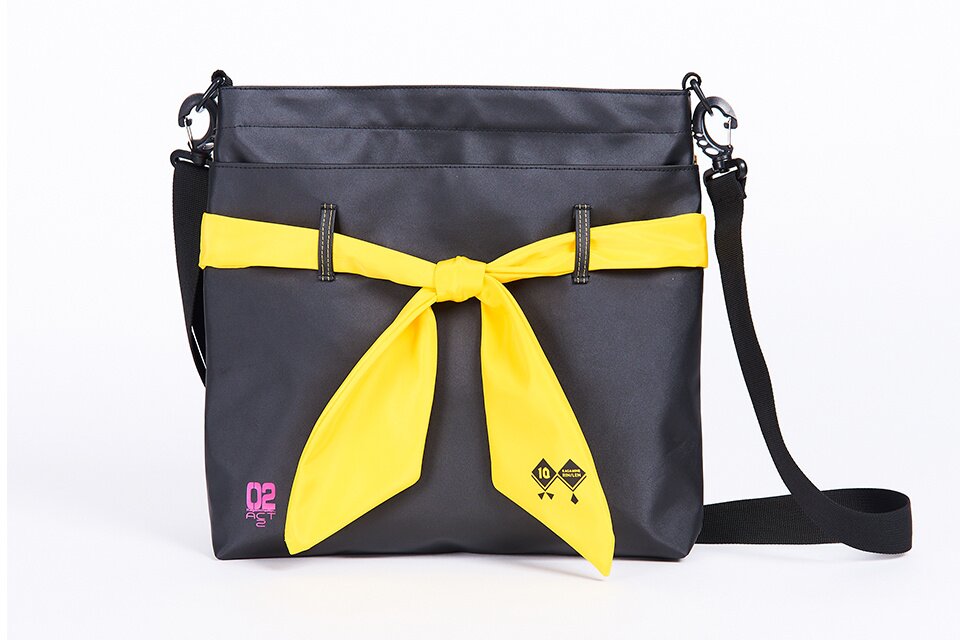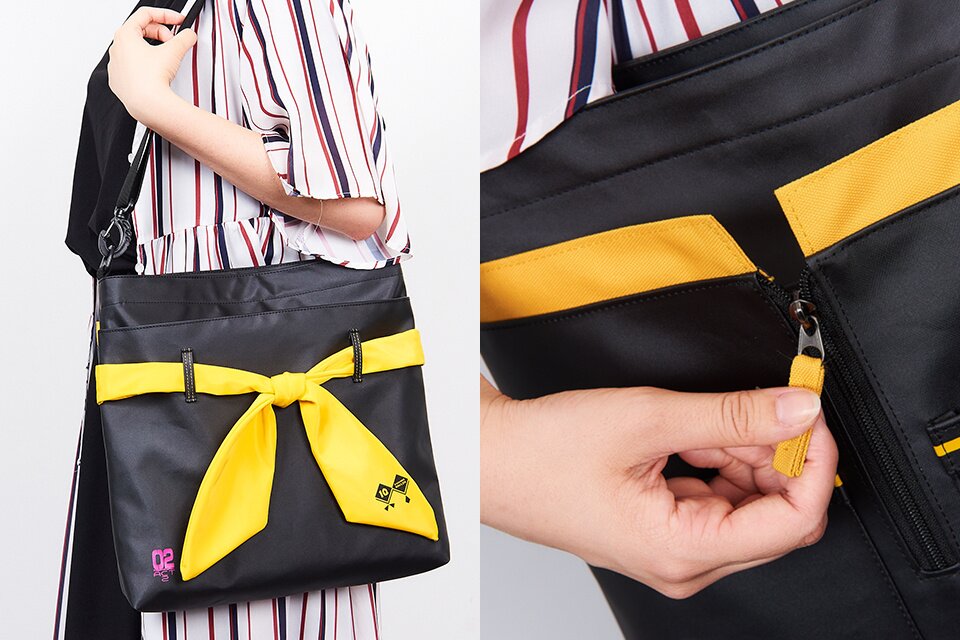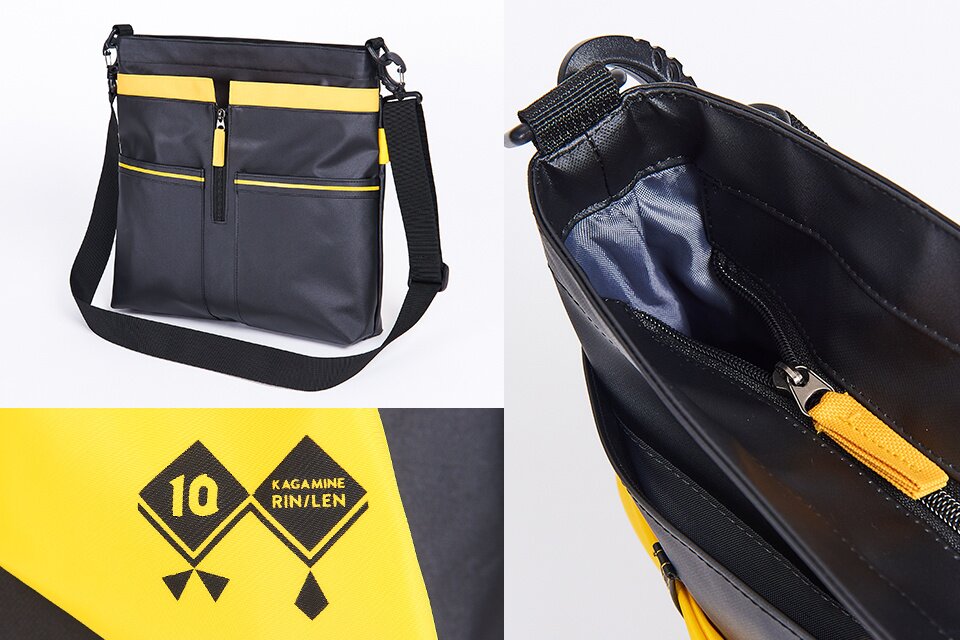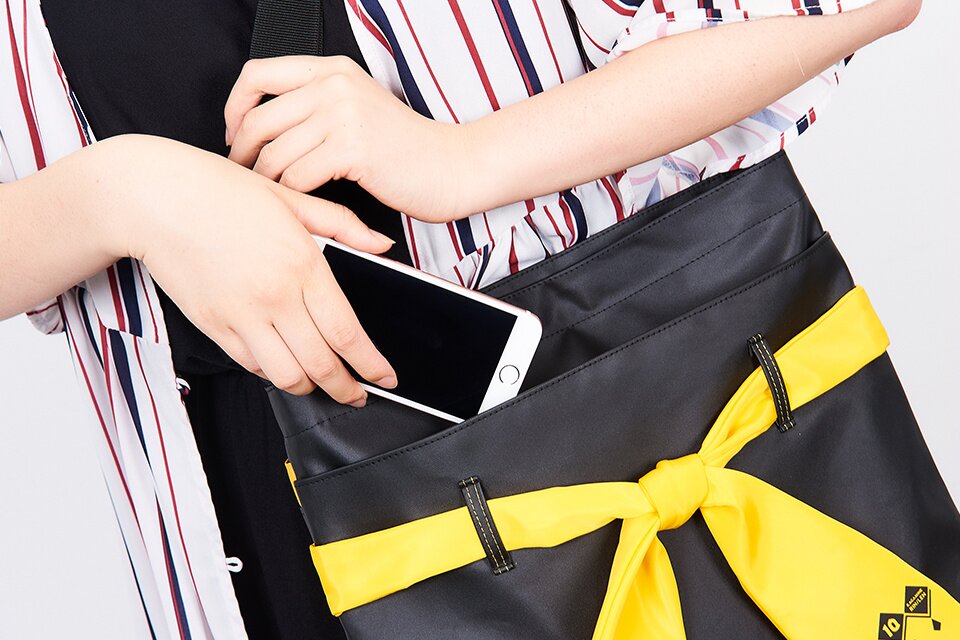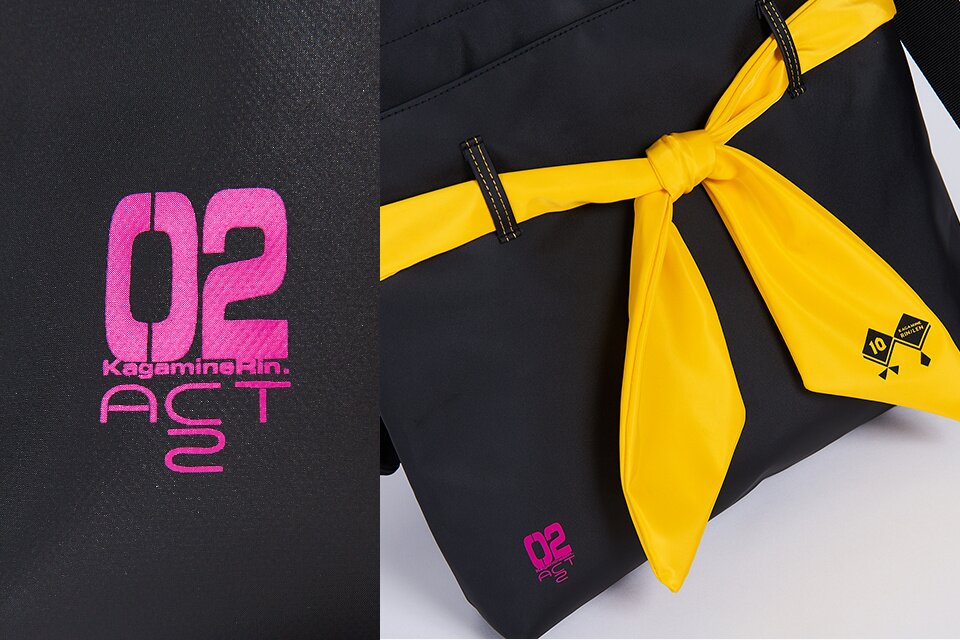 ---
Product Details
Hatsune Miku Arm Cover Shoulder Bag
* Materials: Cordura nylon * Size: 42 cm x 31 cm x 8 cm (16.5 in x 12.2 in x 3.15 in)
Kagamine Rin / Len Reversible Shoulder Bag
Materials: Cordura nylon
Size: 28 cm x 32 cm x 7 cm (11 in x 12.6 in x 2.8 in)
Warning
Please note that product images may slightly differ from the actual product due to the nature of online sales, such as lighting or camera flashes.
About Hatsune Miku and Kagamine Rin/Len
HATSUNE MIKU
![file](https://d3ieicw58ybon5.cloudfront.net/ex/960.640/project_description/6c14db8967894571be1d4bd0b370a200.jpg) The trademarks of Hatsune Miku are her two blue-green ponytails, and her futuristic outfit resembling a school uniform.
The Hatsune Miku voice synthesizer software was developed based on the voice of Japanese voice actress Saki Fujita, and first released on August 31st, 2007. Since her release, Hatsune Miku has evolved into a phenomenon of highly participatory cyber culture, with Miku-related content created and shared everyday around the globe.
Age : 16
Height : 158cm
Weight : 42kg
Color : Blue-Green

---

KAGAMINE RIN ![file](https://d3ieicw58ybon5.cloudfront.net/ex/960.640/project_description/e1cdb1495f0148d3b5719e0ce9b30b45.jpg) Rin is the charming and youthful female character illustration and fresh female voice of voice synthesizer software of the same name. Her trademarks are her blond hair with a huge white ribbon on her head, blue eyes and a school uniform-like outfit.
Age : 14
Height : 152cm
Weight : 43kg
Color : Orange

---

KAGAMINE LEN Len is a male character and Rin's counterpart. He was created together with Rin as character illustration for voice synthesizer software. His looks feature short blond hair, blue eyes and a school uniform.
Age : 14
Height : 156cm
Weight : 47kg
Color : Yellow

---

About FIRST BY

FIRST BY is a brand that made its debut in 2018 from ARKNESS JAPAN, a bag manufacturer that has been in business for 60 years and has been passed down for three generations. They specialize in a selection of casual bags made of synthetic fibers, and their designs and know-how have been handed down and continue to evolve to this day. FIRE FIRST, one of their original brands that focus on functionality as well as designs aimed towards men, has been running for 18 years. "Fashion," "anime culture," and the crucial element of "the passion of being an Otaku," three aspects which have been inherited from FIRST BY, have been combined to create a next-generation anime bag brand. Its target is not limited to domestic fans, but also includes fans all over the world. They focus on never-before-seen designs and the use of prints, forms, materials, and accessories to recreate the world of its chosen theme. They aim to create bags that make fans truly happy.

ARKNESS JAPAN Official website:
http://www.arknessjapan.jp/

---

About Tokyo Otaku Mode

Tokyo Otaku Mode (TOM) shares with the world the latest Japanese pop culture news through its Facebook page, which has over 20 million likes, and sells products related to Japanese anime, manga, games, music, and fashion through its website, the Tokyo Otaku Mode Shop.

Corporate Website: https://corporate.otakumode.com/

Q: When will rewards be shipped out?

A: They are scheduled to be shipped starting in late November 2018 after production is complete.

Q: What payment methods are there?

A: We accept credit/debit card and Paypal.

Q: When will I be charged?

A: You will be charged immediately upon backing the project.

Q: Where will rewards be shipped from?

A: Rewards will be shipped directly from Tokyo Otaku Mode in Japan.

Q: Why can't I press the "Reserve" button?

A: Please ensure that you have filled out your payment method and shipping information and try again.

Q: Are the rewards that ship to Japan and ship internationally different?

A: No. The rewards are the same. The only difference is the shipping cost.

Q: How will you ship the rewards?

A: Rewards will be shipped by EMS.

Q: Will I need to pay any additional import duties, VAT, customs taxes, or local handling fees when receiving my reward?

A: Depending on your country's customs laws, you may be required to pay a tax before obtaining your package. In some areas, such as the United Kingdom and France, the local postal service may charge an extra handling fee for processing packages affected by customs taxes. Payment of customs taxes and any possible handling fees is the responsibility of the purchaser.

Q: Can I change my Shipping address?

A: Shipping address can be changed via your My Projects page. Please note that the shipping address is no longer changeable after we enter shipping preparations. The option will disappear once we enter shipping preparation.

Q: Can I cancel any order?

A: We do not accept cancellations.

Q: Will this item be sold in shops other than Tokyo Figure and Tokyo Otaku Mode?

A: The products will also be offered for wholesale to local distributors in select territories, and we expect that they will in the future become available from retailers with access to these distribution channels.