U-TREASURE, the jewelry shop that offers genuine character accessories for adults, has designed silver accessories featuring Kirby Twinkle Star.
Both the ring and the necklace present Kirby's cute round form in detail. The glittering gems add a spot of gorgeousness.
If you wear these accessories, you'll always feel Kirby's presence by your side.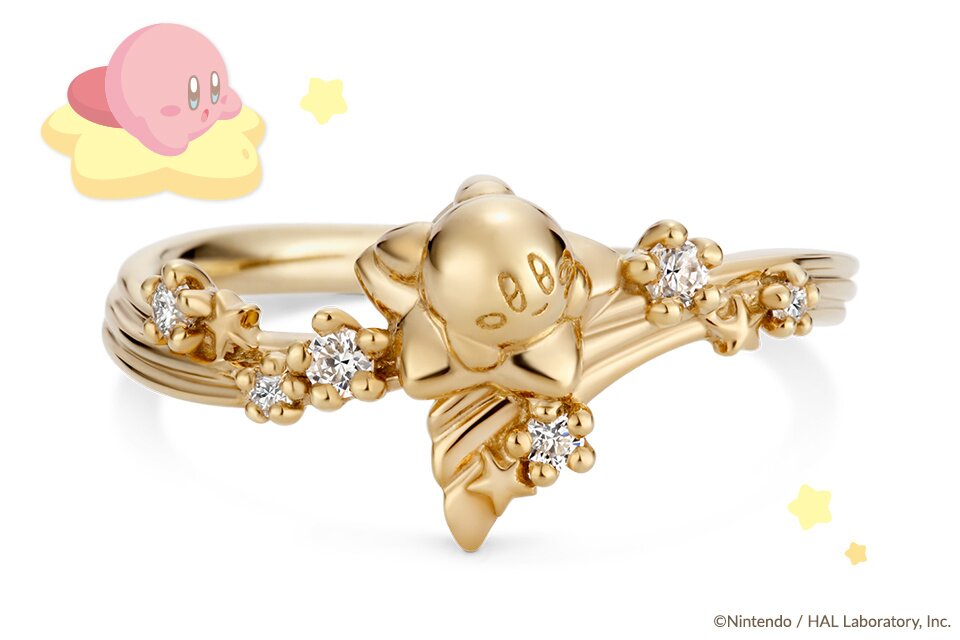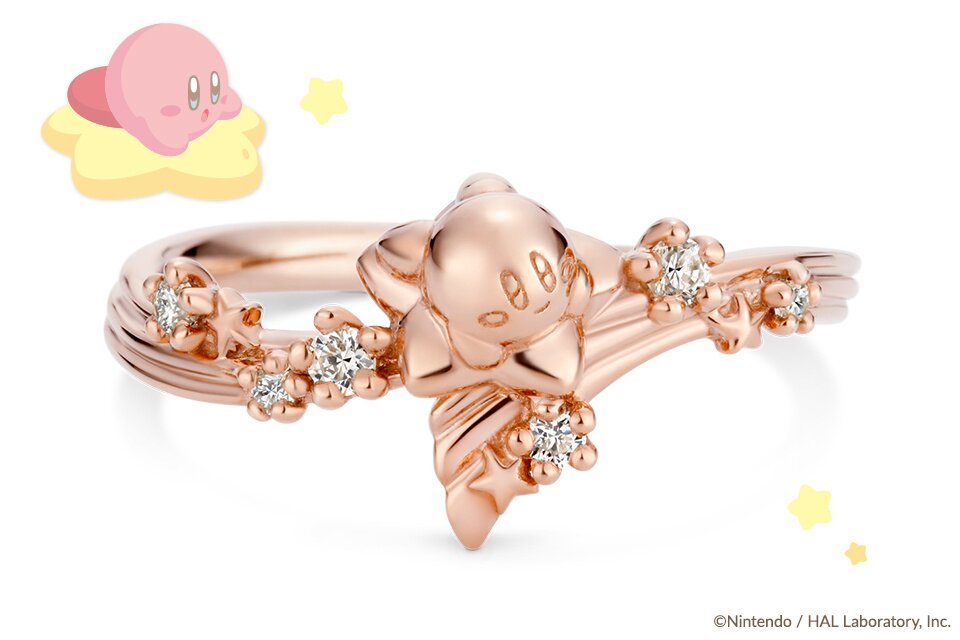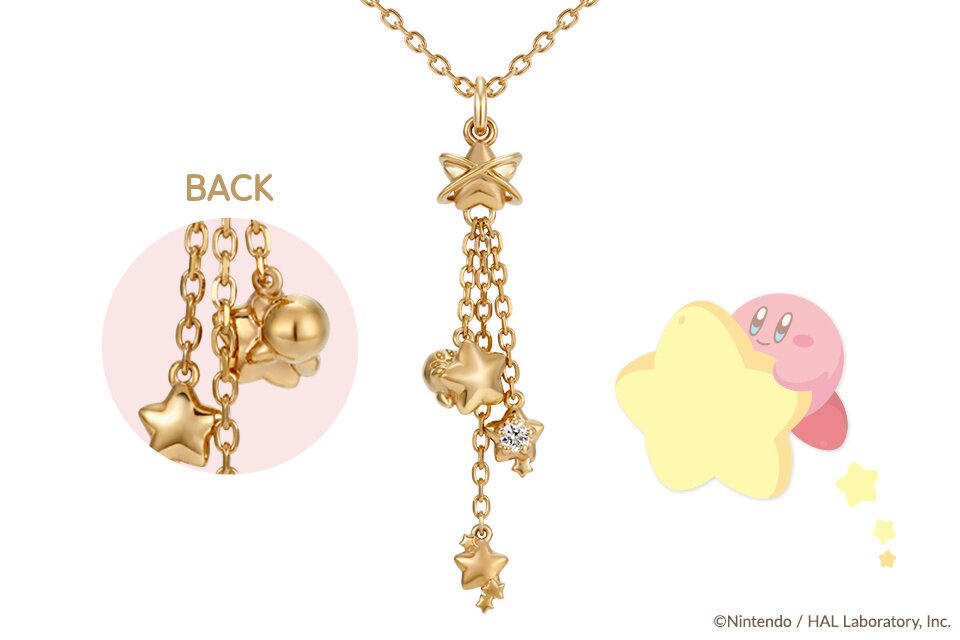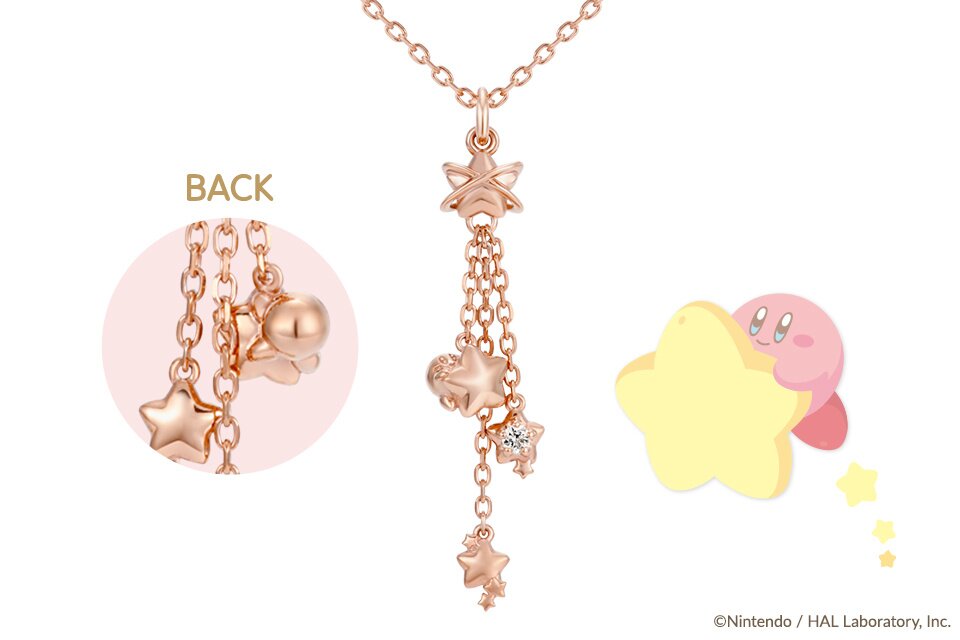 Kirby, riding a Warp Star from Popstar, hangs down with some stars to cheerfully sway around your collarbone. This necklace adds a feminine touch to Kirby's universe.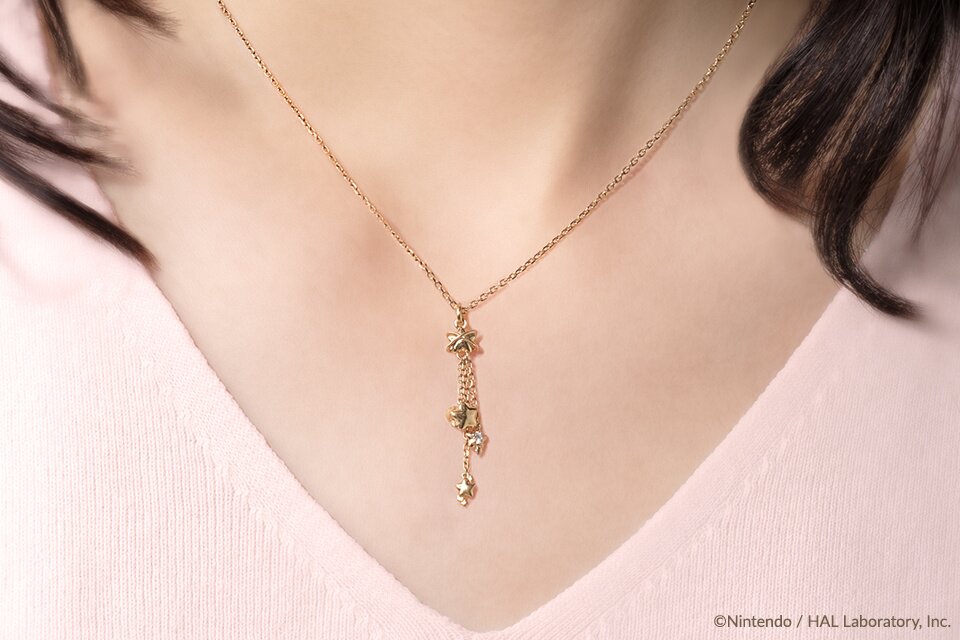 This ring was designed after the image of Kirby flying through the starry sky on a Warp Star.
We hope the wish you make on a Warp Star will come true.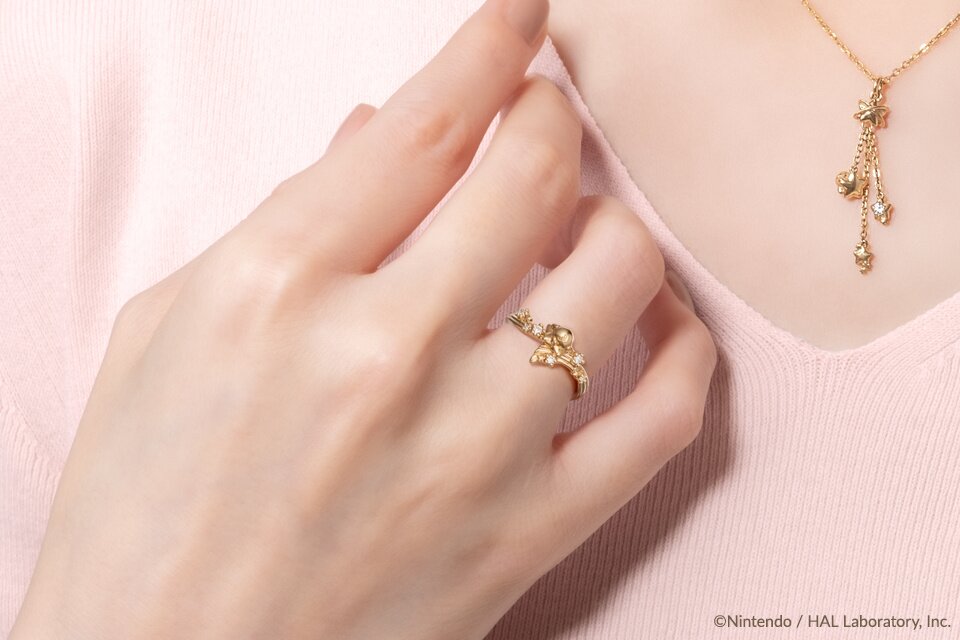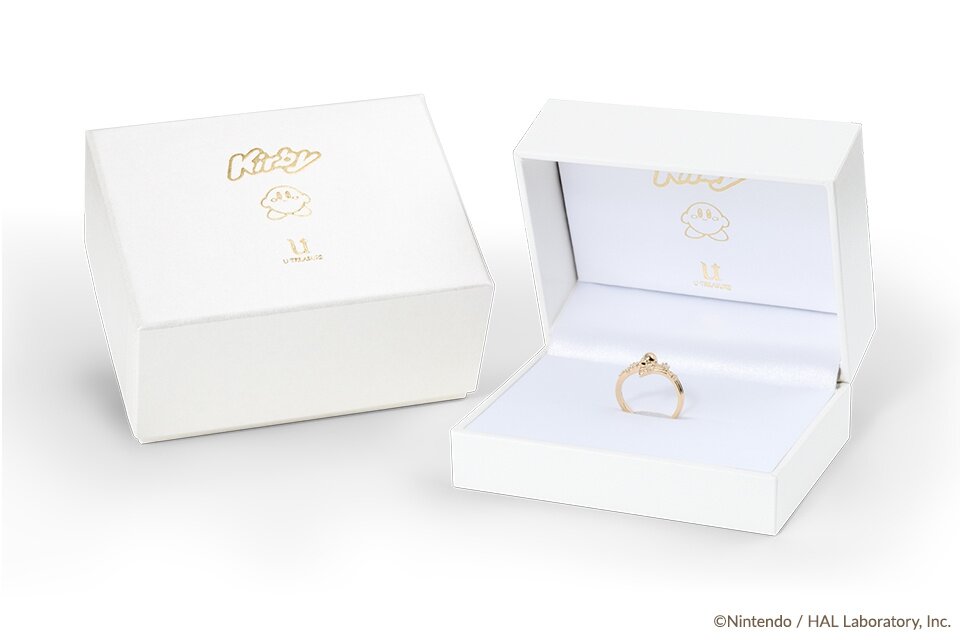 The accessories come with an original compact mirror as a freebee.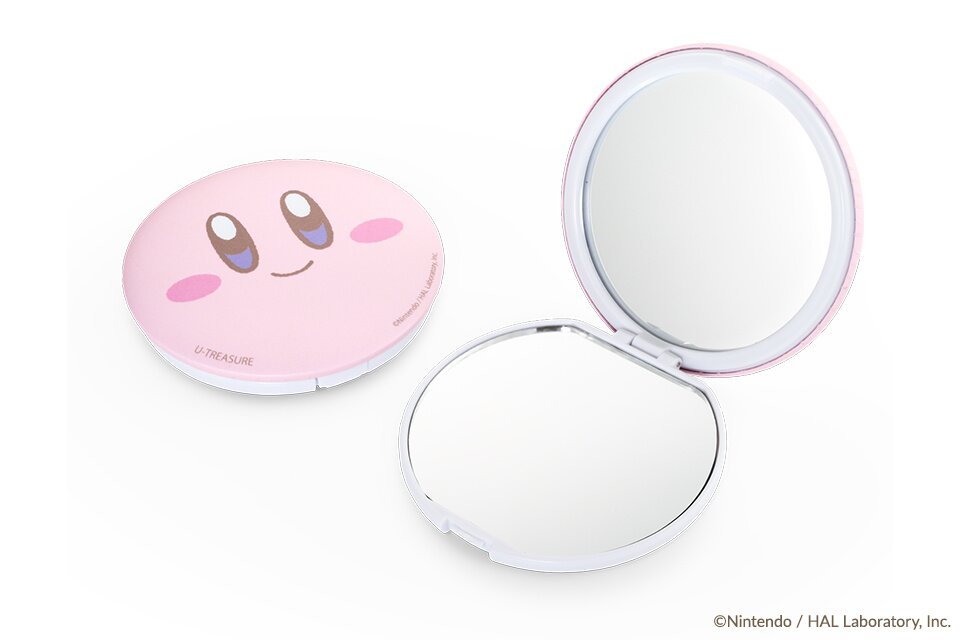 Note: 1 freebee for every item purchased.
Note: These products are currently under development so they may differ from these images.

[Silver Necklace]
Variations: Yellow gold coating, pink gold coating
Materials: Silver
Size: The necklace's length, including the chain, is 16 in (400 mm) long. The charm alone is 1.6 in (40 mm) long.
Box size: 3.5 in (9 cm) x 1.8 in (4.6 cm) x 2.7 in (6.8 cm)
Includes original compact mirror
[Silver Ring]
Variations: Yellow gold coating, pink gold coating
Materials: Silver
Comes in Japanese sizes 5-19.
Box size: 3.5 in (9 cm) x 1.8 in (4.6 cm) x 2.7 in (6.8 cm)
Includes original compact mirror
| Sizes (Japanese) | Sizes (US & Canada) | inside diameter (mm/Inches) | inside circumference (mm/Inches) |
| --- | --- | --- | --- |
| 5 | 3 1/2 | 14.4/0.567 | 45/1.77 |
| 6 | 3 5/8 | 14.56/0.573 | 45.74/1.8 |
| 7 | 4 | 14.86/0.585 | 46.68/1.84 |
| 8 | 4 1/2 | 15.27/0.601 | 47.97/1.89 |
| 9 | 5 | 15.7/0.618 | 49.32/1.94 |
| 10 | 5 3/8 | 16/0.63 | 50.27/1.98 |
| 11 | 5 1/2 | 16.1/0.634 | 50.58/1.99 |
| 12 | 6 | 16.51/0.65 | 51.87/2.04 |
| 13 | 6 1/2 | 16.92/0.666 | 53.16/2.09 |
| 14 | 7 | 17.35/0.683 | 54.51/2.15 |
| 15 | 7 1/2 | 17.75/0.699 | 55.76/2.2 |
| 16 | 8 | 18.19/0.716 | 57.15/2.25 |
| 17 | 8 1/2 | 18.53/0.729 | 58.21/2.29 |
| 18 | 9 | 18.89/0.748 | 59.34/2.35 |
| 19 | 9.5 | 19.0/0.75 | 59.7/2.35 |
---
Kirby is the main character in the popular video game series of the same name. He'll eat anything and is able to copy villain's powers or transform. It's been 27 years since the release of the first game. He's a beloved character among people of all ages and can be seen not just in the game, but in collaborations with merchandise, concerts, cafes, and more.

A brand that creates authentic character jewelry and other goods for adults. Not only does the company faithfully recreate each character, but it combines functionality with beauty to create pieces of art that have been perfected down to every last detail. U-TREASURE's jewelry is perfect for customers who want to subtly show off their character jewelry or continue to enjoy their favorite anime in a fashionable way even after becoming an adult.
U-TREASURE Official Site: https://www.u-treasure-onlineshop.jp/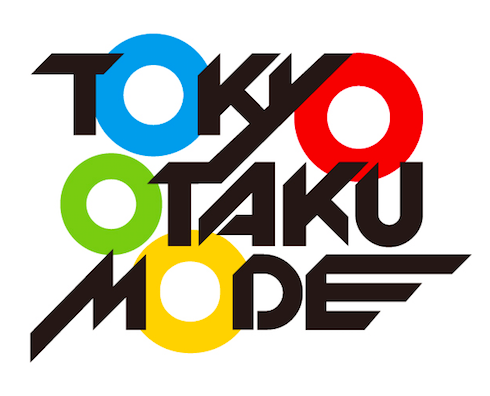 Tokyo Otaku Mode (TOM) shares with the world the latest Japanese pop culture news through its Facebook page, which has over 20 million likes as of June 2019 and sells official products related to Japanese anime, manga, games, music, and fashion through its website, the Tokyo Otaku Mode Shop.
Tokyo Otaku Mode Projects is a service aimed to connect Japanese companies with fans around the world by offering Japanese products, even outside of the otaku genre, and will continue offering various goods overseas and in Japan.
Please visit the corporate site for information about product development, shipping agencies, and our other businesses.
Corporate Website:
https://corporate.otakumode.com

©Nintendo / HAL Laboratory, Inc.

Q: When will rewards be shipped out?



A: They are scheduled to be shipped starting in November 2019 after production is complete.



Q: What payment methods are there?



A: We accept credit/debit card and Paypal.



Q: Where will rewards be shipped from?



A: Products will be shipped directly from Tokyo Otaku Mode in Japan.



Q: Why can't I press the "Reserve" button?



A: Please ensure that you have filled out your payment method and shipping information and try again.



Q: Are the rewards that ship to Japan and ship internationally different?



A: No. The rewards are the same. The only difference is the shipping cost.



Q: How will you ship the rewards?



A: Rewards will be shipped by EMS.



Q: Will I need to pay any additional import duties, VAT, customs taxes, or local handling fees when receiving my reward?



A: Depending on your country's customs laws, you may be required to pay a tax before obtaining your package. In some areas, such as the United Kingdom and France, the local postal service may charge an extra handling fee for processing packages affected by customs taxes. Payment of customs taxes and any possible handling fees is the responsibility of the purchaser.



Q: Can I change my Shipping address?



A: Shipping address can be changed via your My Projects page. Please note that the shipping address is no longer changeable after we enter shipping preparations. The option will disappear once we enter shipping preparation.



Q: Can I cancel any order?



A: We do not accept cancellations.



Q: What should I do if the package for my product arrived damaged?



A: The package is for protecting the actual product, and cannot be exchanged.