---
Fullmetal Alchemist fans, this one's for you. Tokyo Otaku Mode has teamed up with KOTO Inc. to bring you the glorious, limited edition version of Kotobukiya's brand new figure, featuring
Edward Elric
from
Fullmetal Alchemist: Brotherhood
.
It's been 15 years since the original manga was first released, and almost 7 years since Brotherhood finished airing, but this explosively popular series still retains a special position in the hearts of all its fans. FMA taught us the value of human life, the horror of truth, the sacrifices that must be made in order to gain, and so much more. This limited edition figure reminds us of the hideous lessons learned from Edward Elric's past through a specially crafted base, and shows us the strength to overcome it all through his determined rising stance.
As if regular Kotobukiya ARTFX J figures aren't amazing enough, the limited edition versions include extra features such as alternate poses, bonus parts, special bases, and more. Clearly, this limited edition Edward Elric figure could not have brought back the feels in a more appropriate form.
Don't forget. Let this masterpiece be your reminder.




---
This 1/8 scale statue stands at 24 cm tall with Edward Elric kneeling resolutely on a stylized base. His tattered cloak swirls in an unseen breeze, creating an added sense of dynamic movement and impact.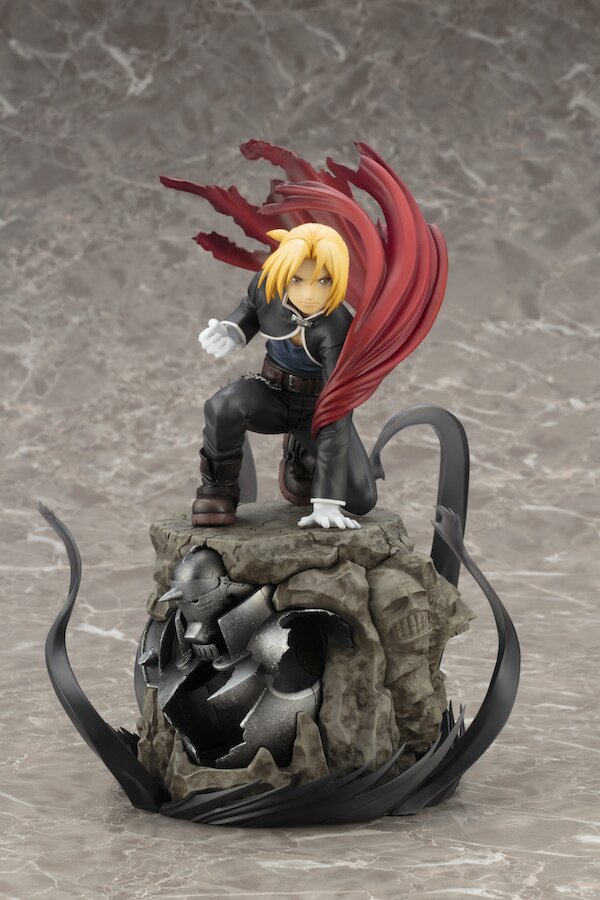 Unlike the basic version, this limited edition figure comes with various additional parts.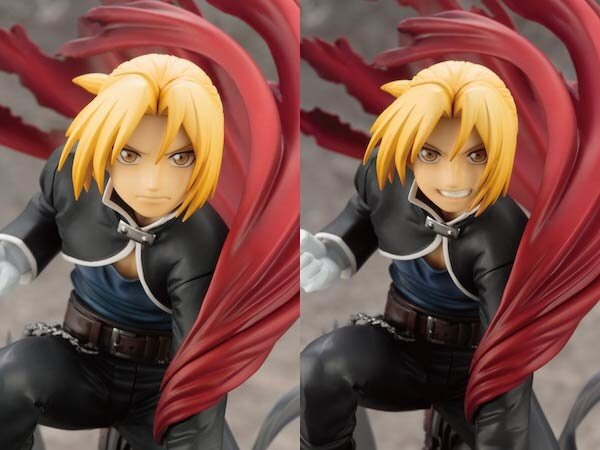 The confident smiling expression included with the limited edition version transforms the atmosphere of the entire figure, brimming with hope and determination.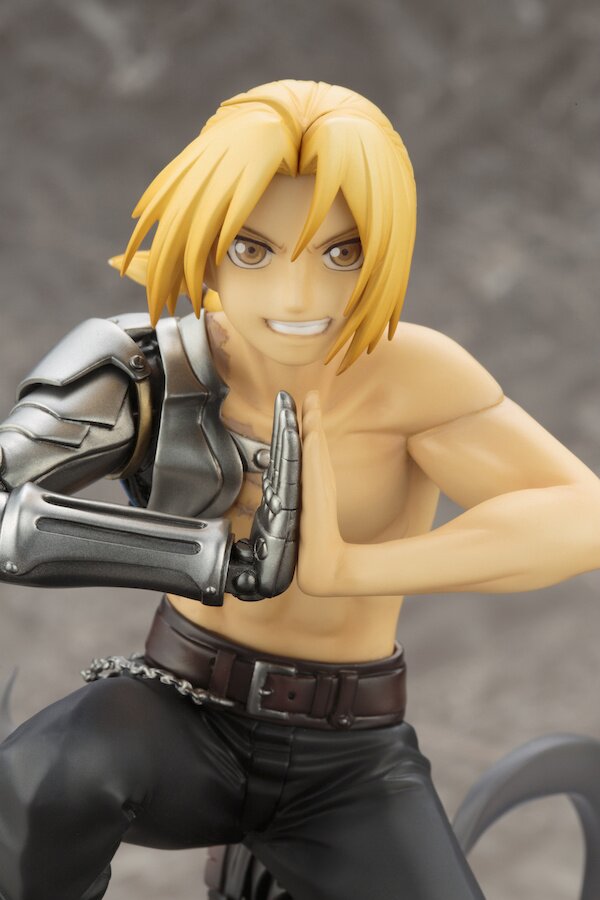 The alternative upper body part shows off Edward's automail arm in a definitive transmutation pose, and also reminds us of the love and dedication of Winry, who engineered and maintained the arm that saved so many lives.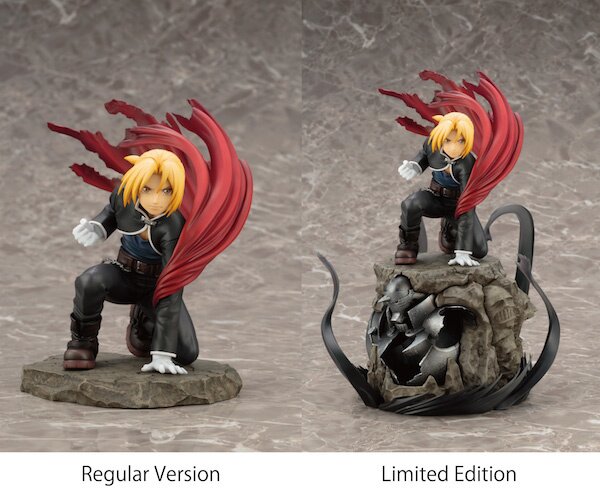 If there's one piece that completely sets the limited edition figure apart, though, undoubtedly it's the motif-filled base. As opposed to cracked ground in the regular version, the base of the limited edition version masterfully materializes the hideous, dark themes of Fullmetal Alchemist: Brotherhood and gives the entire figure matchless intensity and impact.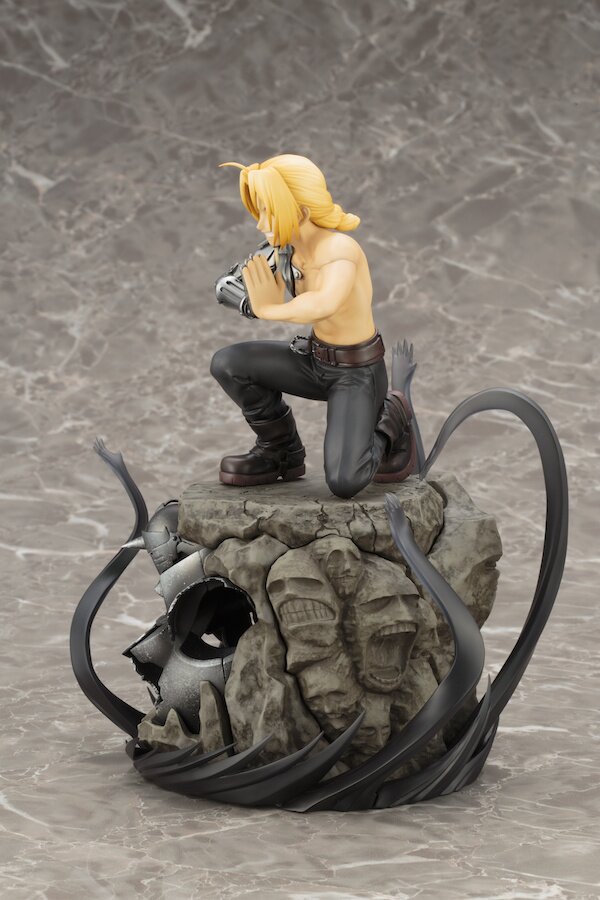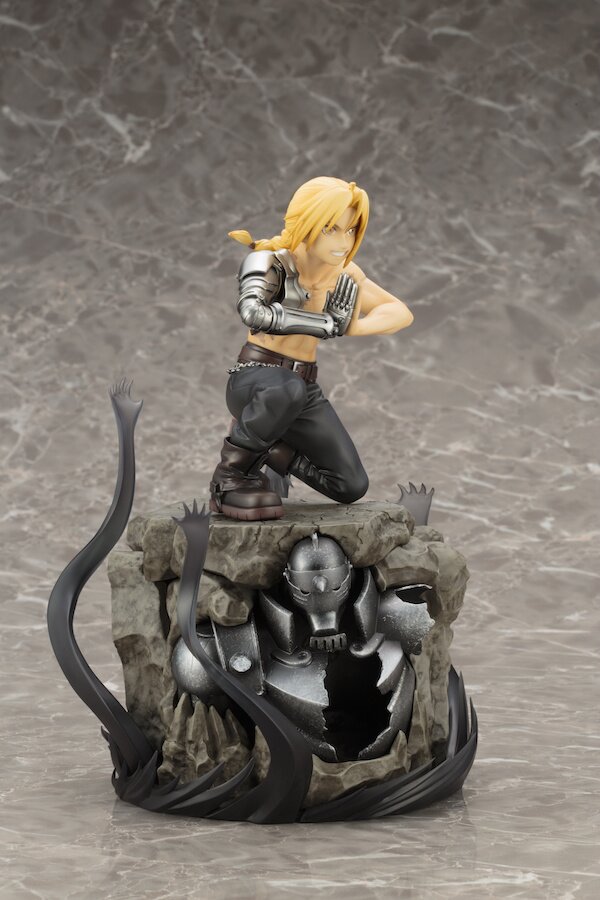 Nested in the intricate base are the tormented faces of Ishvalans sacrificed to create Envy's Philosopher's Stone, and the broken shell of the armor in which Alphonse's soul was bound. Emerging from the base are the ghastly hands from beyond the Gate of Truth, reaching out from the misery of Edward's past.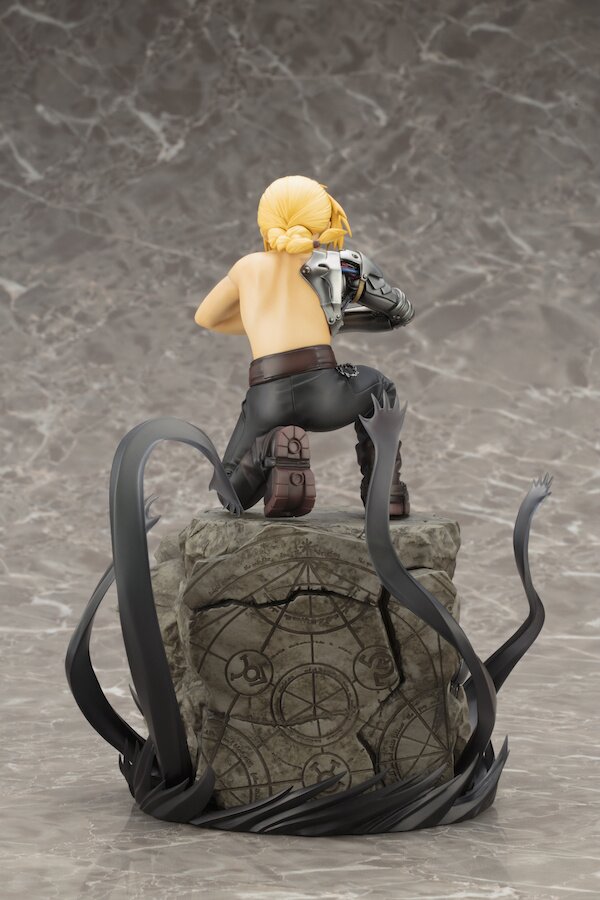 The final touch is a transmutation circle etched on the back, reminding us of the power that brought Edward to where he is, and the power that torments him.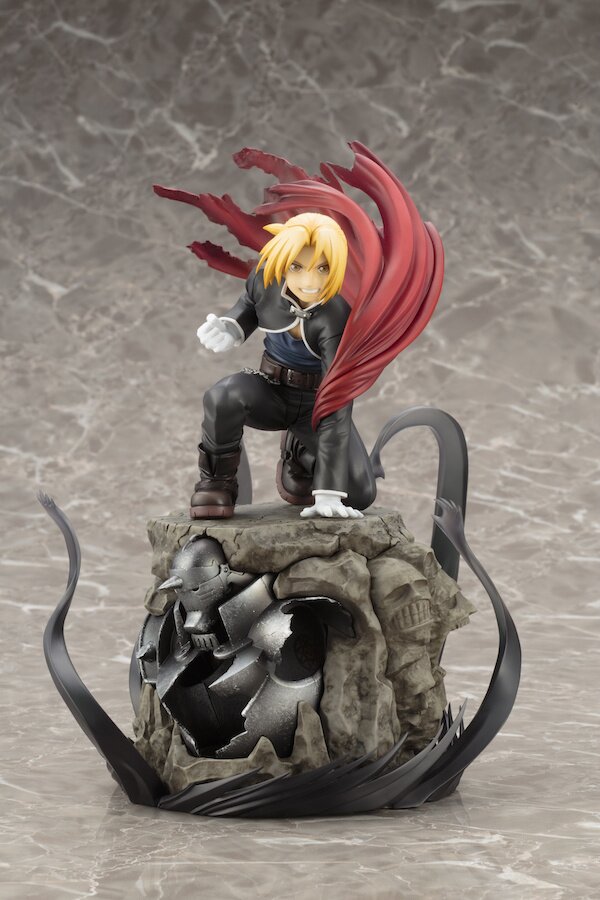 ---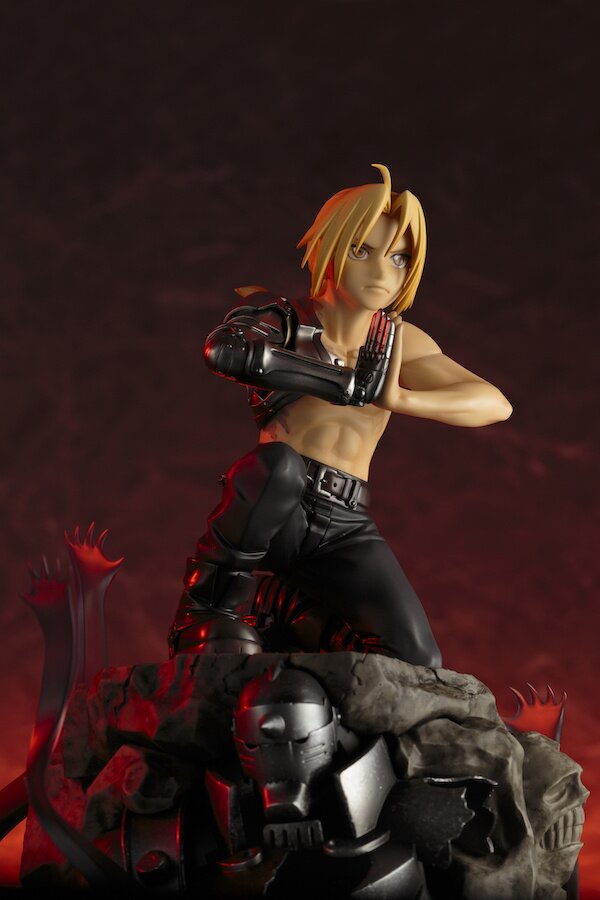 "Come down here and face me, you third-rate fraud. I'll show you there's no comparison between us!"
Fullmetal Alchemist: Brotherhood, which aired in 2009 and has since received support worldwide, has arrived in the ARTFX J series. The second in the series is a rendering of the Fullmetal Alchemist, Edward Elric! The limited edition statue includes a vignette-style base overflowing with motifs related to Ed's past, such as his human transmutation of Alphonse. With the focus of the base being Edward performing a transmutation, this one statue perfectly expresses the Fullmetal Alchemist world. Also included are interchangeable "transmuting hands" to express the Fullmetal Alchemist: Brotherhood world even more! This exclusive version is a necessity for Fullmetal Alchemist fans. Don't miss your chance to add this masterpiece to your collection!
*This is the Kotobukiya and Tokyo Otaku Mode Projects exclusive that contains bonus parts and an exclusive base.


Product Title: FULLMETAL ALCHEMIST: BROTHERHOOD EDWARD ELRIC ARTFX J LIMITED EDITION VER.
Series: Full Metal Alchemist: Brotherhood
Price: $149.99 (before shipping)
Release Date: October 2017
Specifications: 1/8 scale ABS & PVC figure
Product Height: 240 mm
Package Dimensions: W280 ×D210 ×H300 mm
Manufacturer: KOTOBUKIYA




ABOUT Fullmetal Alchemist: Brotherhood
---
Fullmetal Alchemist: Brotherhood is an anime series adapted from the Fullmetal Alchemist manga by Hiromu Arakawa. Produced by Bones, the series is directed by Yasuhiro Irie and written by Hiroshi Ōnogi. Fullmetal Alchemist: Brotherhood is the second anime television series based on Fullmetal Alchemist, the first being 2003's Fullmetal Alchemist. Fullmetal Alchemist: Brotherhood is a 1:1 adaptation directly following the original events of the manga. It was first announced in the manga series' 20th tankōbon volume. In Japan, it is differentiated from the 2003 series by the inclusion of the English language title.
©荒川弘/鋼の錬金術師製作委員会・MBS
---
Project Organizers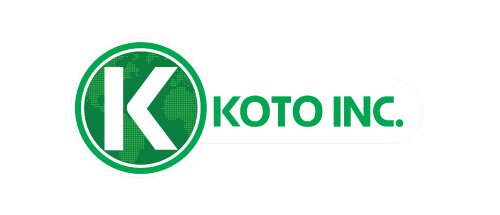 Manufacturer

---
Q: Where can rewards be shipped?A:
Rewards are only available for shipping to addresses in the United States and Canada.
Q: When will I be charged?
A: You will be charged immediately upon backing the project.
Q: Can I cancel my reservation?
A: All payments are final and cannot be canceled.
Q: Can I purchase multiple rewards on the same account?
A: Yes, you can! However, rewards can only be purchased one at a time, so you will have to make a new reservation for each additional figure you want to receive.
Q: When will rewards be shipped out?
A: Rewards are scheduled to be shipped out in October 2017.
Q: Where will rewards be shipped from?
A: Rewards will be shipped via USPS Priority Mail from the Tokyo Otaku Mode North American warehouse located in the US.
Q: Are the images on this page the final design?
A: Yes, the figure you see on this page is what you can expect to receive when rewards ship. Of course, because some paintwork will be done by hand the final product may vary slightly.
Q: I don't live in the US or Canada. Can I reserve, too?
A: For inquiries regarding reservations from outside the US or Canada, please contact KOTO Inc. at support@kotobukiya.co.jp for more information.