A Super-Convenient Meruru Mask 3D Mug Cup!
![file](https://d3ieicw58ybon5.cloudfront.net/ex/1500.998/project_description/6a2c4c5734d44935b086dc0fc1b778b1.jpg) **"I-I don't know anyone with such an embarrassing name!"**
This famous line is from the anime Eromanga Sensei, which started airing in April 2017. Filled with love for Eromanga Sensei, Tokyo Otaku Mode has already announced another project, called, "You're Making a Product out of What!? The Eromanga Sensei Takasago Books' Fish Mascot Giant Stamp Case."
While we're at it, we'd like to make another interesting project…
After endless talks and meetings, this is the project we've come up with!
Eromanga Sensei Sagiri Izumi Meruru Mask 3D Mug Cup with "パンツ(undies)" sticker drawn by Akane Fujita (What a name!)
In the anime Eromanga Sensei, the Meruru mask was used by the heroine, Sagiri Izumi, while she was live-streaming online. It's Eromanga Sensei's trademark! The voice of Sagiri, Akane Fujita, and the editor for the original light novels, Kazuma Miki, recently hosted a niconico live stream called "Eromanga Sensei The Anime: Let's Make The Latest Anime Together!" where Fujita admitted that the mask was used every time Sagiri had to hide her face!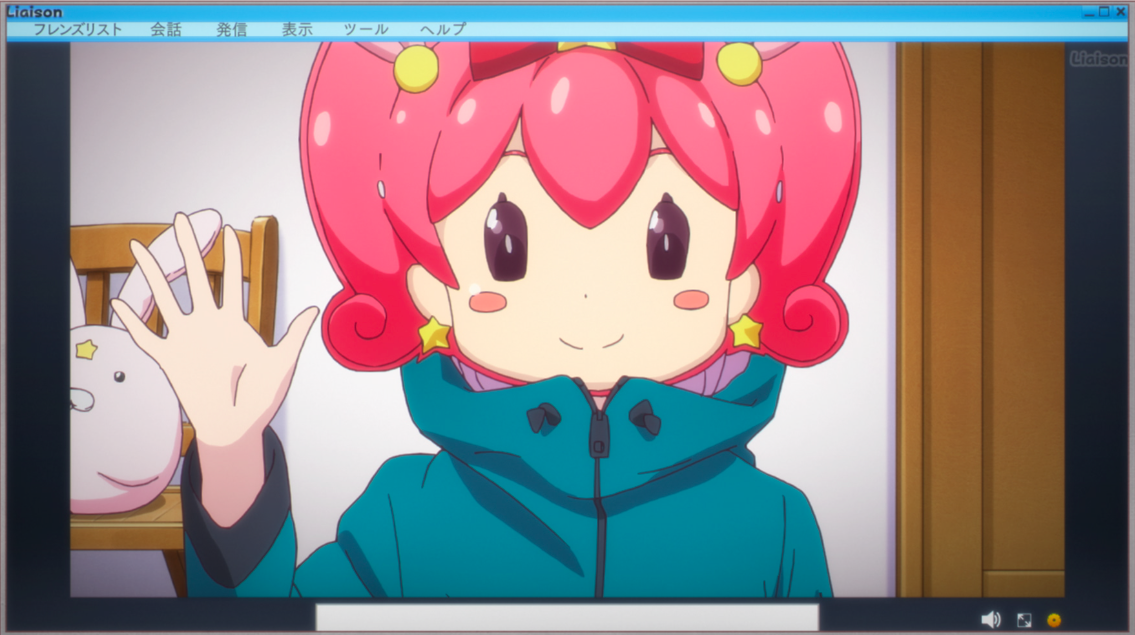 A company called Groove Garage sells the mask as-is, but we thought to make it more useable in everyday life. Then someone came up with this idea: "We just have to take the mask and stick it onto a mug cup. Not print it, actually attach it on there."
After that, we were able to contact a company which makes what they call "3D mug cups." 3D anime, 3D printers, 3D latte art...The world is already drowning in 3D items, but this 3D mug cup is the next big thing!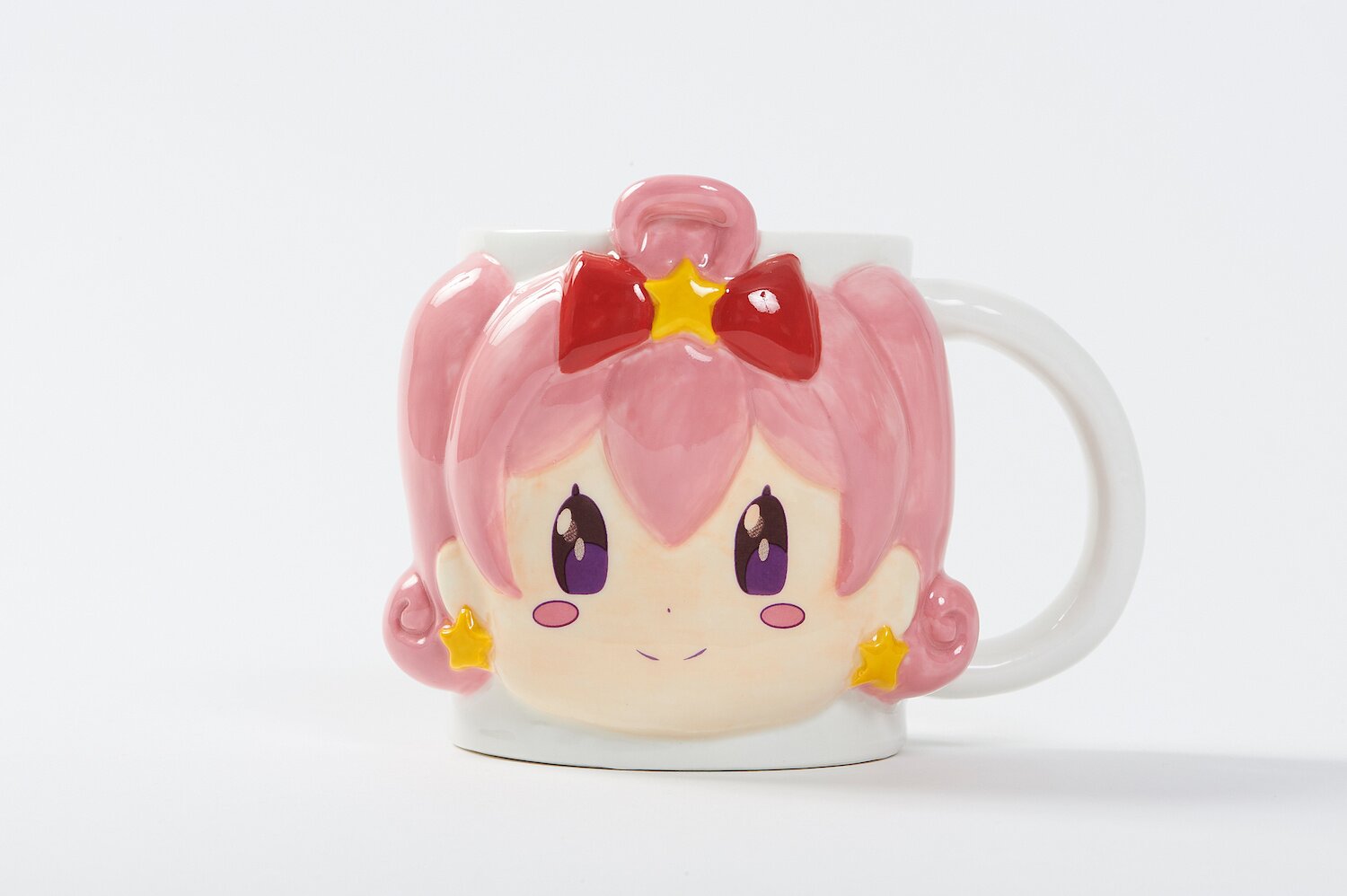 Just reading about it doesn't give you much of a visual though, does it?
Seeing is believing, so we'll show you the real deal!
Look, it's truly 3D! The convex and concave porcelain is the perfect weight for your hands, and it has originality that's different from a regular printed mug cup!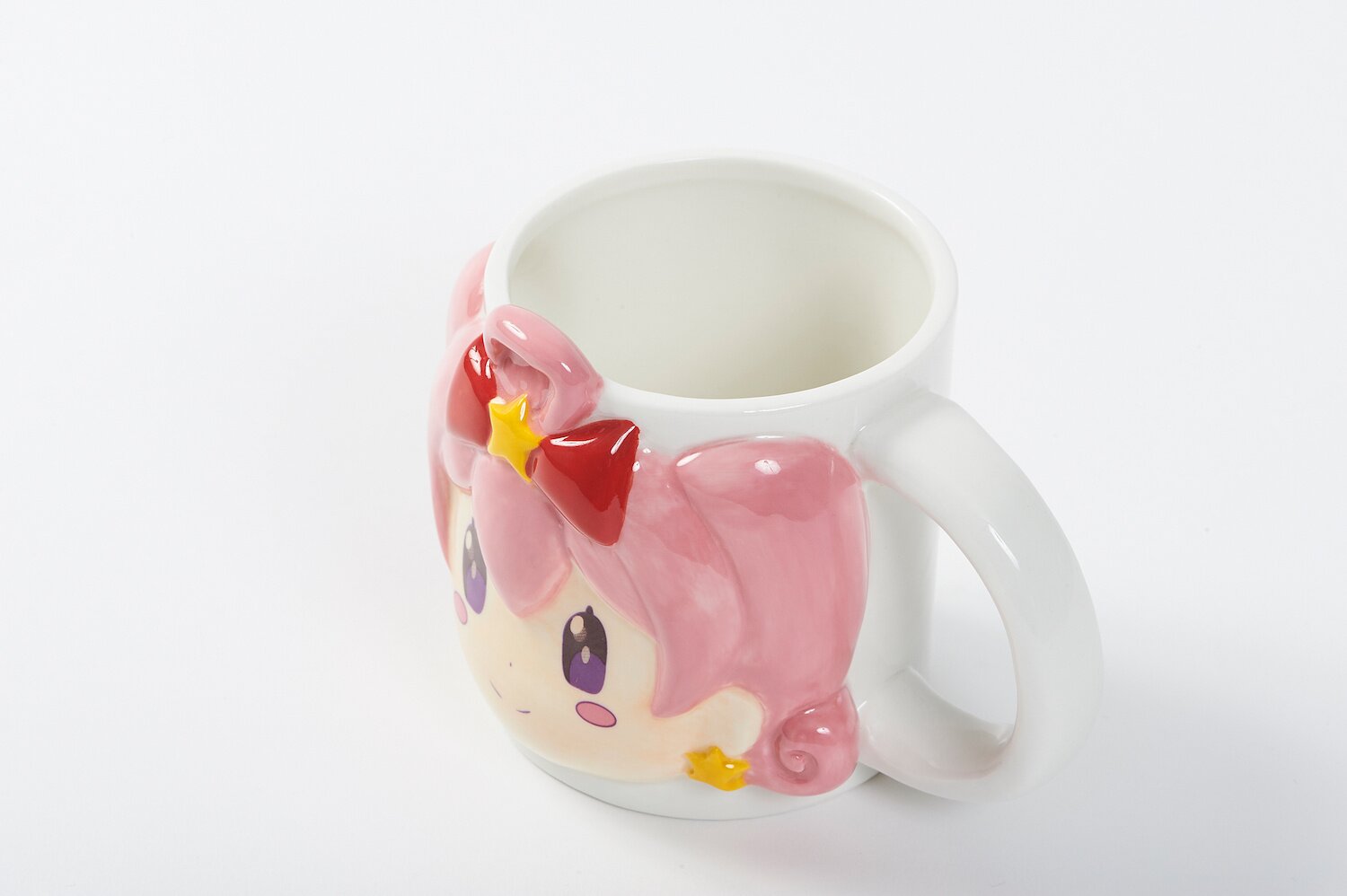 It looks solid even from the side! It's so voluminous!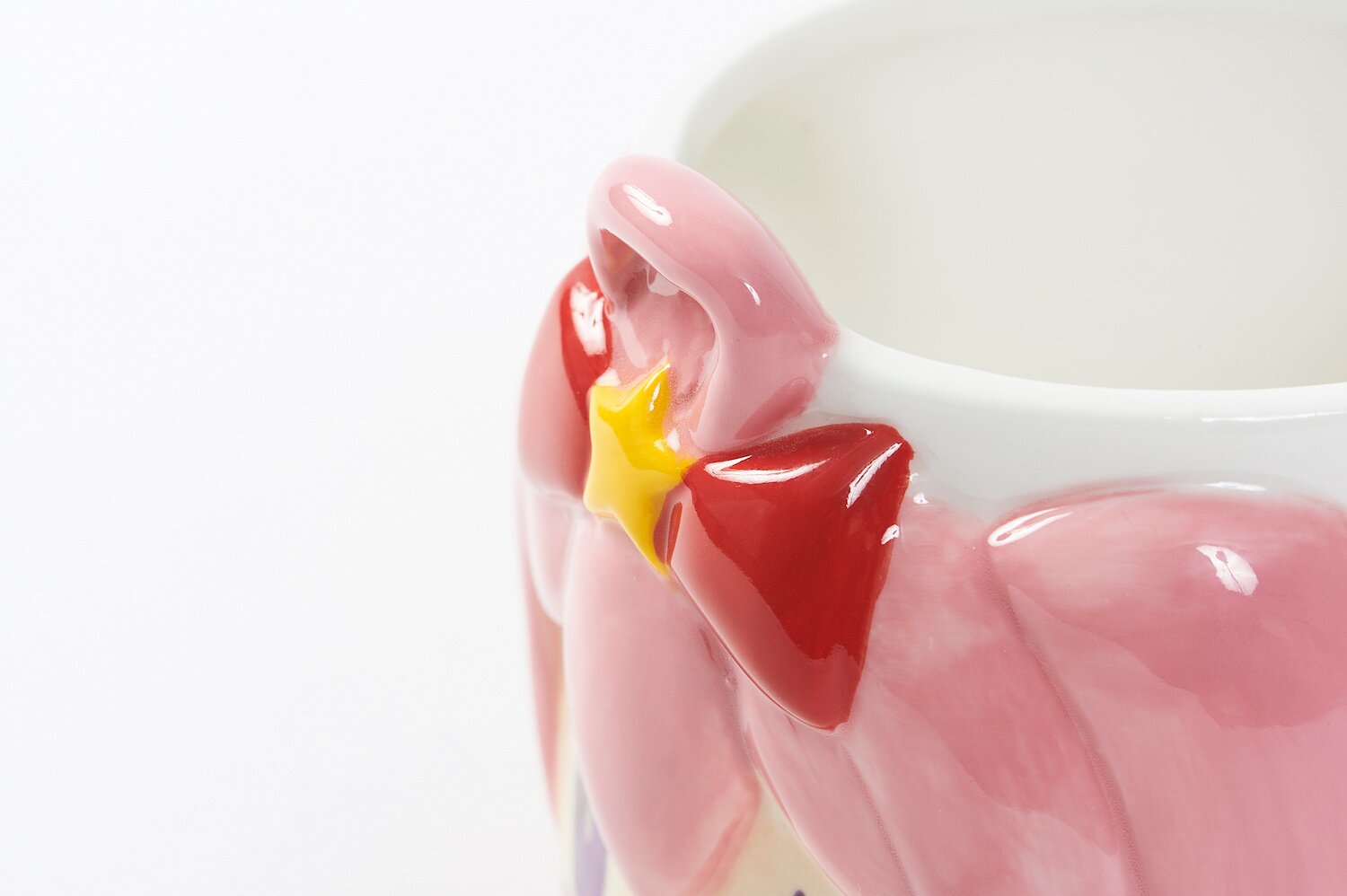 The hair pins and ribbon have also been faithfully recreated!
The mug's outstanding impact will make your desk look fantastic!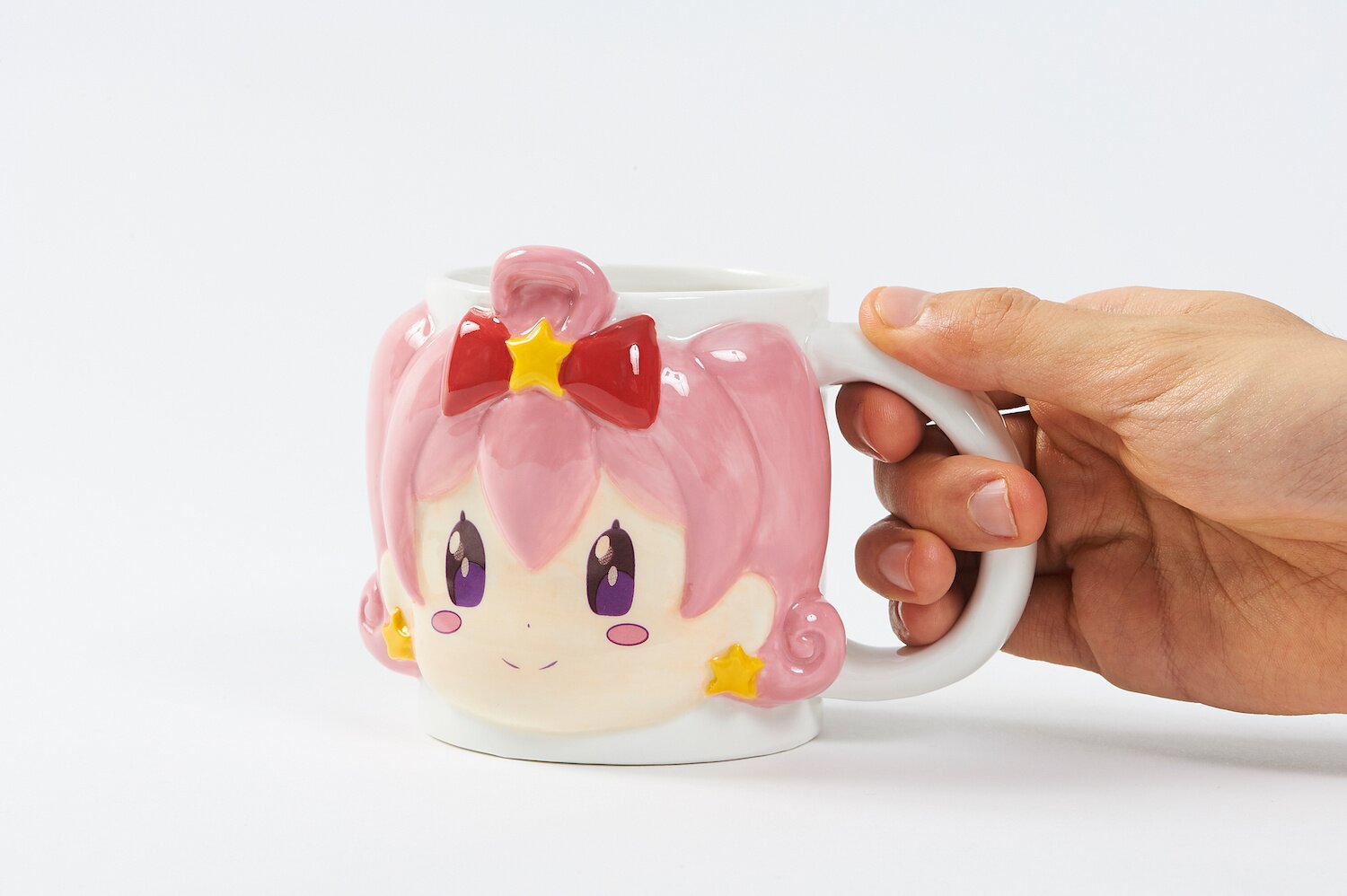 Besides using it as a mug cup, it can also be used to hold small items or pens!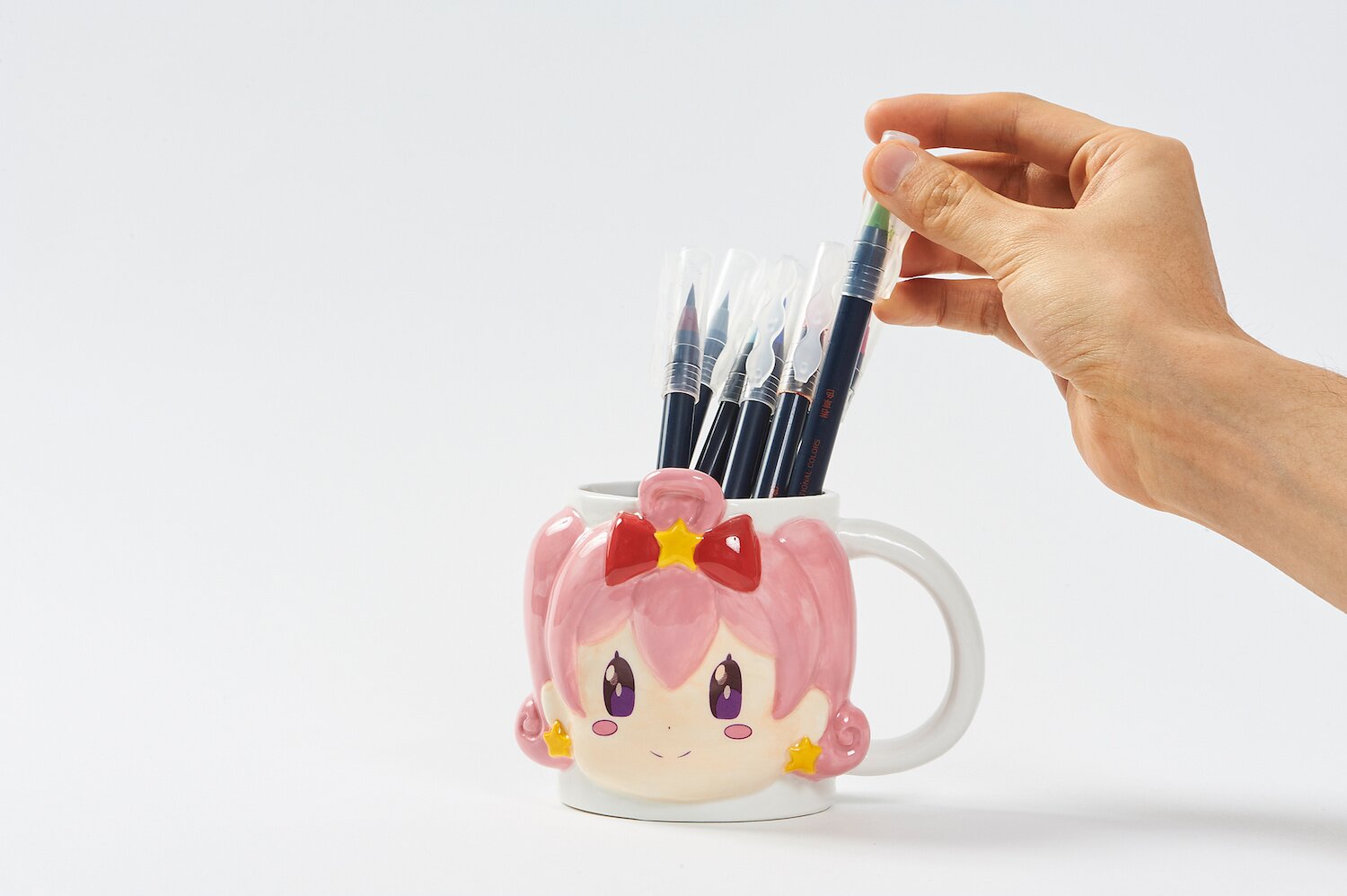 Has there ever been a Meruru as practical as this one?
Just like how almost every home has a car, we believe every home should have a Meruru mug!




That's not all!
The Tokyo Otaku Mode Eromanga Sensei Product Development Team wondered if there was any sort of special item they could include to please Eromanga Sensei fans.
At that time, we used our connections with the Eromanga Sensei Sagiri Izumi Figure That's Just a Little Bit Ecchi Project to create a survey. While watching Akane Fujita, we sat in front of our computers and held our breath for the results to be announced… Which sticker would it be…?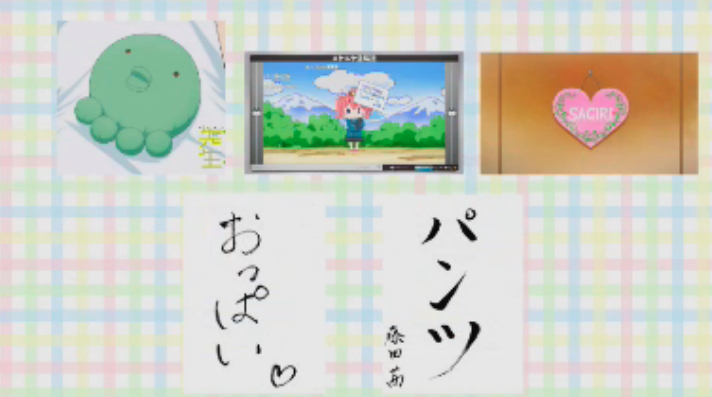 What? We already gave it away in the title?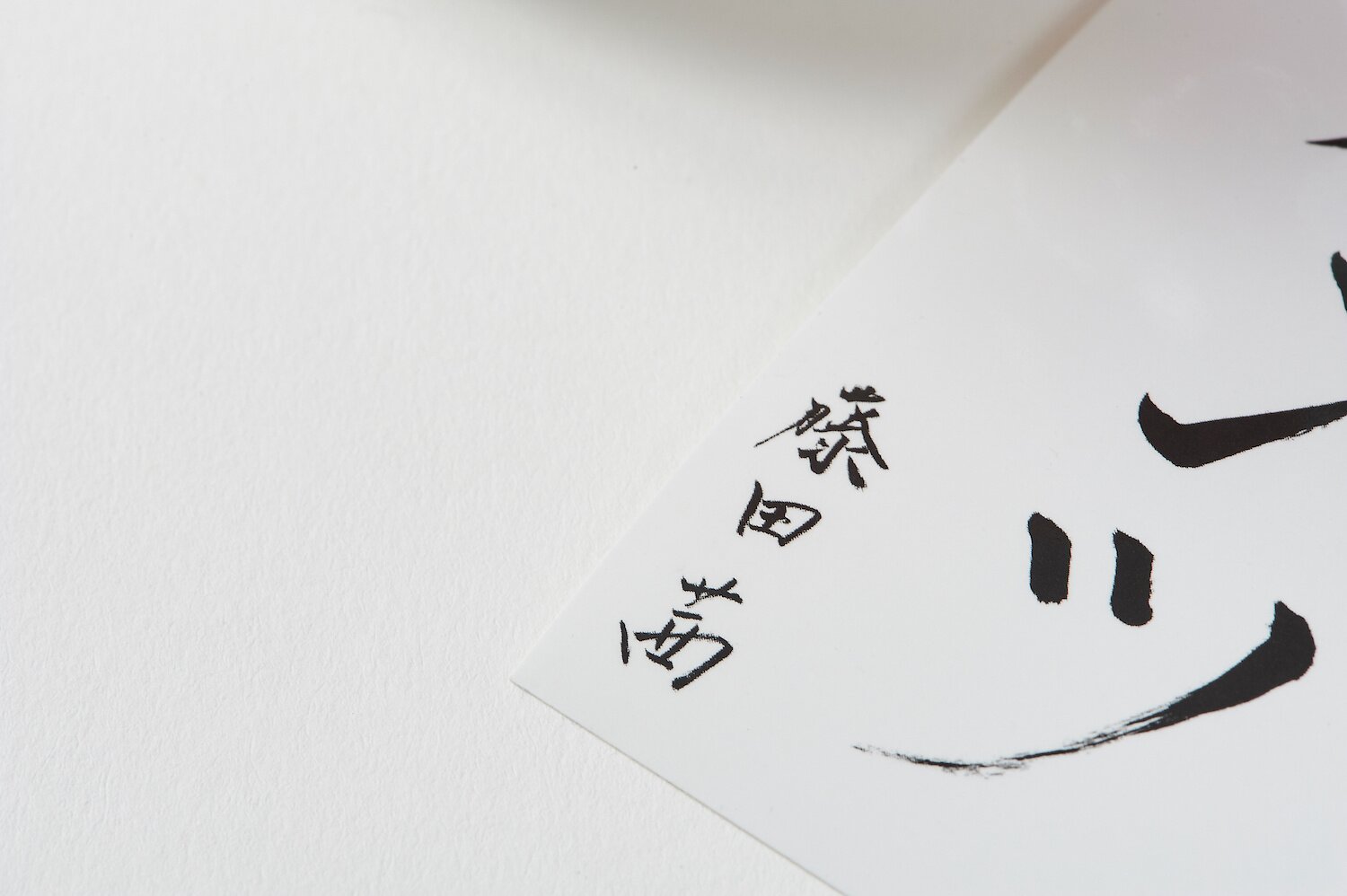 That's right, the "パンツ(undies)" sticker that Fujita drew is going to be the super-special sticker for Tokyo Otaku Mode orders!
For each 3D Meruru mask mug cup that you order, you'll receive one sticker!
The stickers are only available by ordering through Tokyo Otaku Mode!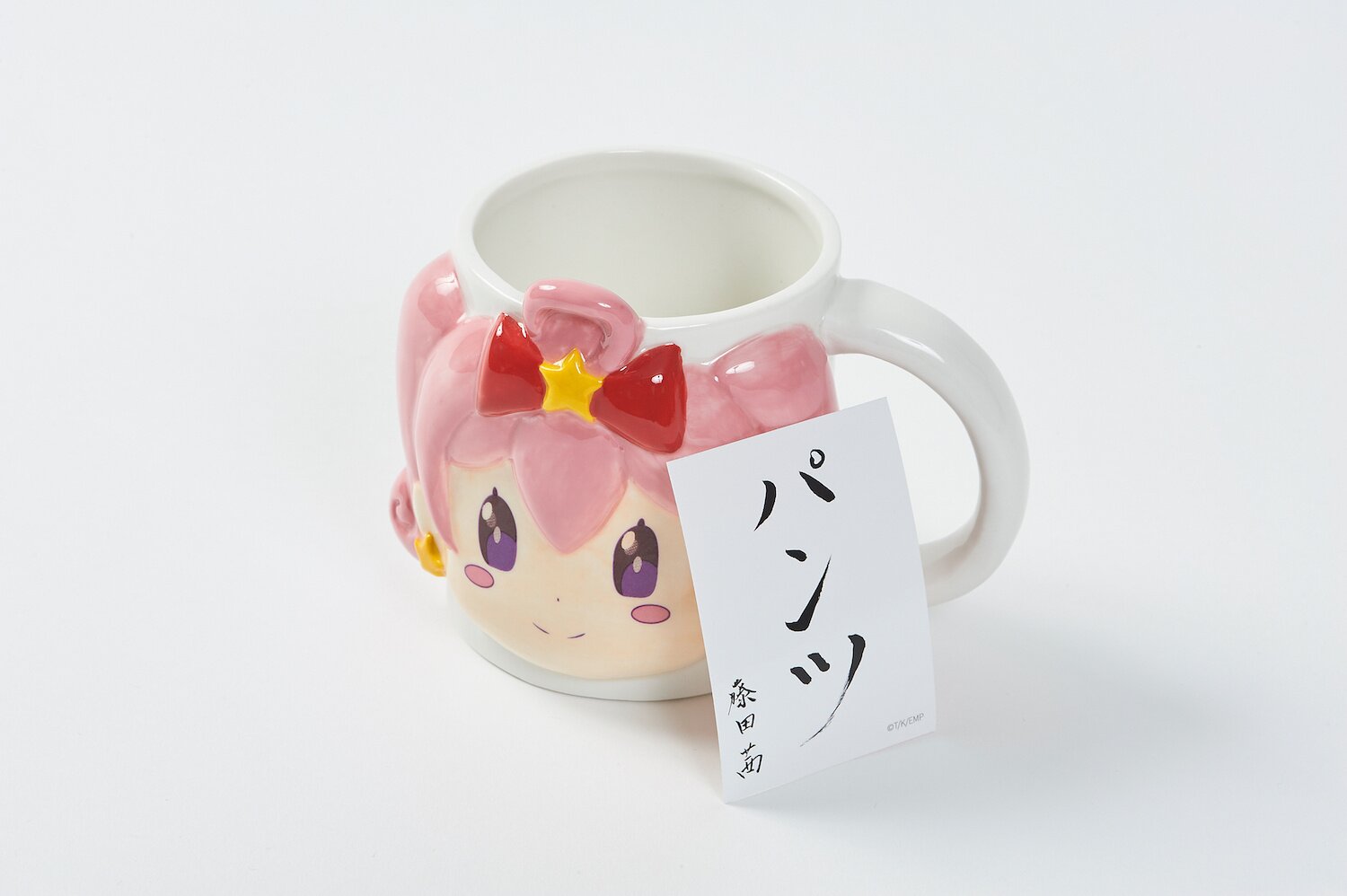 Where do you think you'll put it?
You can stick it somewhere where you'll get the opportunity to say something like, "I-I don't know anything about such an embarrassing sticker!" or you can keep it safe and sound on its original sheet.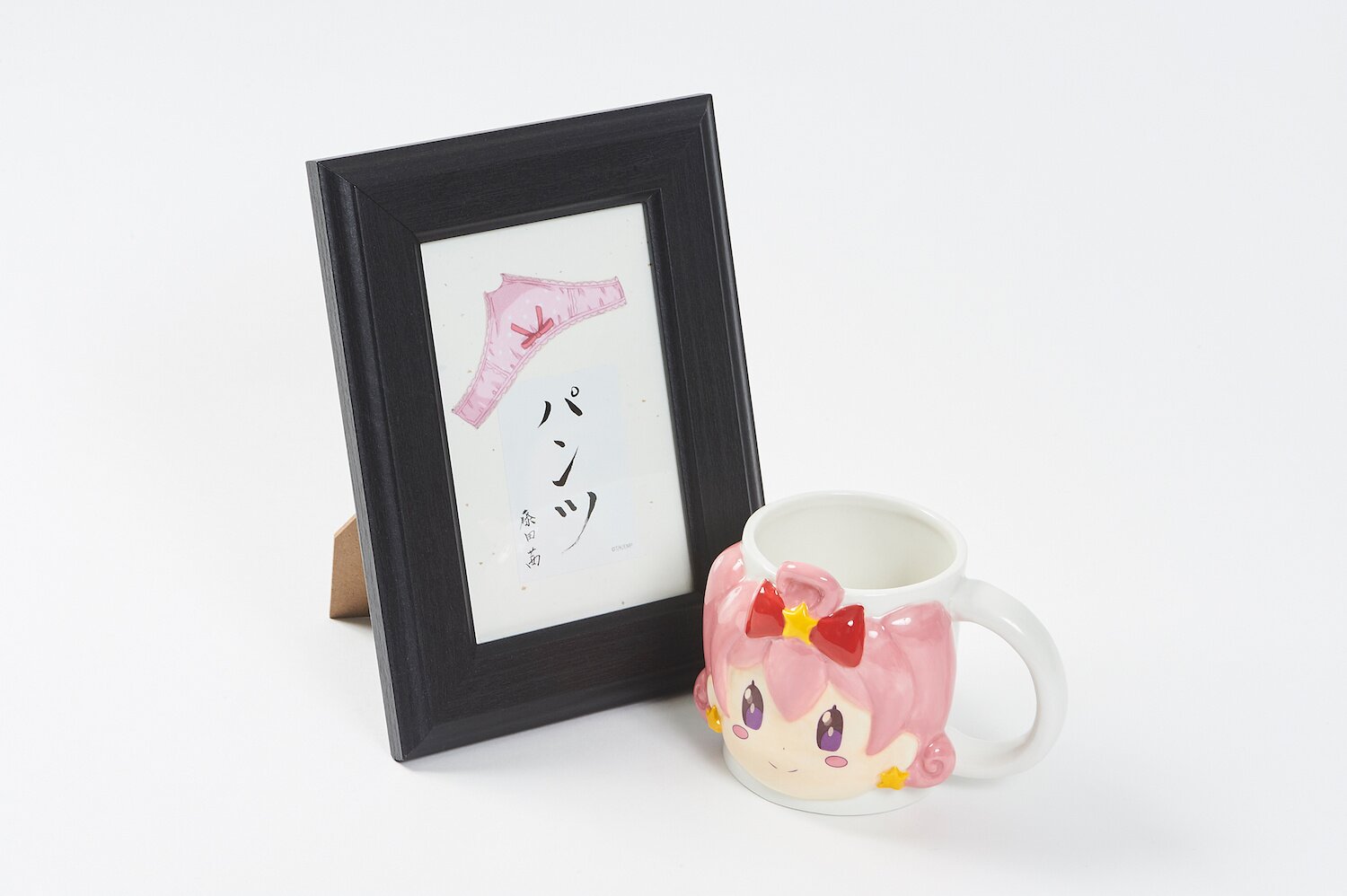 This is the only place to get your Eromanga Sensei Sagiri Izumi Meruru Mask 3D Mug Cup with "パンツ(undies)" sticker drawn by Akane Fujita!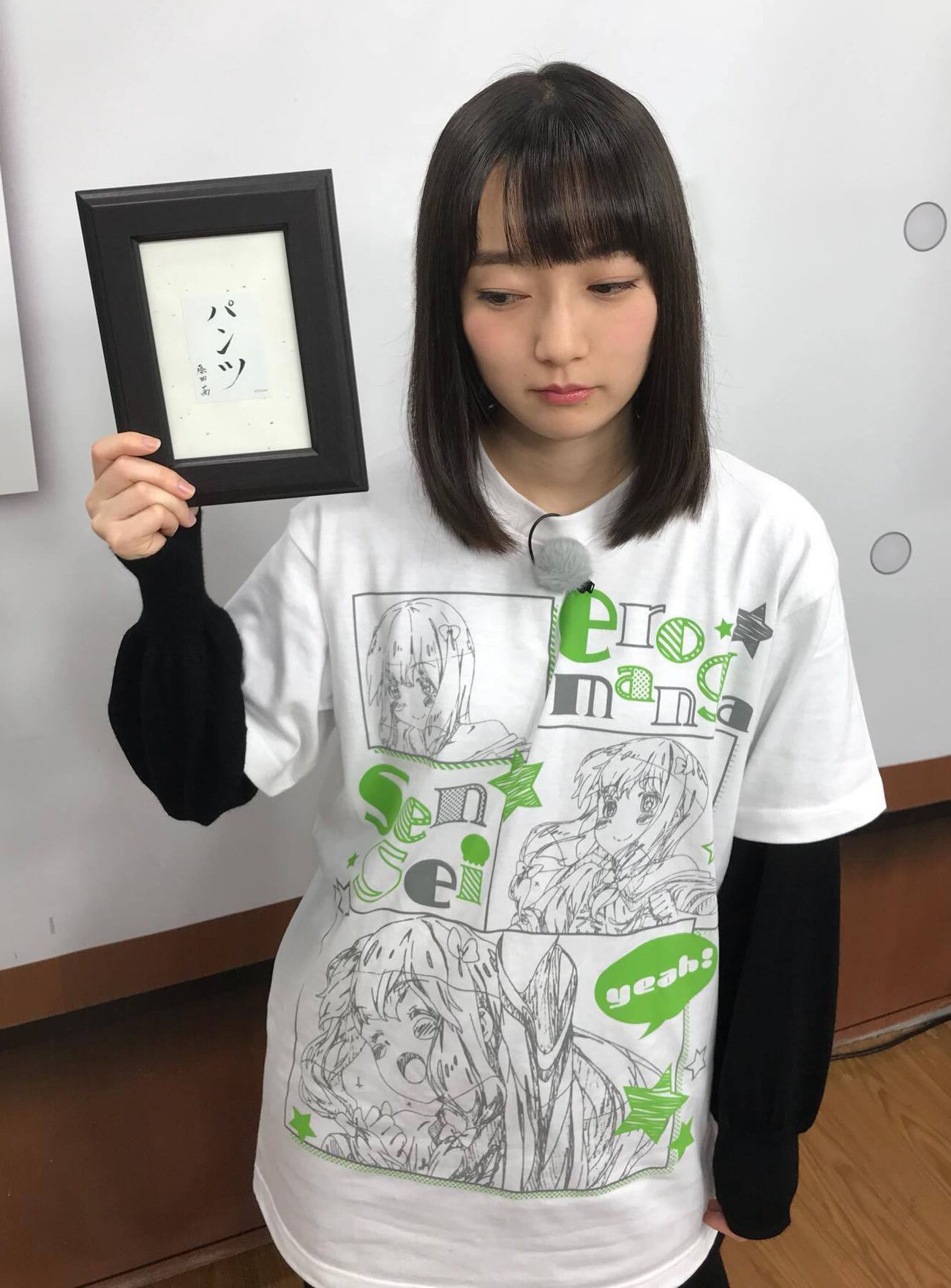 ![file](https://d3ieicw58ybon5.cloudfront.net/ex/720.90/project_description/7c39a0c33cee43a99c1fc149636e6ce9.png) Size: approx. 15 x 10 x 10 cm (5.9 x 3.9 3.9 in) Weight: approx. 275g (9.7 oz) Made of porcelain Designed in Japan and manufactured in China Tokyo Otaku Mode limited sticker:5 x 7 cm ( 2 x 2.8 in) Photo frames are not included and should be purchased separately.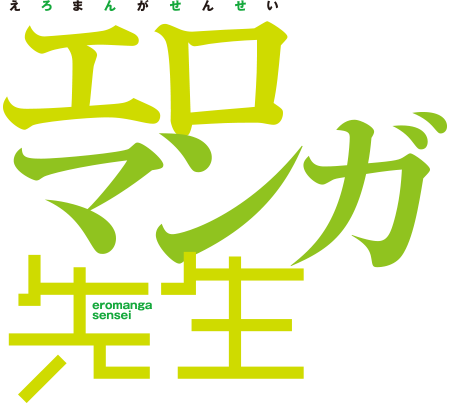 Brought to you by the creators of the light novel series that sold over 1.2 million copies, "Ore no Imouto ga Konnani Kawaii Wake ga Nai" ("My Little Sister Can't Be This Cute"), "Eromanga Sensei" is a romantic comedy about a brother and sister who gradually discover the fun of literary creation in the light novel industry together.
The light novel series was adapted into "Eromanga Sensei" the anime, which began airing in April 2017. Thanks to the series' attention to detail in expression and the adorable design of Sagiri, the series became an enormous hit. After the series ended, the voice of Sagiri, Akane Fujita, started a live show that was even included as a perk with the anime DVDs.
Tickets for the November Eromanga Festival at the Maihama Amphitheater sold out in just one day. It's hoped that the series will be expanded with the addition of new novels.
Light Novel Official Site: http://dengekibunko.jp/title/eromanga/
Anime Official Site: http://eromanga-sensei.com/
Project Owner: Tokyo Otaku Mode Inc.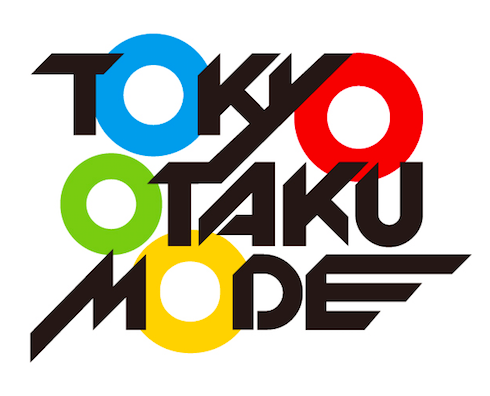 Tokyo Otaku Mode (TOM) shares with the world the latest Japanese pop culture news through its Facebook page, which has over 20 million likes, and sells products related to Japanese anime, manga, games, music, and fashion through its website, the Tokyo Otaku Mode Shop. Corporate Website:
https://corporate.otakumode.com/
![file](https://d3ieicw58ybon5.cloudfront.net/ex/720.90/project_description/59cf5203b2844c46bff6b591645486e2.png)
Q: When will I be charged?
A: You will be charged immediately upon backing the project.
Q: When will rewards be shipped out?
A: Rewards are scheduled to be shipped out in APR 2018.
Q: Where will rewards be shipped from?
A: Rewards will be shipped directly from Tokyo Otaku Mode in Japan.
Q: How will you ship the rewards?
A: Rewards will be shipped by SAL Small Packet Registered.
Q: I noticed that all prices are displayed in Japanese Yen. If I am paying with foreign currency, how will exchange rates affect my payment?
A: Rates may differ between credit card companies. Please contact your credit card company for further information.
Q: Will I need to pay any additional import duties, VAT, customs taxes, or local handling fees when receiving my reward?
A: Depending on your country's customs laws, you may be required to pay a tax before obtaining your package. In some areas, such as the United Kingdom and France, the local postal service may charge an extra handling fee for processing packages affected by customs taxes. Payment of customs taxes and any possible handling fees is the responsibility of the purchaser.
Q: Why can't I click the "Reserve" button?
A: Please ensure that you have filled out your payment method and shipping information and try again.
Q: Are the rewards that ship to Japan and ship internationally different?
A: No. The rewards are the same. The only difference is the shipping cost.





See more TOM Projects!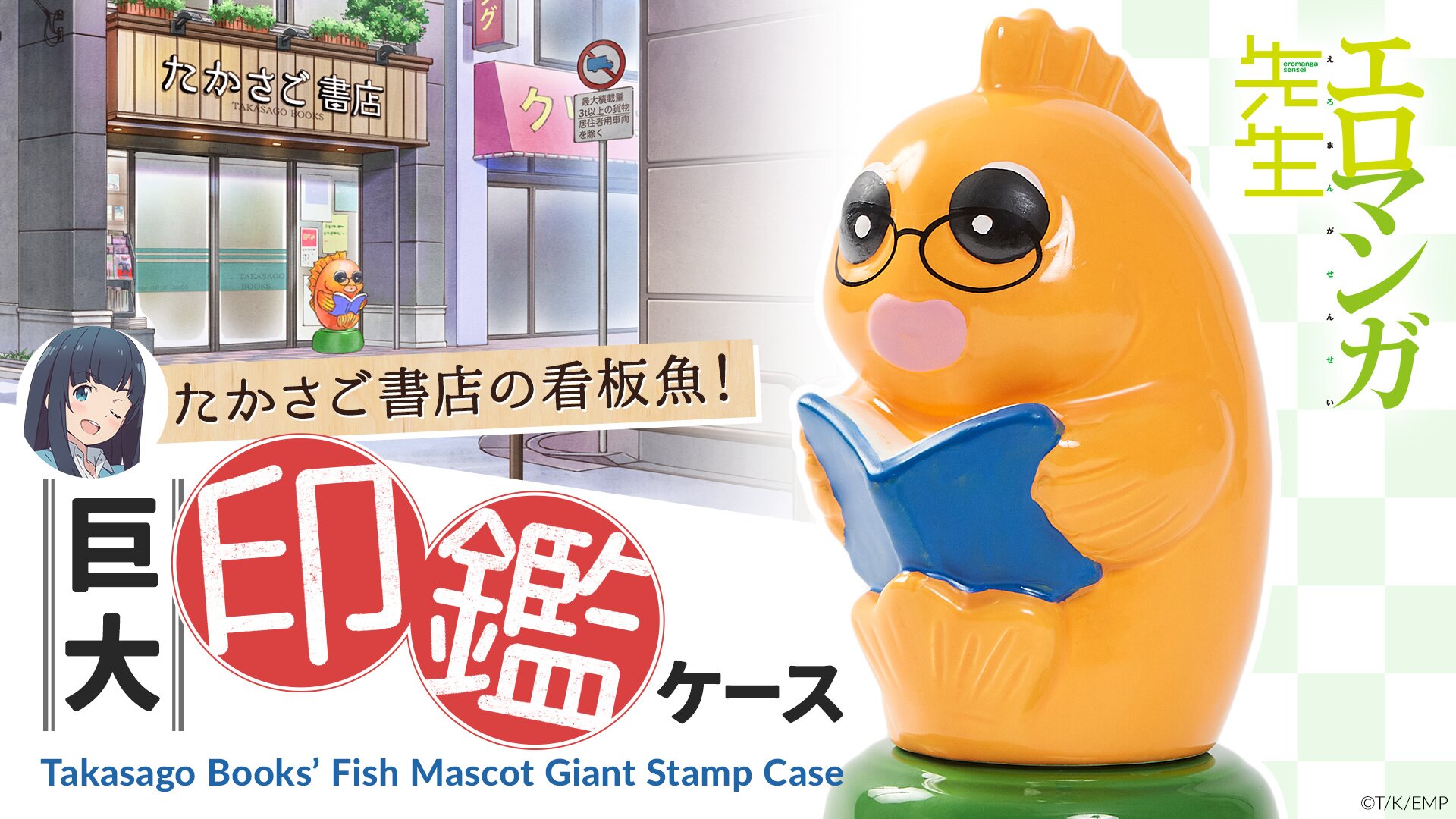 ©2016 Tsukasa Fushimi/KADOKAWA CORPORATION AMW/EMP