ClariS is a unit representative of anisongs from the 2010s. The duo has charmed us with a variety of anisongs from anime such as Puella Magi Madoka☆Magica,Oreimo!, MONOGATARI Series, Nisekoi, and others.
For this project, we've selected 16 of the duo's best hits from over the years and released them in a 12-inch vinyl set with two discs!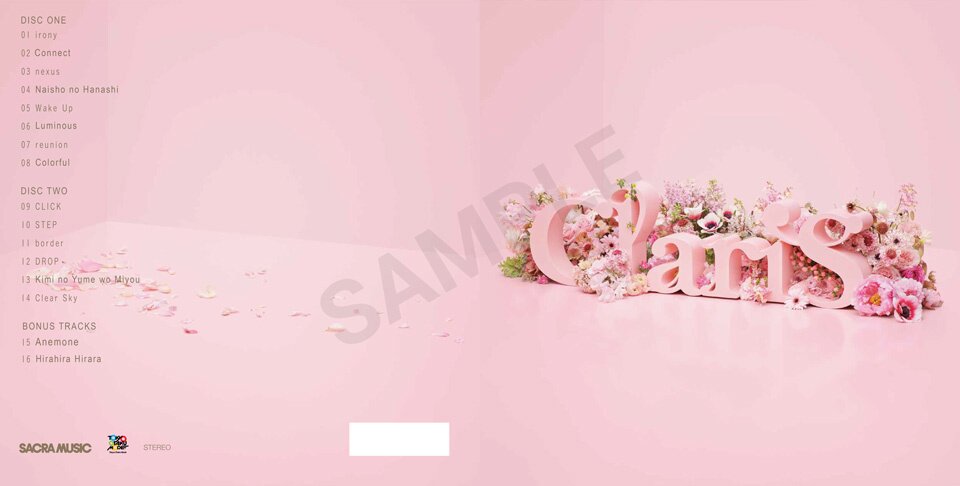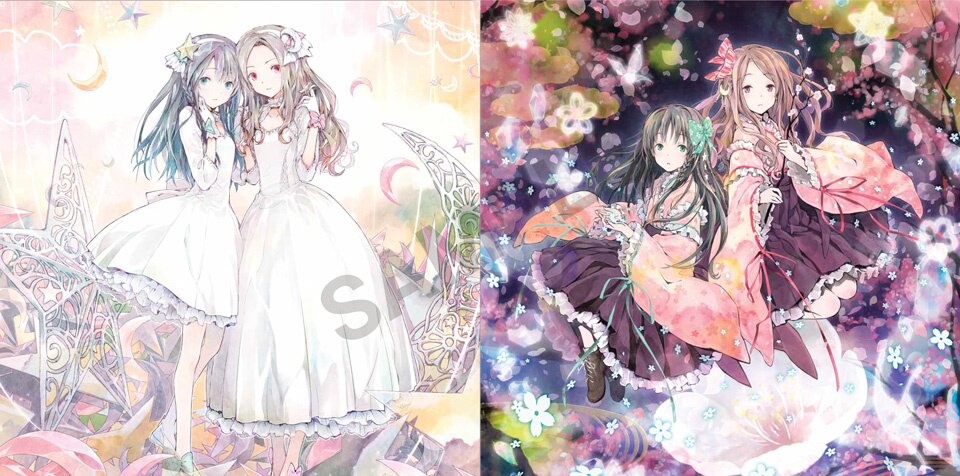 Note: Photos are of products under development and may differ from the finished product.
The 12-inch record allows for an impressively large and beautiful ClariS illustration. Also, the surface of the record has been painted a cute pastel color to match their aesthetic.
Even better, the recorded songs all come with English translations of the lyrics!
Finally, you will be able to listen to this vinyl at the ClariS booth at Anime NYC in November 2018. You will even be able to sign up for a vinyl pre-order there, and if you do, you'll receive an event limited edition special sticker as a present!
Please come and listen to ClariS's voices recorded on this vinyl for yourself.
Comes with 2 record discs. Japanese lyrics with English translations are included.
[Song List]
Disc 1 Side A
1: irony
2: Connect
3: nexus
4: Naisho No Hanashi
Disc 1 Side B
1: Wake Up
2: Luminous
3: reunion
4: Colorful
Disc 2 Side A
1: CLICK
2: STEP
3: border
4: DROP
Disc 2 Side B
1: Kimi no Yume wo Miyou
2: Clear Sky
3: Anemone (Vinyl Edition Bonus Track)
4: Hirahira Hirara (Vinyl Edition Bonus Track)
[Expected Shipping Period]
January 2019
Dates:
November 16-18, 2018
Address:
Javits Center
655 W 34th St
New York, NY 10001
Booth #: No. 761
Anime NYC Official Site: http://animenyc.com/
![file](https://d3ieicw58ybon5.cloudfront.net/ex/480.200/project_description/c880dcf8344e48b8a4ad9e3e5f74e616.jpg) ClariS is a girl duo of Clara and Karen who debuted in 2010 and have teamed up with popular anime since to generate a string of hit singles and albums. Original member Alice left the group in 2014 but the unit was joined by a new member, Karen. 'ClariS' is a Latin word for bright, clean, shining, etc. Official site: http://www.clarismusic.jp/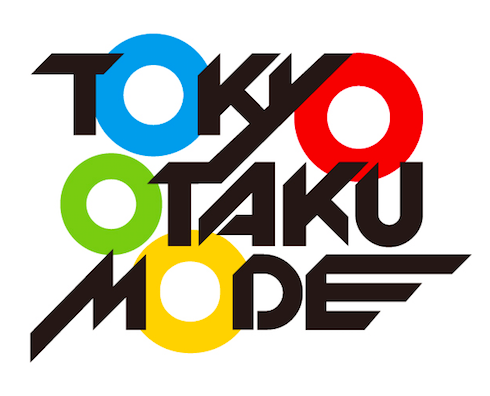 Tokyo Otaku Mode (TOM) shares with the world the latest Japanese pop culture news through its Facebook page, which has over 20 million likes, and sells products related to Japanese anime, manga, games, music, and fashion through its website, the Tokyo Otaku Mode Shop.
Corporate Website: https://corporate.otakumode.com/


©SME Records
Q: When will rewards be shipped out?

A: They are scheduled to be shipped starting in January 2019 after production is complete.

Q: What payment methods are there?

A: We accept credit/debit card and Paypal.

Q: Where will rewards be shipped from?

A: Rewards will be shipped directly from Tokyo Otaku Mode in US.

Q: Why can't I press the "Reserve" button?

A: Please ensure that you have filled out your payment method and shipping information and try again.

Q: Are the rewards that ship to Japan and ship internationally different?

A: No. The rewards are the same. The only difference is the shipping cost.

Q: Will I need to pay any additional import duties, VAT, customs taxes, or local handling fees when receiving my reward?

A: Depending on your country's customs laws, you may be required to pay a tax before obtaining your package. In some areas, such as the United Kingdom and France, the local postal service may charge an extra handling fee for processing packages affected by customs taxes. Payment of customs taxes and any possible handling fees is the responsibility of the purchaser.

Q: Can I change my Shipping address?

A: Shipping address can be changed via your My Projects page. Please note that the shipping address is no longer changeable after we enter shipping preparations. The option will disappear once we enter shipping preparation.

Q: Can I cancel any order?

A: We do not accept cancellations.

Q: Will this item be sold in shops other than Tokyo Otaku Mode?

A: The products will also be offered for wholesale to local distributors in select territories, and we expect that they will in the future become available from retailers with access to these distribution channels.