You'll be absolutely fine, even in complete darkness.
An LED accessory stand based on Cardcaptor Sakura :Clear Card that will provide your room with light is here!
Following the necklace and card case projects, the latest Cardcaptor Sakura and Tokyo Otaku Mode collaboration item is an accessory stand with an LED light which features the Dream Wand and a magic circle.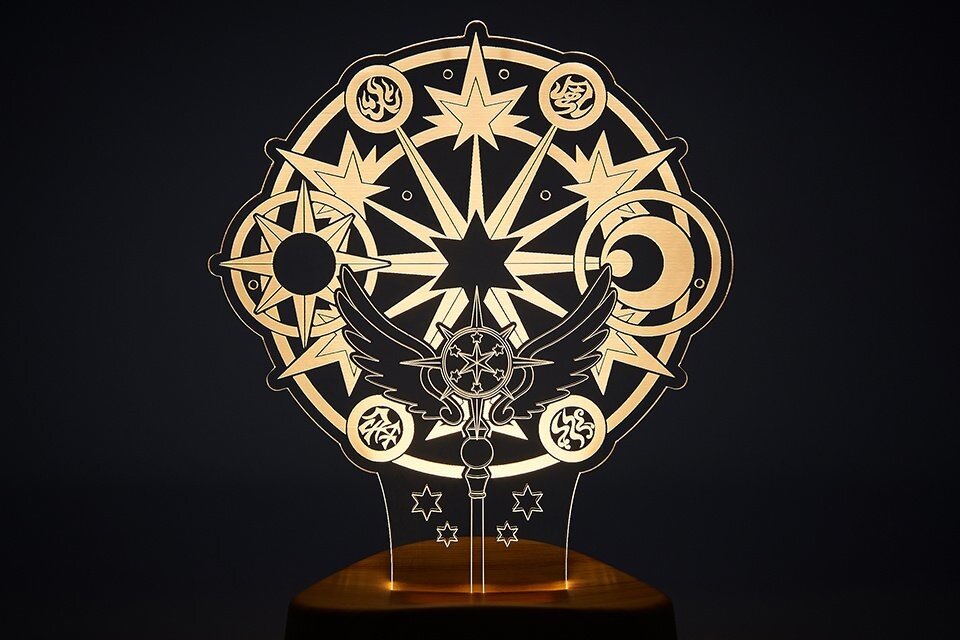 The acrylic section is engraved with a bold magic circle and the wand, and includes holes to hang earrings, as well as for decorating it with other accessories of your preference. The base is shaped in the form of a tray and can be used to display rings.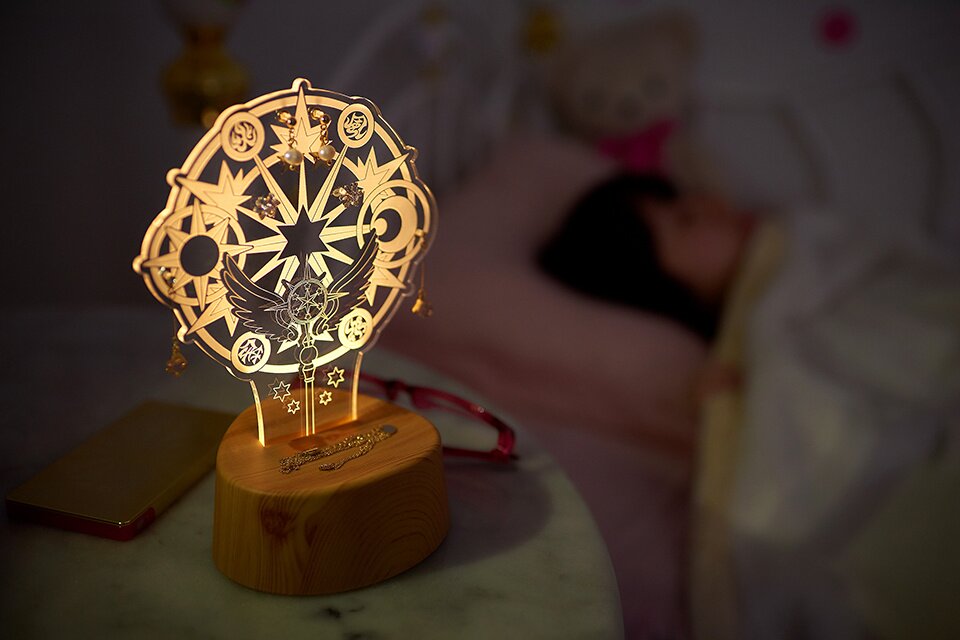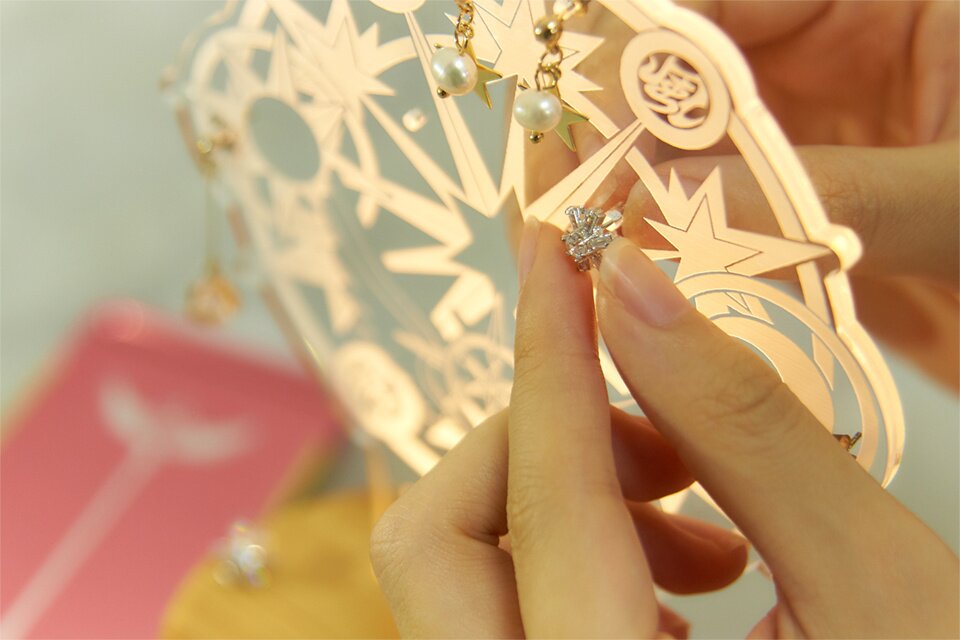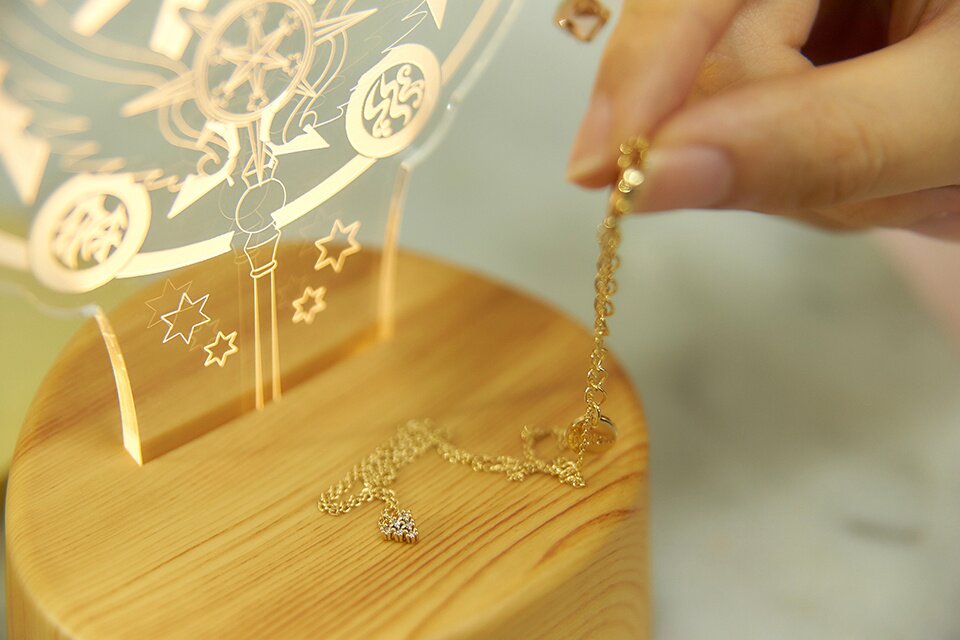 The base has a built-in LED light, which shines soft light onto the wand and magic circle. The acrylic section is laser engraved on both sides, creating a three-dimensionally emerging wand and magic circle when turned on.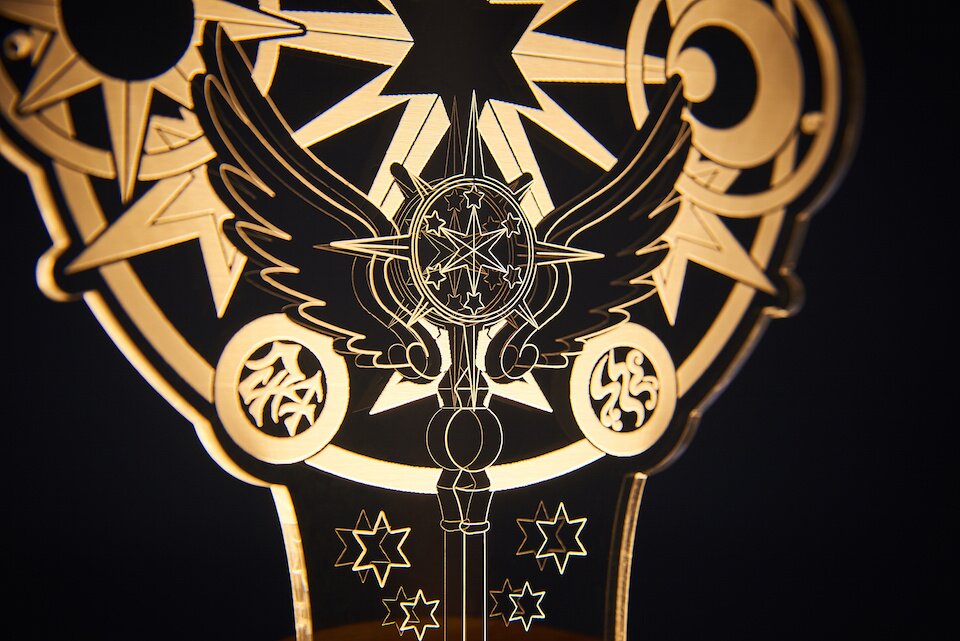 The LED light includes a switch for turning it on and off, a sound sensor which can be used to control the item, as well as an automatic turn-off function. It can even be placed beside your bed to be used as a night light when sleeping. Its sound sensor and automatic turn-off function allows you to sleep comfortably without leaving your bed.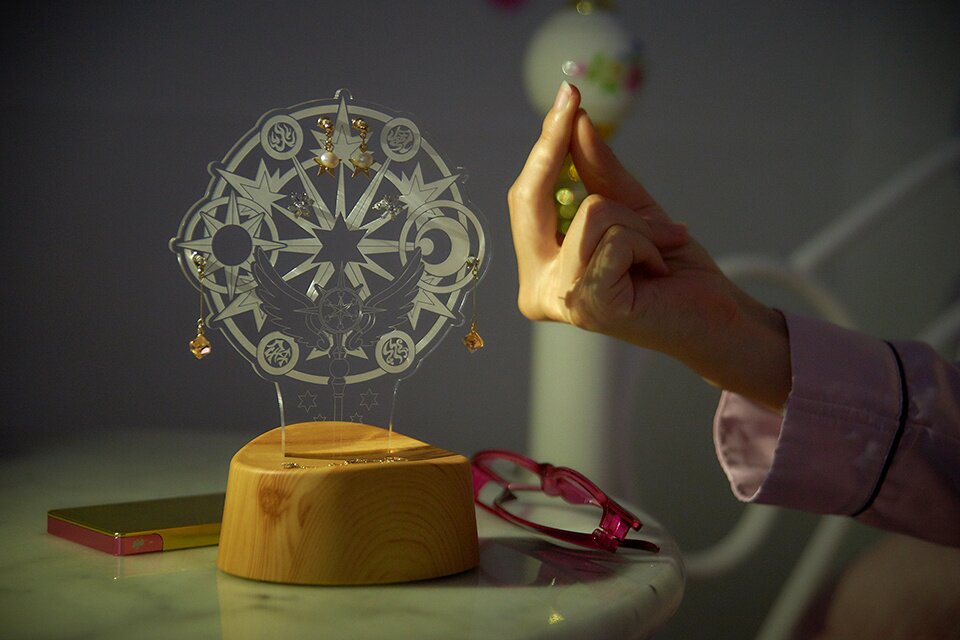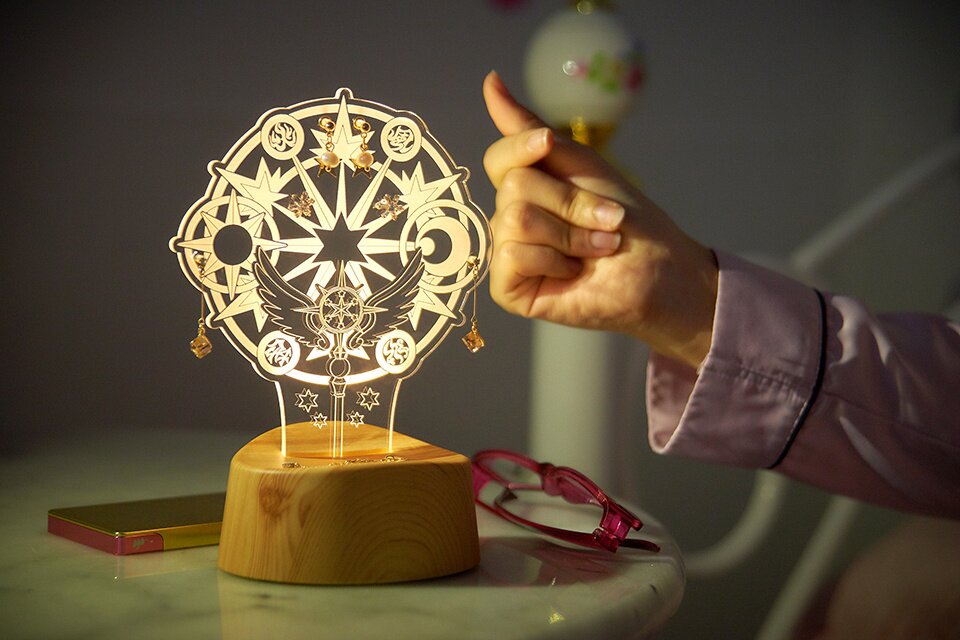 It has a simple appearance consisting of white, clear and wood materials, and can easily be matched with various rooms. Its cordless design allows it to be carried anywhere. The stand can be used in many different ways, and was created as a useful item that can be used to match the user's lifestyle.
A great item that lets you enjoy the world of Cardcaptor Sakura through its soft light in your everyday life.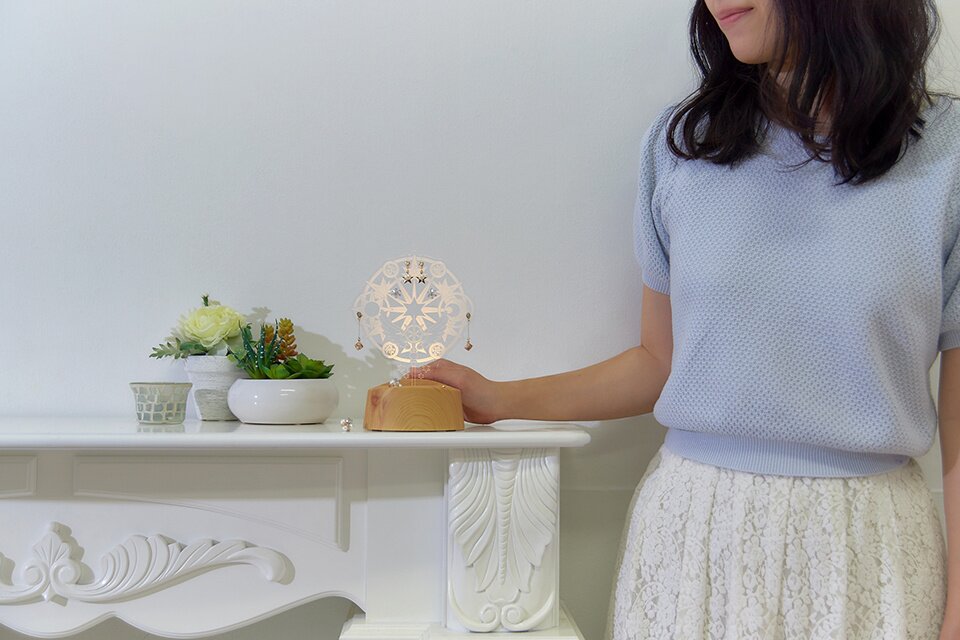 ---
Product Details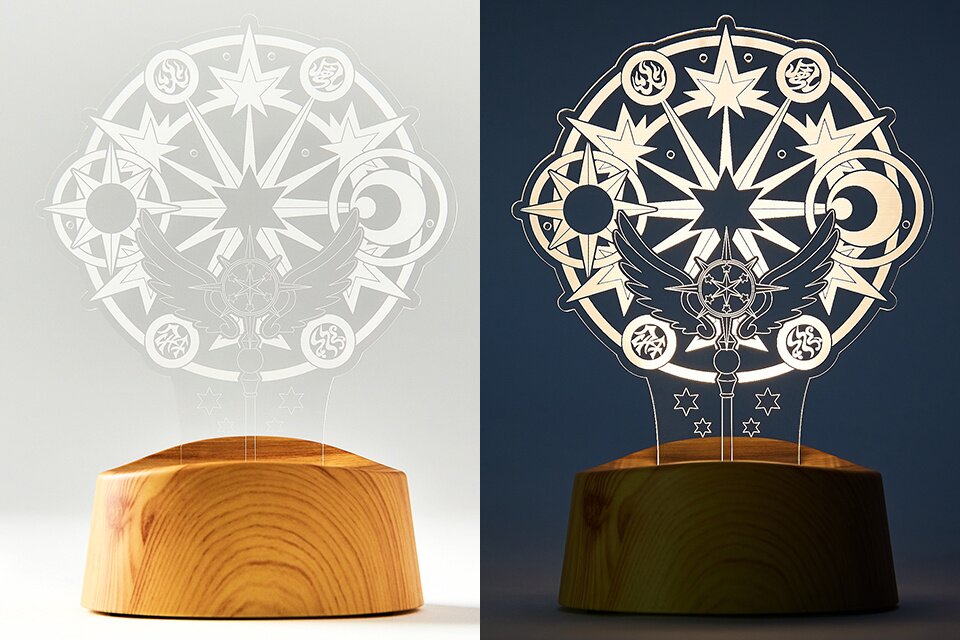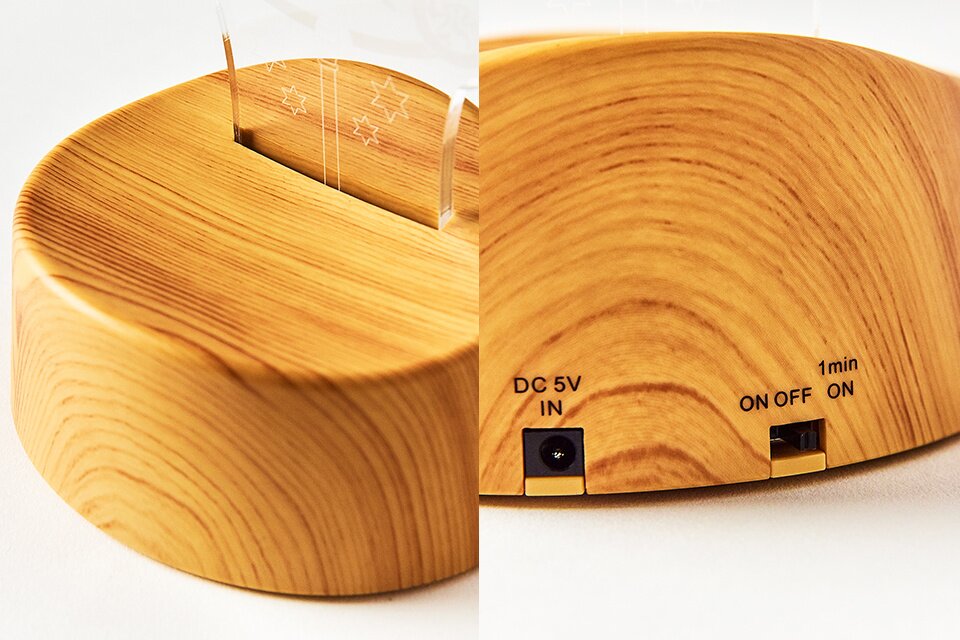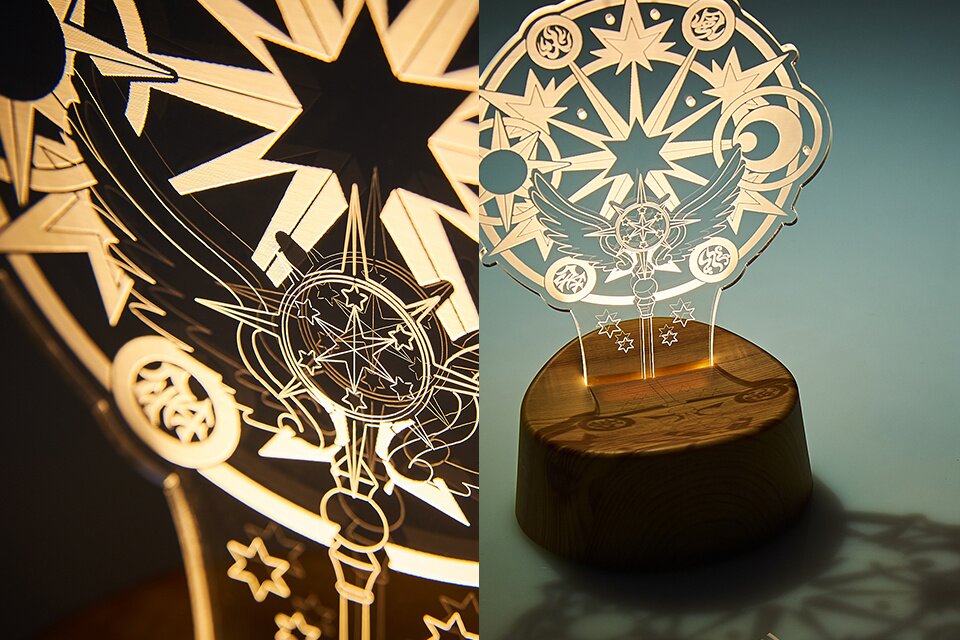 Price: 3,980 yen (excl. tax)
Materials: Acrylic, ABS resin
Size: Approx. 135 x 185 x 85mm
Weight: Approx. 235g
Required Batteries: 3 AAA batteries
(Batteries sold separately)
---
Caution
Keep away from fire and heating appliances, as they may cause deformation, alterations or fires.
Do not disassemble or customize. This may cause injuries and malfunctions.
Please place the product on a solid surface, such as a horizontal table, to prevent damage.
Stop using the product if it becomes deformed or damaged.
The acrylic sections are very fragile. They may be damaged if dropped from a high place.
Please make sure the product is being used safely when in the hands of infants, the elderly, and pregnant women.
The structure of the product may cause injuries. Please use the product safely.
[Order Deadline]
Pre-orders end August 31, 2018 at 11:59 PM JST.
[Estimated Shipping Date]
Shipping is planned to begin when production finishes in late September 2018.
About Cardcaptor Sakura: Clear Card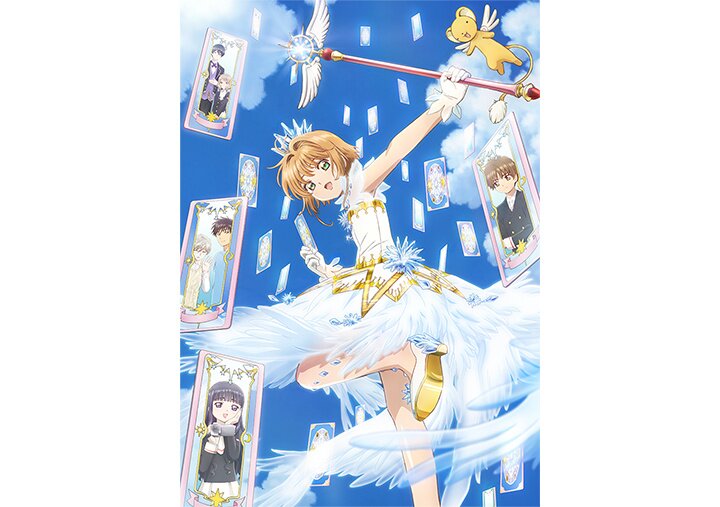 Sakura, after gathering the Clow Cards and stopping them from bringing misfortune onto the world, changed them to her own cards using her own power. Now it's April, with the cherry blossoms in full bloom, and she's a first-year middle school student.
There, she meets Syaoran again after his return from Hong Kong. Though they delight in being able to go to school together, Sakura discovers one night that the cards she gathered have changed...!
Throughout the town of Tomoeda, mysterious things keep occurring. Led by the key that she obtained in a dream, Sakura once more begins to gather the cards.
Among all of this chaos, a new girl transfers to her class...
[Staff]
Original work: CLAMP
Director: Morio Asaka
Series Editor and Screenwriter: Nanase Ohkawa
Costume and Card Designer: Mokona
Character Designer: Kunihiko Hamada
Music Director: Masafumi Mima
Music: Takayuki Negishi
Animation Production: Madhouse
[Cast]
Sakura Kinomoto: Sakura Tange
Keroberos: Aya Hisakawa
Tomoyo Daidouji: Junko Iwao
Syaoran Li: Motoko Kumai
Akiho Shinomoto: Minori Suzuki
Yuna D. Kaito: Natsuki Hanae
Fujitaka Kinomoto: Hideyuki Tanaka
Touya Kinomoto: Tomokazu Seki
Yukito Tsukishiro/Yue: Megumi Ogata
Eriol Hiiragizawa: Nozomu Sasaki
Kaho Mizuki: Emi Shinohara
Spinel Sun: Yumi Touma
Nakuru Akizuki/Ruby Moon: Ryouka Yuzuki
Takashi Yamazaki: Issei Miyazaki
Chiharu Mihara: Miwa Matsumoto
Naoko Yanagisawa: Emi Motoi
Cardcaptor Sakura Official Site:
http://ccsakura-official.com
---
About Toyo Case
Toyo Case is a company that manufactures and sells a wide variety of products, such as storage goods, miscellaneous goods, lunch-associated goods such as lunch boxes, and other items. It strives to be a company that always creates new miscellaneous goods that make customers think, "I wanted this!" and, "I was looking for this kind of item," through product development, and aims to bring warmth to everyday life and "satisfy the heart" with its products.
Corporate Website: https://www.toyo-case.co.jp/company/
---
About Tokyo Otaku Mode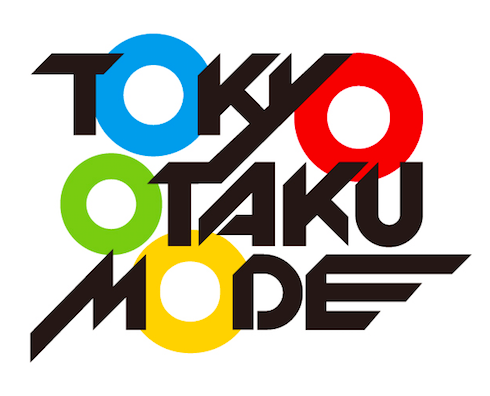 Tokyo Otaku Mode (TOM) shares with the world the latest Japanese pop culture news through its Facebook page, which has over 20 million likes, and sells products related to Japanese anime, manga, games, music, and fashion through its website, the Tokyo Otaku Mode Shop.
Corporate Website: https://corporate.otakumode.com/
---
©CLAMP, ST/KODANSHA, NEP, NHK
Q: When will rewards be shipped out?



A: They are scheduled to be shipped starting in late September 2018 after production is complete.
Q: What payment methods are there?



A: We accept credit/debit card and Paypal.
Q: When will I be charged?



A: You will be charged immediately upon backing the project.
Q: Where will rewards be shipped from?



A: Rewards will be shipped directly from Tokyo Otaku Mode in Japan.
Q: Why can't I press the "Reserve" button?



A: Please ensure that you have filled out your payment method and shipping information and try again.
Q: Are the rewards that ship to Japan and ship internationally different?



A: No. The rewards are the same. The only difference is the shipping cost.
Q: How will you ship the rewards?



A: Rewards will be shipped by EMS.
Q: Will I need to pay any additional import duties, VAT, customs taxes, or local handling fees when receiving my reward?



A: Depending on your country's customs laws, you may be required to pay a tax before obtaining your package. In some areas, such as the United Kingdom and France, the local postal service may charge an extra handling fee for processing packages affected by customs taxes. Payment of customs taxes and any possible handling fees is the responsibility of the purchaser.
Q: Can I change my Shipping address?



A: Shipping address can be changed via your My Projects page. Please note that the shipping address is no longer changeable after we enter shipping preparations. The option will disappear once we enter shipping preparation.
Q: Can I cancel any order?



A: We do not accept cancellations.