To all Roselia fans, the time you've been waiting for has come! The original goods set full of all-new illustrations of Roselia, the band that rose to first place in the first general election for the English version of BanG Dream! Girls Band Party! with a theme of "Who would you want to perform at your birthday party?", has finally been completed!
The illustrations feature the band's five members wearing casual clothing as they go on vacation overseas. Enjoy these versions of the girls as they take a break from their stage outfits and have fun traveling!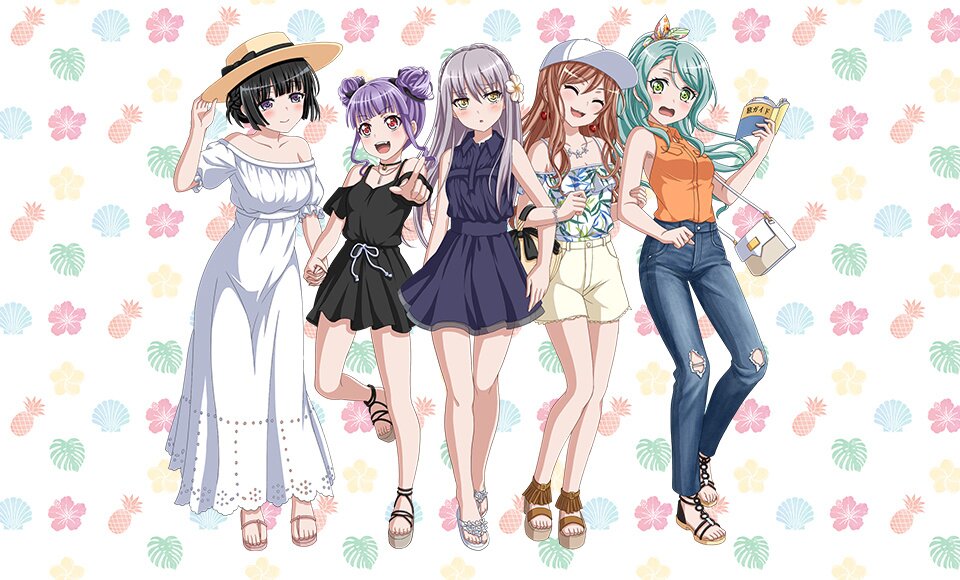 The goods include a full graphic T-shirt, a tapestry, an acrylic stand, pins, and a tumbler. The box includes a balanced lineup of items you can use at events as well as in your everyday life.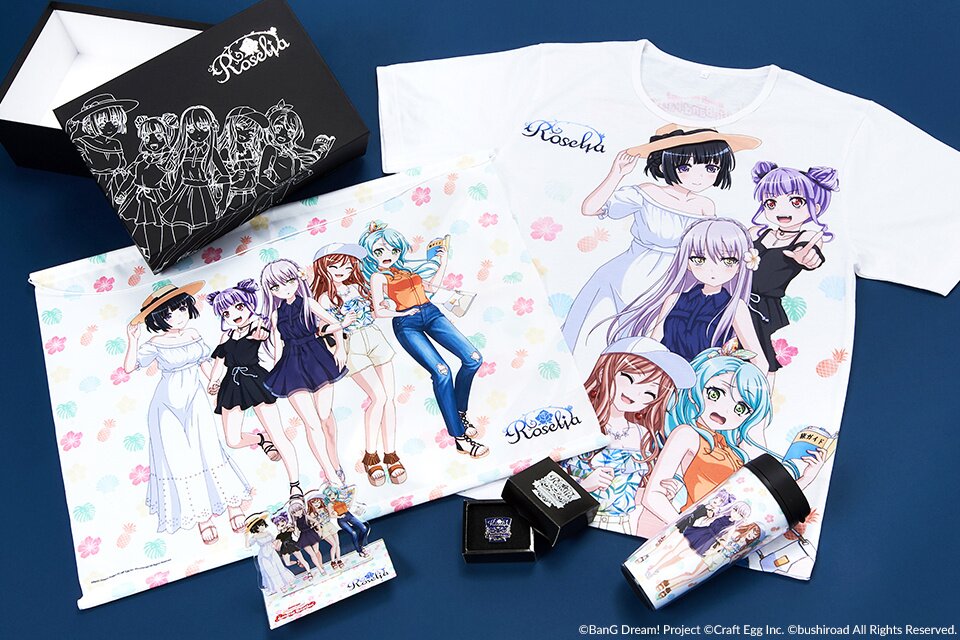 Of course, the box the goods come in also is decorated with an all-new illustration of the band.
The black box has been created in Roselia's image, with the band's logo stamped in silver leaf. We wanted the box to be as collectible as the goods themselves.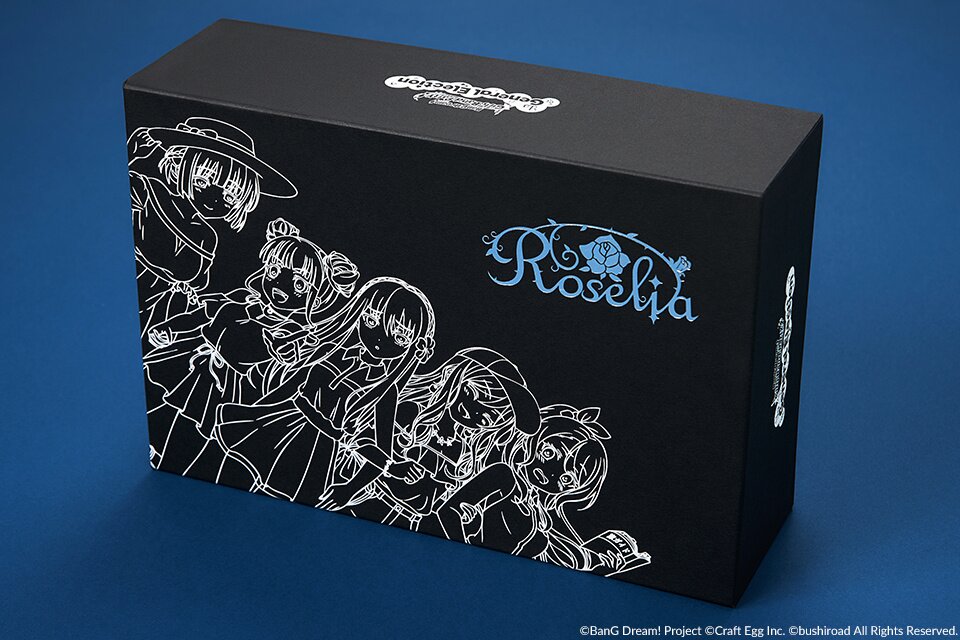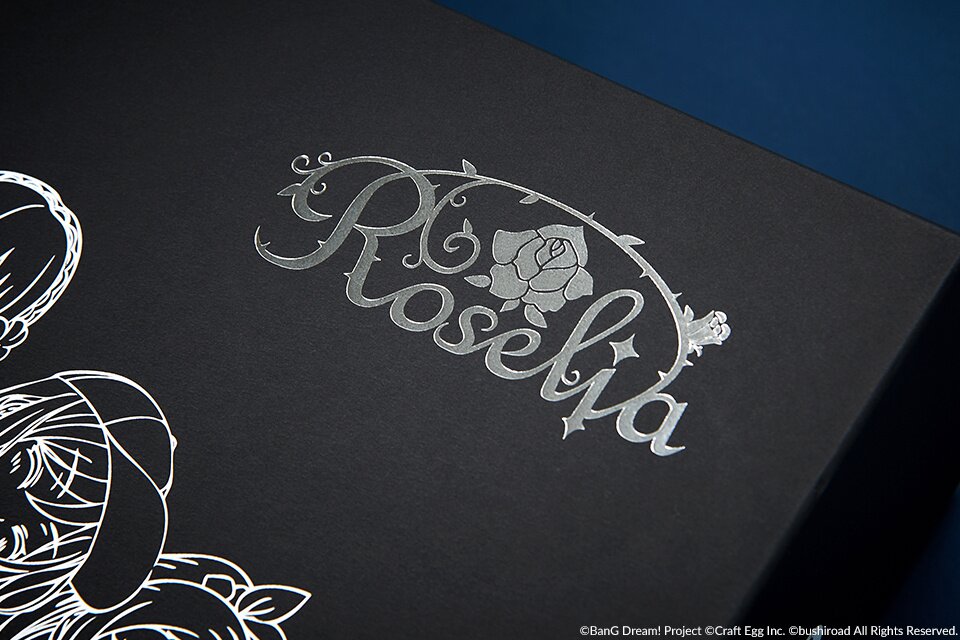 This set is a must-have not only for Roselia fans, but for all BanG Dream! fans!
Note: The merchandise is still in production, so images may differ from the finished products.
Full Graphic T-shirt
Size: One size fits all ( Length: 28.7 Width: 21.7 Shoulder: 8.7 in) All measurements are approximations.
Material: Polyester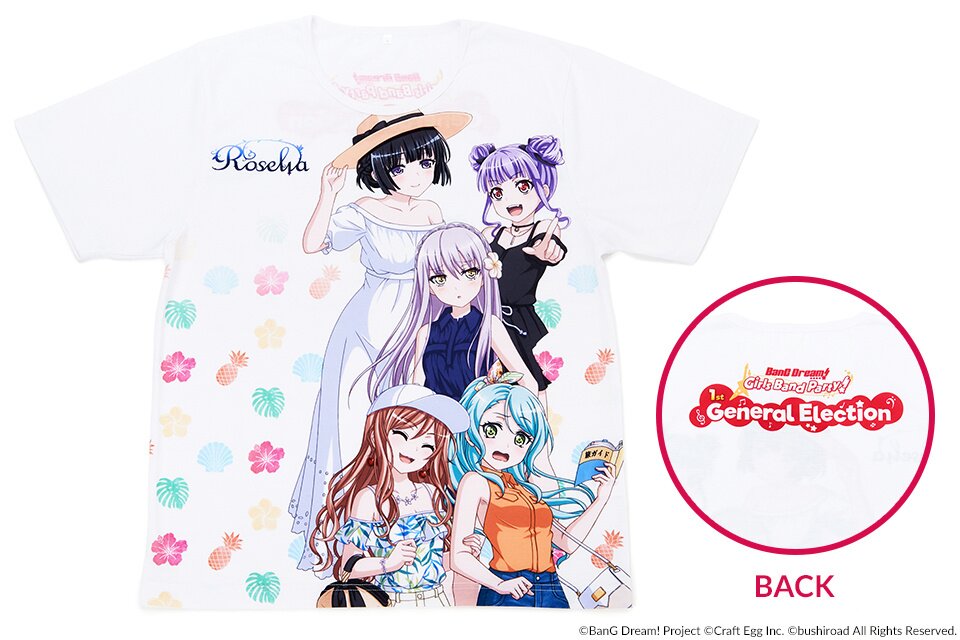 Tapestry
Size: A2 (16.5 x 23.4 in)
Material: Polyester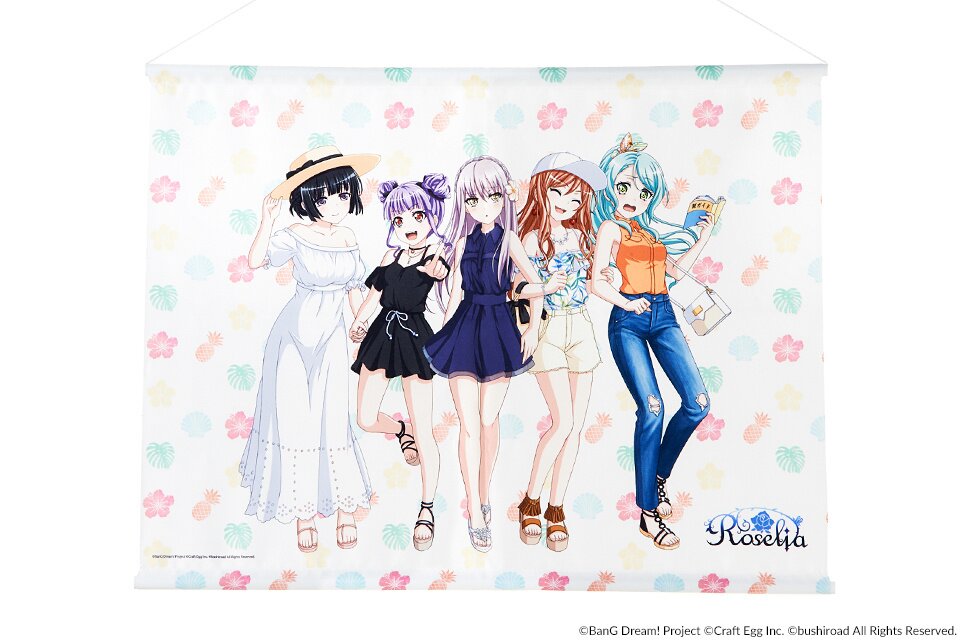 Acrylic Stand
Size:
Before assembly: approx. 5.1 in x 5.5 in x 0.3 in
After assembly: approx. 4.7 in x 5.5 in x 2.5 in
Material: Acrylic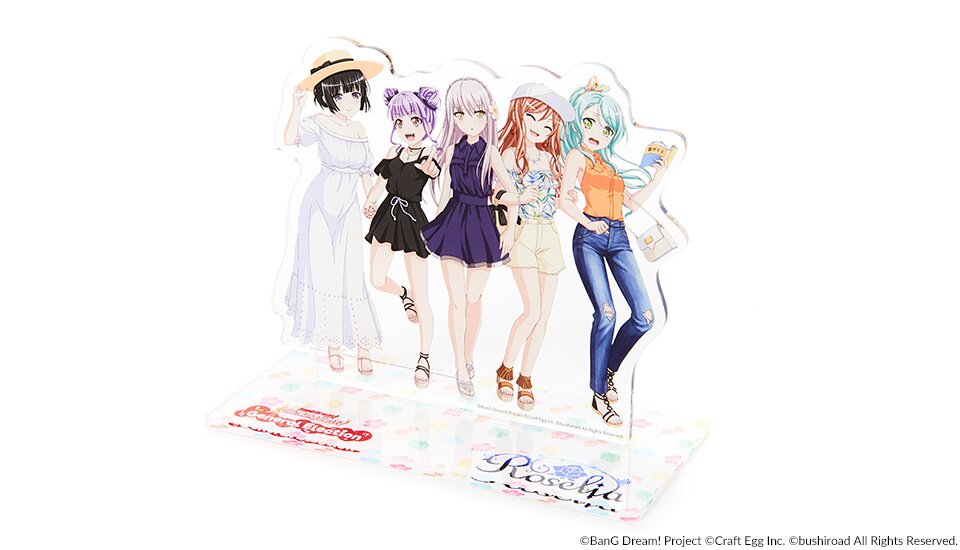 Pins
Actual size: approx. 1.2 in x 1.2 in
Box size: approx. 1.4 in x 3.3 in x 2.5 in
Material: Iron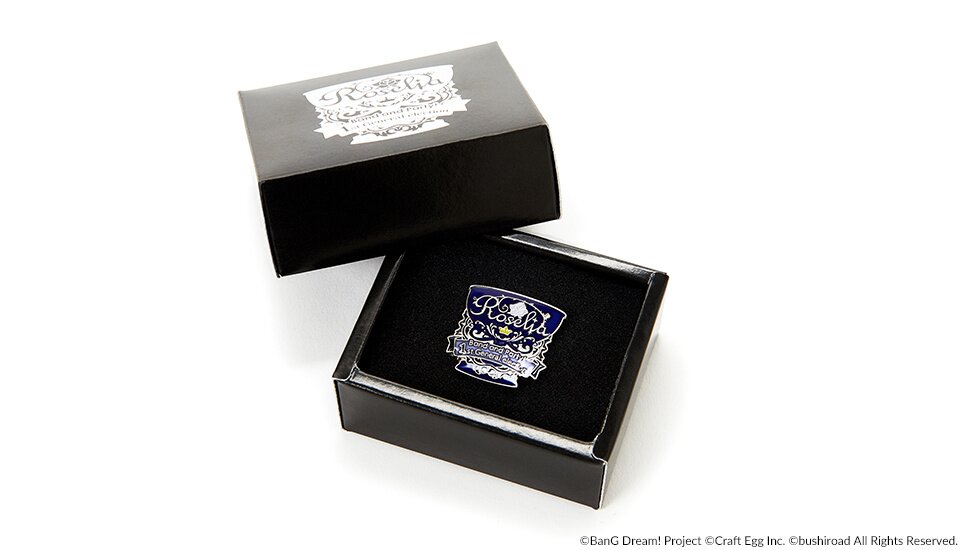 Tumbler
Size: approx. 7.7 in x 3.1 in x 3.1 in
Material: Plastic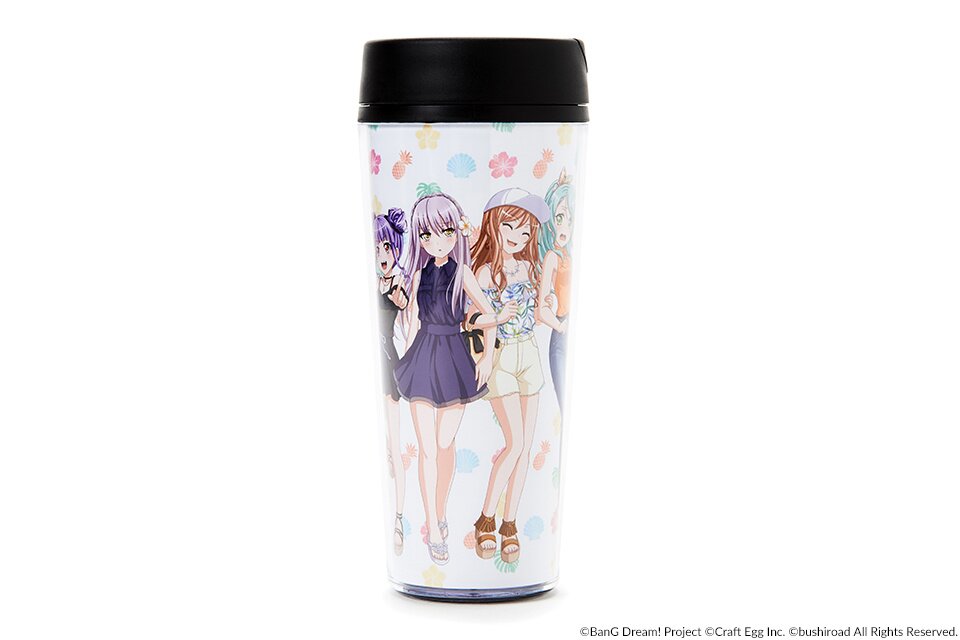 Box
Size: approx. 4.1 in x 12.4 in x 8.2 in
Material: Paper
BanG Dream! is a multimedia girls band project that links characters and live events. The project has produced a mix of media, such as anime, games, and live events. The Japanese version smartphone game reached its second anniversary on March 16, 2019. Also, the English version smartphone game has recently reached its first anniversary on April 4.
A third season of the anime is now being produced and a mini anime called BanG Dream! Girls Band Party!☆PICO aired in Winter 2018. The voice actresses for the characters in the bands Poppin'Party and Roselia have formed their own bands in real life and are actively performing at live events. A third band RAISE A SUILEN also performs live. BanG Dream! 7th☆LIVE was a 3-day-long live concert that was presented by TOKYO MX at the Nippon Budokan in February 2019.
Official Site
https://bang-dream-gbp-en.bushiroad.com/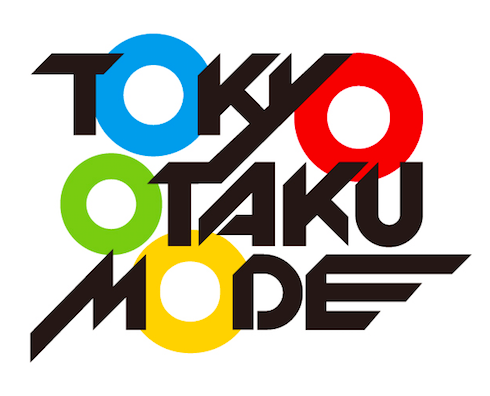 Tokyo Otaku Mode (TOM) shares with the world the latest Japanese pop culture news through its Facebook page, which has over 20 million likes as of February 2019 and sells products related to Japanese anime, manga, games, music, and fashion through its website, the Tokyo Otaku Mode Shop. Tokyo Otaku Mode Projects is a service aimed to connect Japanese companies with fans around the world by offering Japanese products, even outside of the otaku genre, and will continue offering various goods overseas and in Japan.
Please visit the corporate site for information about product development, shipping agencies, and our other businesses.
Corporate Website: https://corporate.otakumode.com
©BanG Dream! Project ©Craft Egg Inc. ©bushiroad All Rights Reserved.
Q: When will rewards be shipped out?

A: They are scheduled to be shipped starting in August 2019 after production is complete.

Q: What payment methods are there?

A: We accept credit/debit card and Paypal.

Q: Where will rewards be shipped from?

A: Rewards will be shipped directly from Tokyo Otaku Mode in Japan.

Q: Why can't I press the "Reserve" button?

A: Please ensure that you have filled out your payment method and shipping information and try again.

Q: Are the rewards that ship to Japan and ship internationally different?

A: No. The rewards are the same. The only difference is the shipping cost.

Q: How will you ship the rewards?

A: Rewards will be shipped by EMS.

Q: Will I need to pay any additional import duties, VAT, customs taxes, or local handling fees when receiving my reward?

A: Depending on your country's customs laws, you may be required to pay a tax before obtaining your package. In some areas, such as the United Kingdom and France, the local postal service may charge an extra handling fee for processing packages affected by customs taxes. Payment of customs taxes and any possible handling fees is the responsibility of the purchaser.

Q: Can I change my Shipping address?

A: Shipping address can be changed via your [My Projects](https://otakumode.com/projects/profile/myprojects) page. Please note that the shipping address is no longer changeable after we enter shipping preparations. The option will disappear once we enter shipping preparation.

Q: Can I cancel any order?

A: We do not accept cancellations.

Q: What should I do if the package for my product arrived damaged?

A: The package is for protecting the actual product, and cannot be exchanged.