The omni-directional mobility gear is a highly recognizable item from the popular series Attack on Titan. We've created a new lineup of bags based on the equipment! This time we're introducing a leg pouch that was made in the image of not only the vertical maneuvering equipment, but the world of Attack on Titan itself. It is the perfect size for holding small items, such as wallets and cell phones.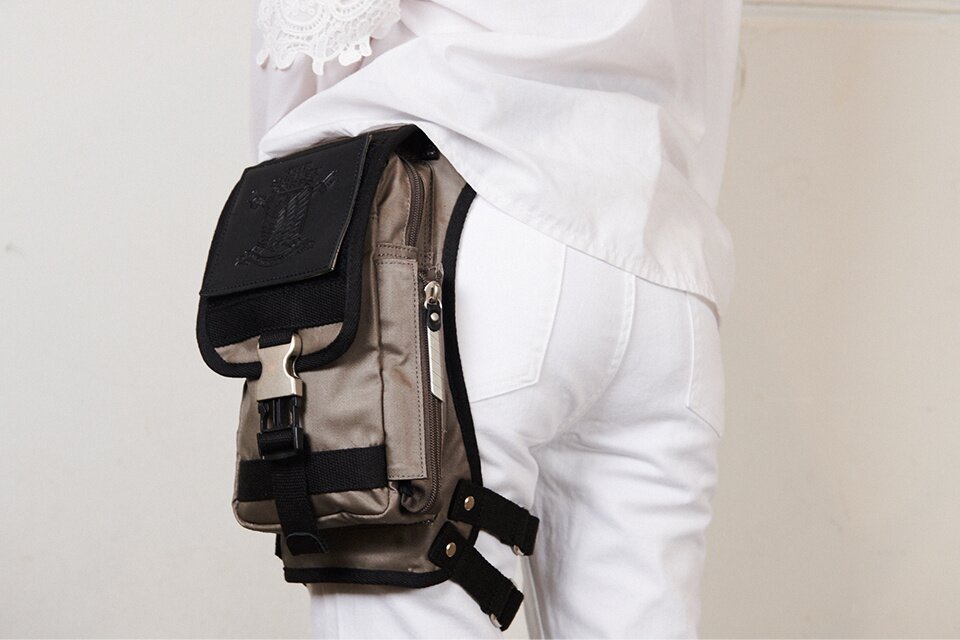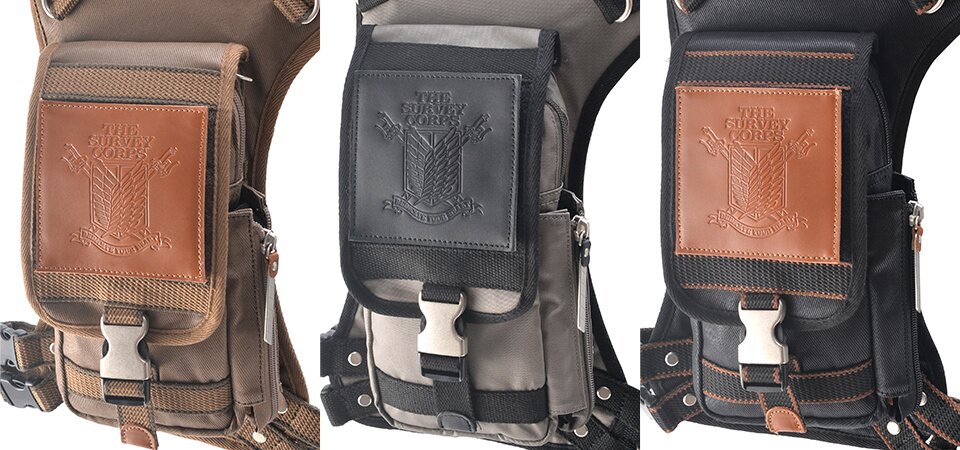 The design is similar to that of the Attack on Titan Vertical Maneuvering Equipment 4-Way Bag, a previous TOM project, and is extremely close to the visual designs in the anime.
Because it is compact and easy to carry around, it is the perfect item to grab on your way out the door.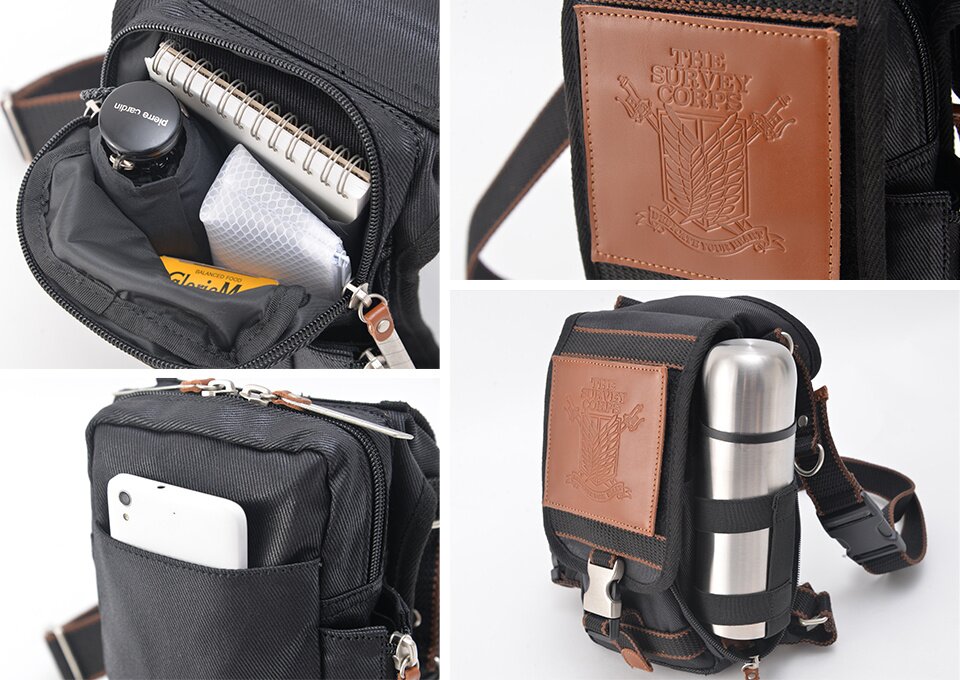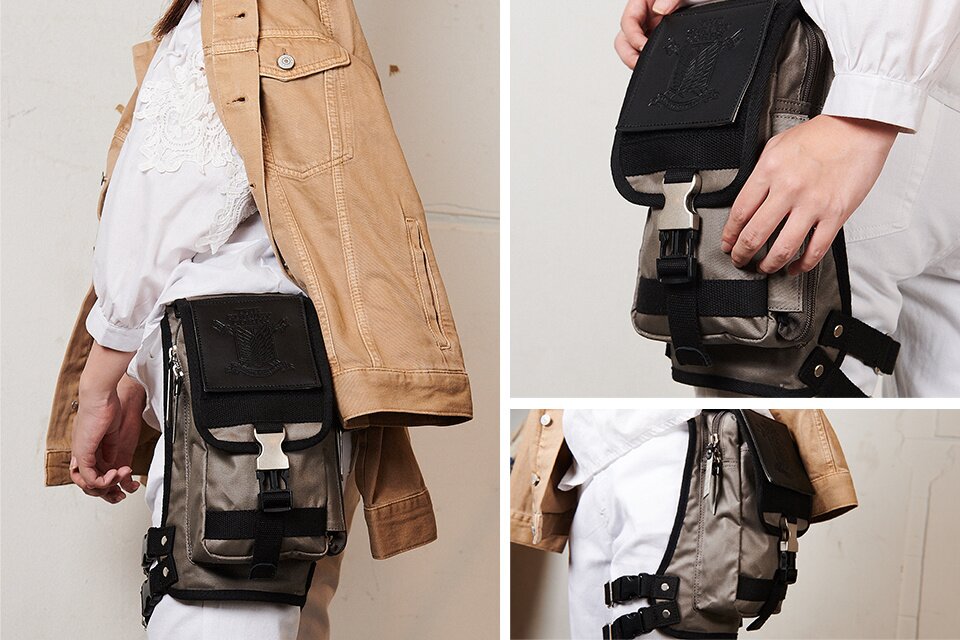 Like the former Vertical Maneuvering Equipment 4-Way Bag, this bag comes in black, khaki, and gray variations. We also offer a swappable set of leather military crests so you can change the decoration of your bag as you please.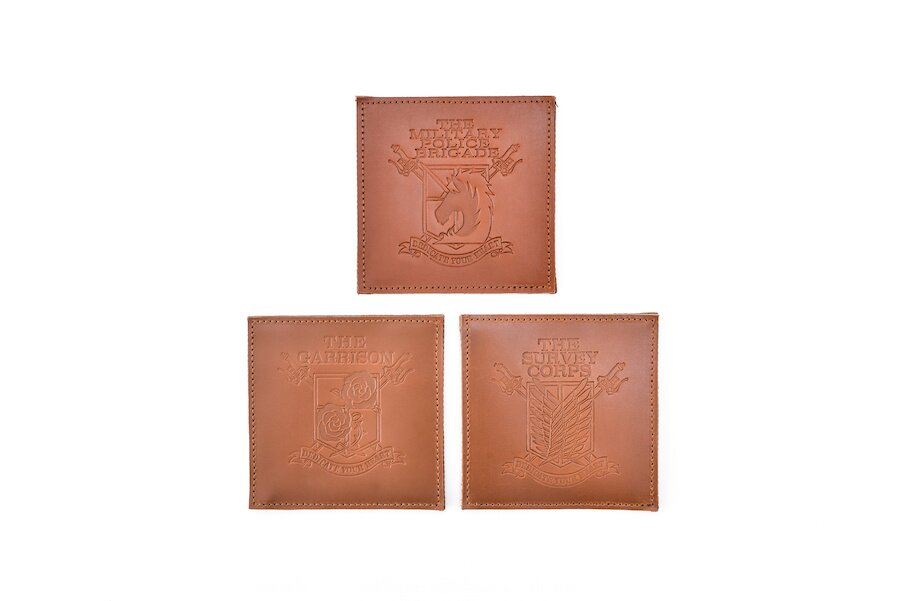 Crests included in the black and khaki Omni-directional Mobility Gear Leg Pouch w/ Military Crest Set.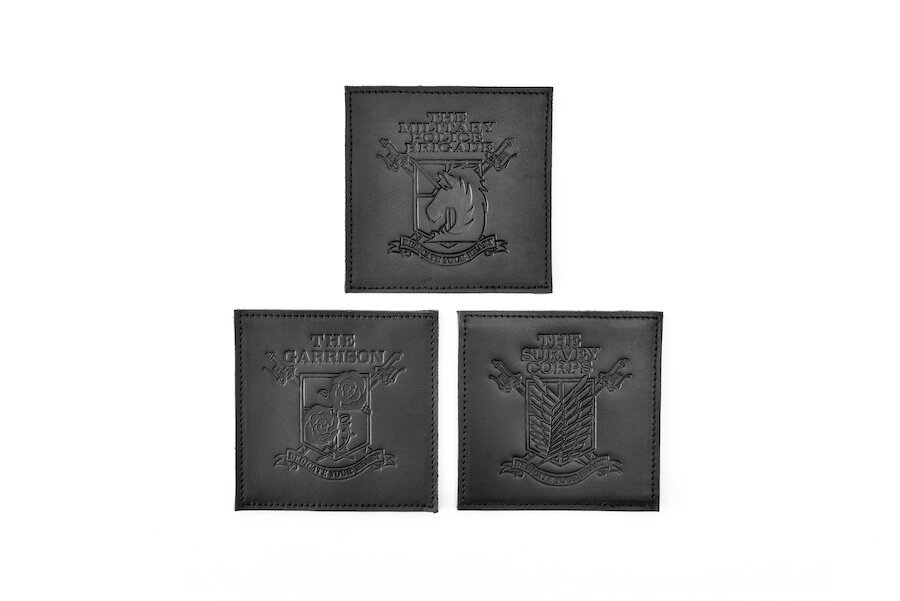 Crests included in the gray Omni-directional Mobility Gear Leg Pouch w/ Military Crest Set.
Note: Images are of products under development and may differ from the finished product. Pouch Size: approx. 25 cm high x 13 cm long x 5 cm wide / 9.8 in x 5.1 in x 2.0 in Backing Size: approx. 36 cm (center height) x 16 cm (center length) / 14.2 in x 6.3 in Opening (on front): approx. 26 cm / 10.2 in long Front Flat Pocket: approx. 20 cm x 12.5 cm / 7.9 in x 4.9 in Lower Belt: approx. 20-36 cm / 7.8-14.2 in long (belt only, does not include metal connector length), 2.5 cm / 1.0 in wide Upper Belt: approx. 58-106 cm / 22.8-41.7 in long (does not include metal connector length), 3.5 cm / 1.4 in wide Weight: approx. 566 g /1.2 lb
---
![file](https://d3ieicw58ybon5.cloudfront.net/ex/900.1275/project_description/ae68674a98014286bd1c7d6f52387051.jpg) In a world where Titans ruled the world, humans had become the prey of the Titans and built massive 50-meter walls to protect themselves from annihilation in exchange for their freedom to the outside world...
Eren Yeager was a 10-year-old who dreamed of the outside world beyond the walls.
He felt out of place with people surrounding him who were satisfied with the temporary peace and had given up on leaving their walled-up world. Eren called them cattle, and they had alienated him.
However, with the emergence of the Colossus Titan which was able to cross over the wall, Eren's dream and the people's peace were suddenly crushed to bits.
Attack on Titan Official Website
https://shingeki.tv/season3/
© Hajime Isayama, KODANSHA/"ATTACK ON TITAN" Production Committee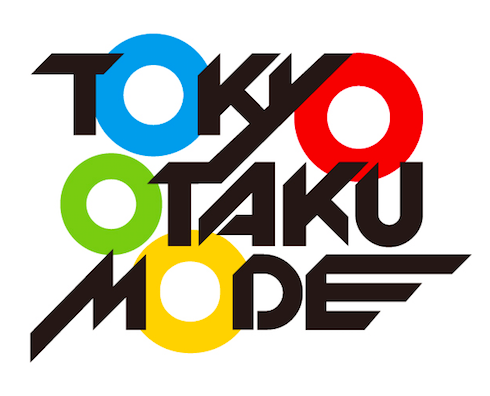 Tokyo Otaku Mode (TOM) shares with the world the latest Japanese pop culture news through its Facebook page, which has over 20 million likes as of August 2019 and sells official products related to Japanese anime, manga, games, music, and fashion through its website, the Tokyo Otaku Mode Shop. Tokyo Otaku Mode Projects is a service aimed to connect Japanese companies with fans around the world by offering Japanese products, even outside of the otaku genre, and will continue offering various goods overseas and in Japan.
Please visit the corporate site for information about product development, shipping agencies, and our other businesses.
Corporate Website: https://corporate.otakumode.com
Q: When will rewards be shipped out?

A: They are scheduled to be shipped starting in January 2020 after production is complete.

Q: What payment methods are there?

A: We accept credit/debit card and Paypal.

Q: Where will rewards be shipped from?

A: Products will be shipped directly from Tokyo Otaku Mode in Japan.

Q: Why can't I press the "Reserve" button?

A: Please ensure that you have filled out your payment method and shipping information and try again.

Q: Are the rewards that ship to Japan and ship internationally different?

A: No. The rewards are the same. The only difference is the shipping cost.

Q: How will you ship the rewards?

A: Rewards will be shipped by EMS.

Q: Will I need to pay any additional import duties, VAT, customs taxes, or local handling fees when receiving my reward?

A: Depending on your country's customs laws, you may be required to pay a tax before obtaining your package. In some areas, such as the United Kingdom and France, the local postal service may charge an extra handling fee for processing packages affected by customs taxes. Payment of customs taxes and any possible handling fees is the responsibility of the purchaser.

Q: Can I change my Shipping address?

A: Shipping address can be changed via your [My Projects](https://otakumode.com/projects/profile/myprojects) page. Please note that the shipping address is no longer changeable after we enter shipping preparations. The option will disappear once we enter shipping preparation.

Q: Can I cancel any order?

A: We do not accept cancellations.

Q: What should I do if the package for my product arrived damaged?

A: The package is for protecting the actual product, and cannot be exchanged.