This cute kitchen item from Cardcaptor Sakura - Clear Card - has made its appearance! Sakura's sidekick, Kero-chan, joins you for teatime!
Latte Art by [Kohei Matsuno.](https://www.instagram.com/latte_stagram/)
This is the next item in our Cardcaptor Sakura series, following the Silver Rings. This cute blue and white mug is easy to use and features Kero-chan peeking into the cup. As you lift the cup to your lips, Kero-chan's cute face gets closer to yours.
The mug's handle is based on the wing shape that is used throughout the series. This mug is designed to seem like it came right out of the world of Cardcaptor Sakura.
It's perfect not just for your daily kitchen table, but also to delight your Cardcaptor Sakura fan friends who come to visit.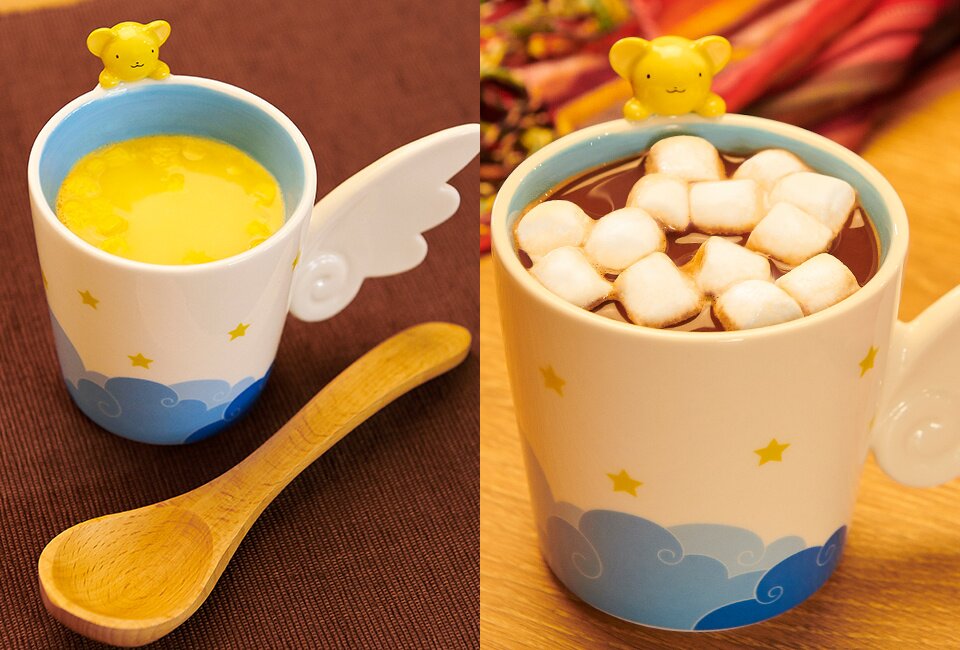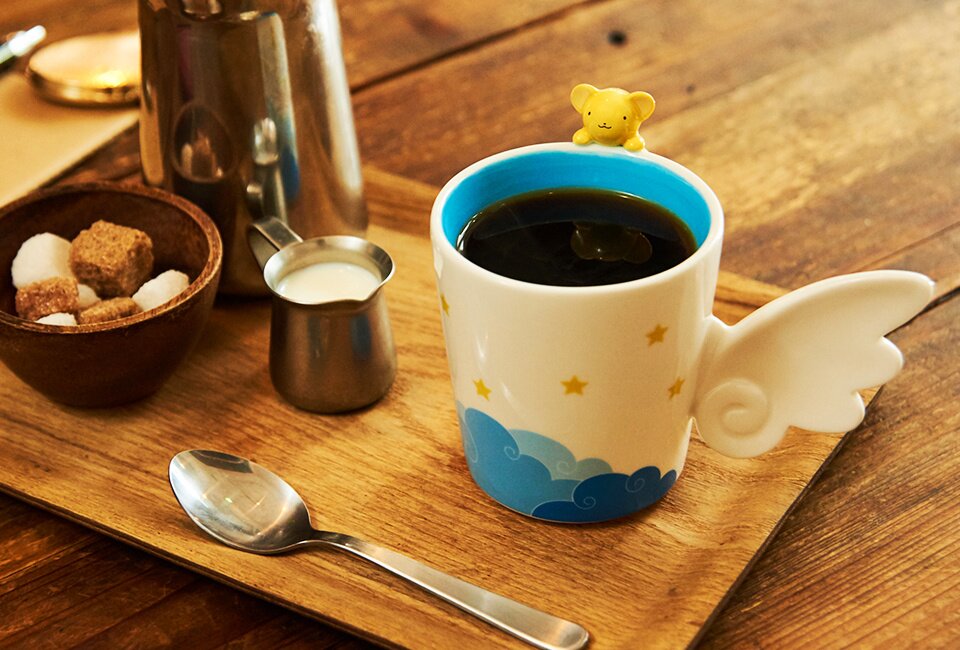 You can use it not just as a mug, but also as a planter or as a holder for accessories or makeup tools.
Please consider bringing the overflowing cuteness of Cardcaptor Sakura world into your daily life.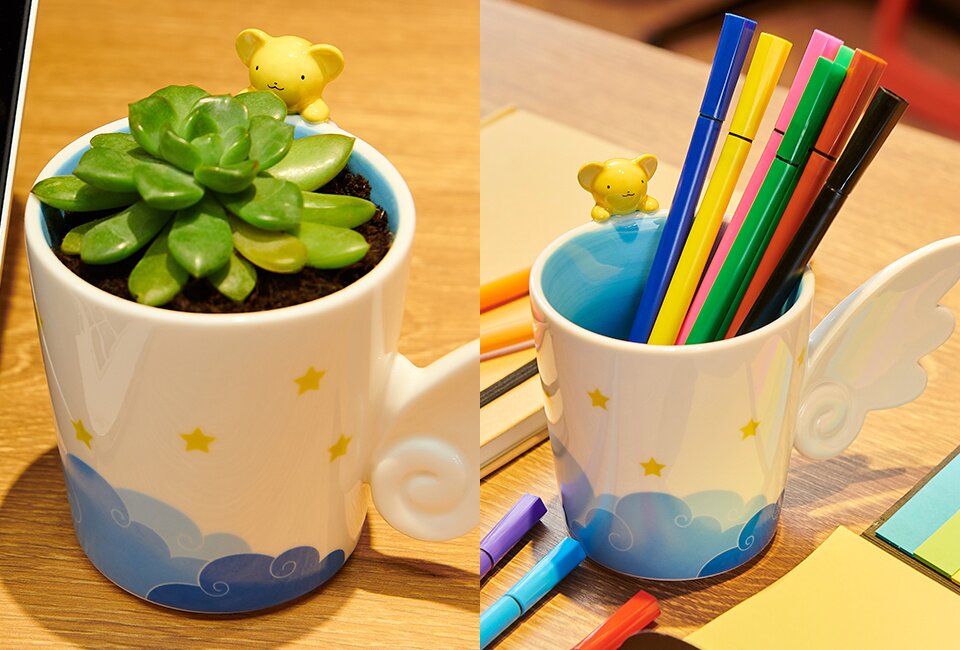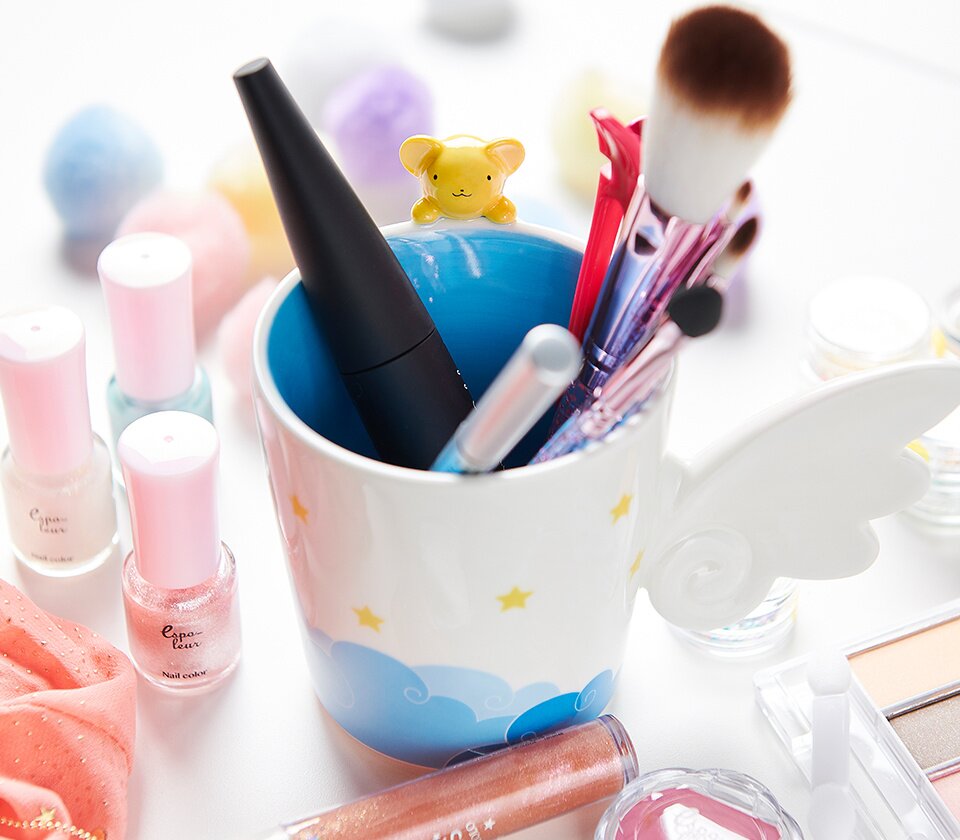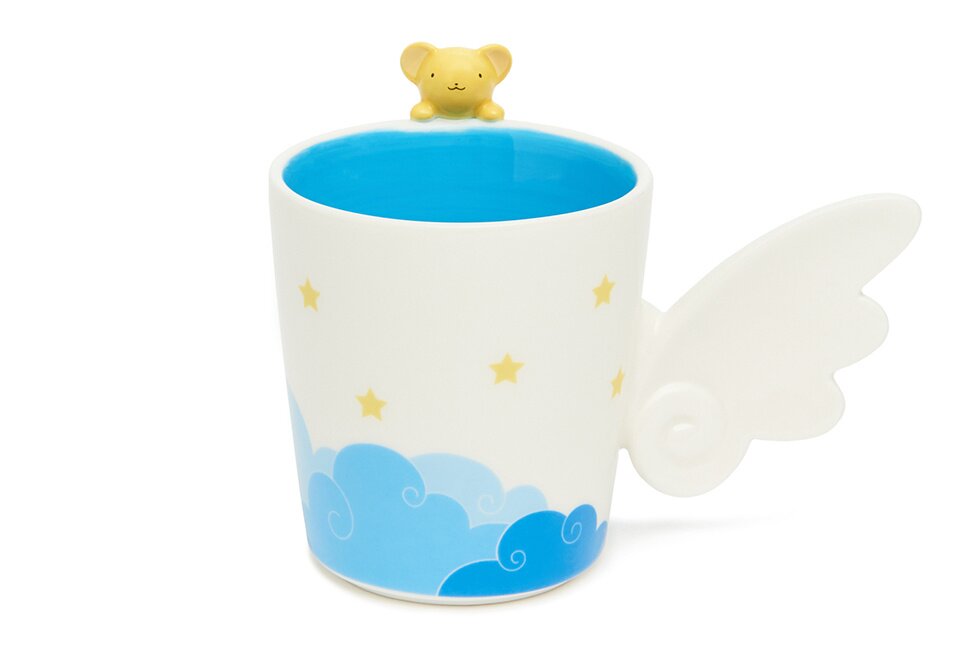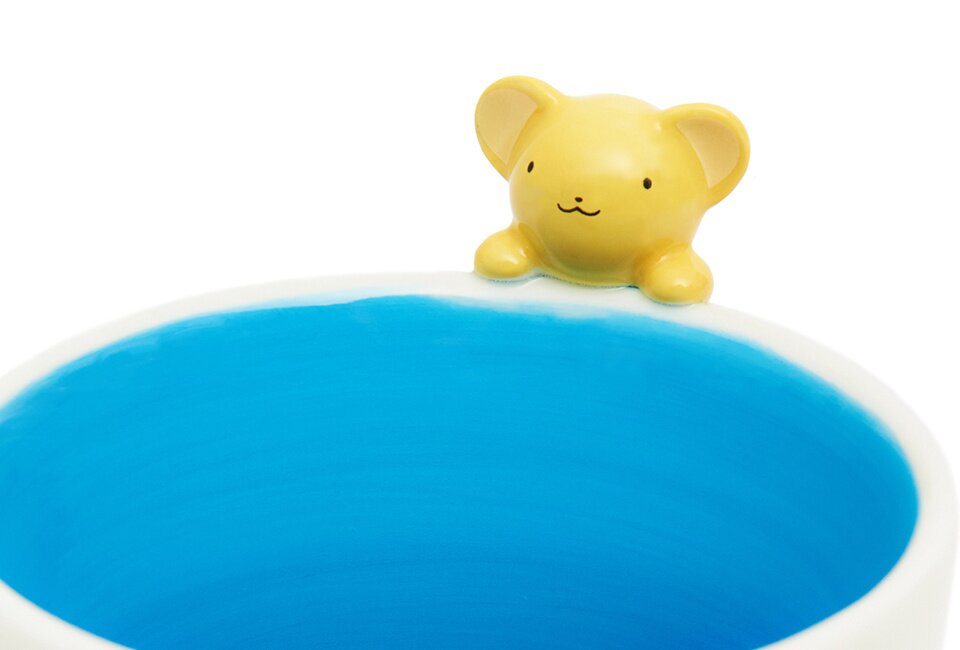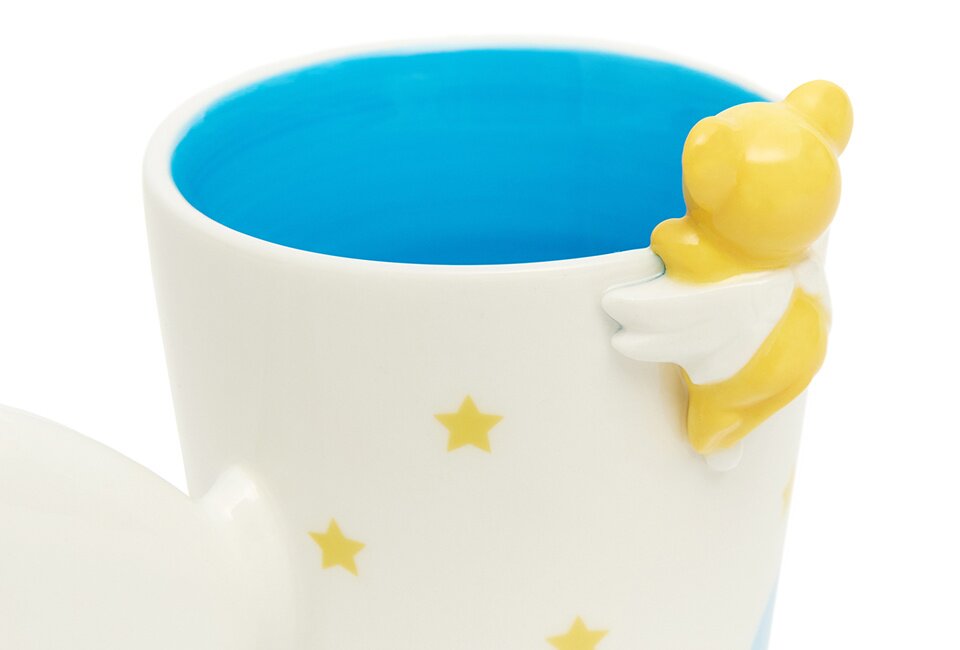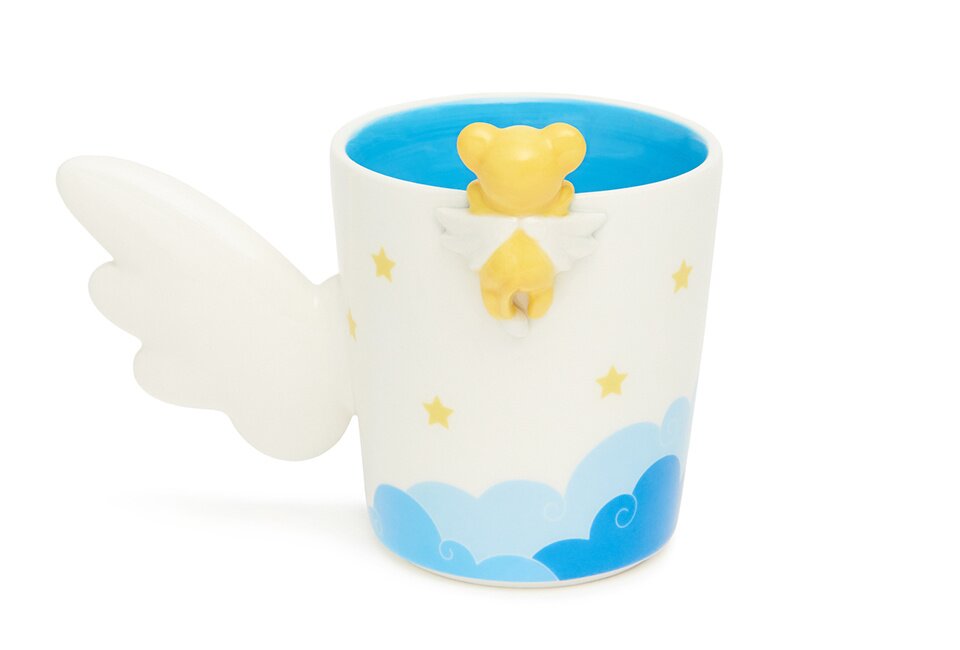 note: This product is currently under development, so the completed product may differ from the image.
Size: 3 in (80 mm) diameter, 4 in (100 mm) tall
Weight: 180g
Materials: Ceramic
[Estimated Shipping Date]
Late February 2019
Cardcaptor Sakura - Clear Card - Silver Rings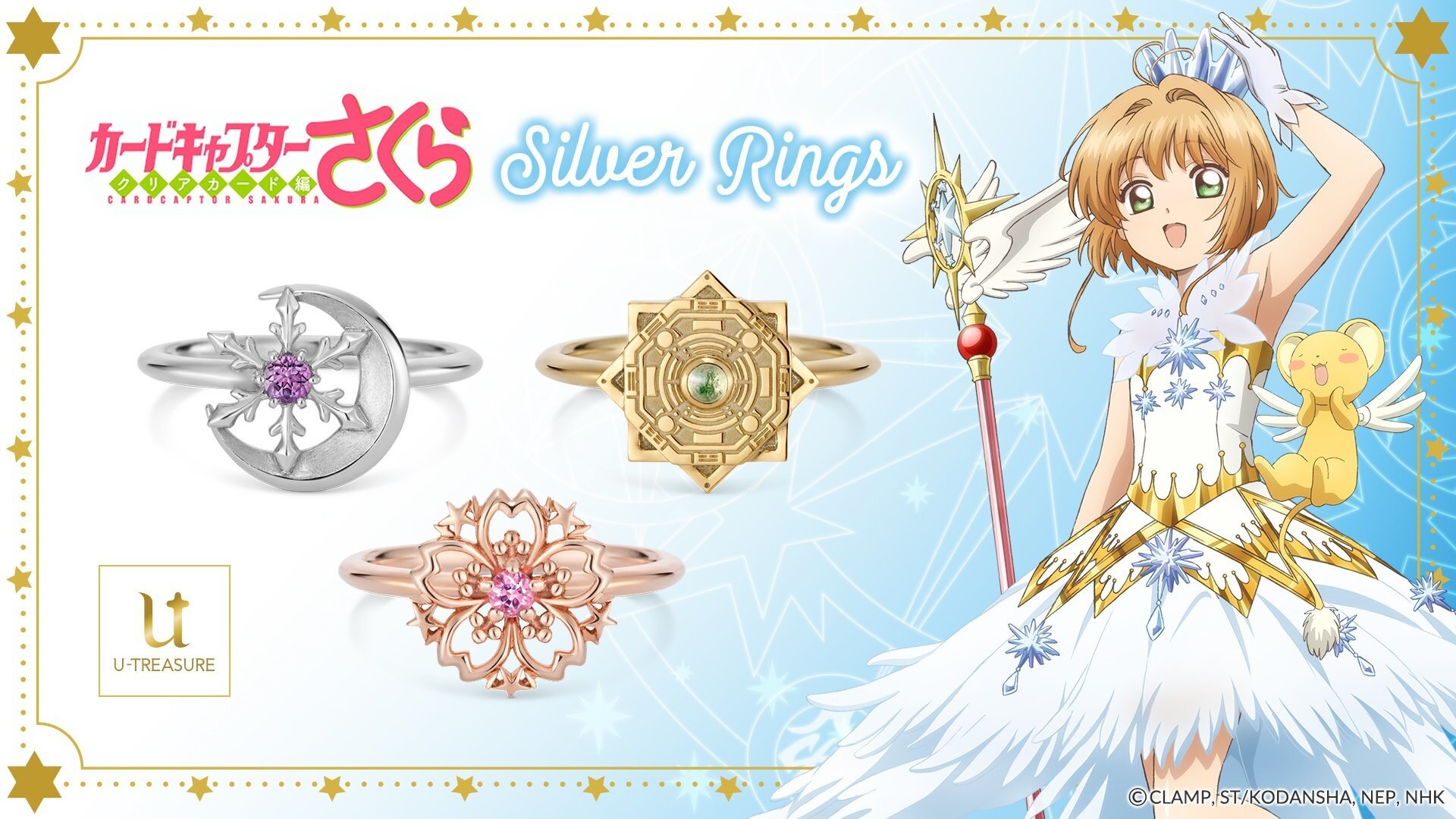 ---
![file](https://d3ieicw58ybon5.cloudfront.net/ex/720.507/project_description/201d2c108c8741bdab672054b49a0c93.jpg) Sakura, after gathering the Clow Cards and stopping them from bringing misfortune onto the world, changed them to her own cards using her own power. Now it's April, with the cherry blossoms in full bloom, and she's a first-year middle school student. There, she meets Syaoran again after his return from Hong Kong. Though they delight in being able to go to school together, Sakura discovers one night that the cards she gathered have changed...! Throughout the town of Tomoeda, mysterious things keep occurring. Led by the key that she obtained in a dream, Sakura once more begins to gather the cards. Among all of this chaos, a new girl transfers to her class...
[Staff]
Original work: CLAMP
Director: Morio Asaka
Series Editor and Screenwriter: Nanase Ohkawa
Costume and Card Designer: Mokona
Character Designer: Kunihiko Hamada
Music Director: Masafumi Mima
Music: Takayuki Negishi
Animation Production: Madhouse
[Cast]
Sakura Kinomoto: Sakura Tange
Keroberos: Aya Hisakawa
Tomoyo Daidouji: Junko Iwao
Syaoran Li: Motoko Kumai
Akiho Shinomoto: Minori Suzuki
Yuna D. Kaito: Natsuki Hanae
Fujitaka Kinomoto: Hideyuki Tanaka
Touya Kinomoto: Tomokazu Seki
Yukito Tsukishiro/Yue: Megumi Ogata
Eriol Hiiragizawa: Nozomu Sasaki
Kaho Mizuki: Emi Shinohara
Spinel Sun: Yumi Touma
Nakuru Akizuki/Ruby Moon: Ryouka Yuzuki
Takashi Yamazaki: Issei Miyazaki
Chiharu Mihara: Miwa Matsumoto
Naoko Yanagisawa: Emi Motoi
Cardcaptor Sakura Official Site: http://ccsakura-official.com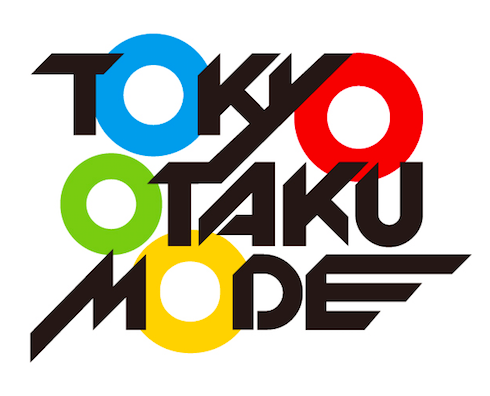 Tokyo Otaku Mode (TOM) shares with the world the latest Japanese pop culture news through its Facebook page, which has over 20 million likes as of October 2017 and sells products related to Japanese anime, manga, games, music, and fashion through its website, the Tokyo Otaku Mode Shop. Tokyo Otaku Mode Projects is a service aimed to connect Japanese companies with fans around the world by offering Japanese products, even outside of the otaku genre, and will continue offering various goods overseas and in Japan.
Please visit the corporate site for information about product development, shipping agencies, and our other businesses.
Corporate Website: https://corporate.otakumode.com
©CLAMP, ST/KODANSHA, NEP, NHK
Q: When will rewards be shipped out?

A: They are scheduled to be shipped starting in February 2019 after production is complete.
Q: What payment methods are there?

A: We accept credit/debit card and Paypal.
Q: Where will rewards be shipped from?

A: Rewards will be shipped directly from Tokyo Otaku Mode in Japan.
Q: Why can't I press the "Reserve" button?

A: Please ensure that you have filled out your payment method and shipping information and try again.
Q: Are the rewards that ship to Japan and ship internationally different?

A: No. The rewards are the same. The only difference is the shipping cost.
Q: How will you ship the rewards?

A: Rewards will be shipped by EMS.
Q: Will I need to pay any additional import duties, VAT, customs taxes, or local handling fees when receiving my reward?

A: Depending on your country's customs laws, you may be required to pay a tax before obtaining your package. In some areas, such as the United Kingdom and France, the local postal service may charge an extra handling fee for processing packages affected by customs taxes. Payment of customs taxes and any possible handling fees is the responsibility of the purchaser.
Q: Can I change my Shipping address?

A: Shipping address can be changed via your [My Projects](https://otakumode.com/projects/profile/myprojects) page. Please note that the shipping address is no longer changeable after we enter shipping preparations. The option will disappear once we enter shipping preparation.
Q: Can I cancel any order?

A: We do not accept cancellations.
Q: Will this item be sold in shops other than Tokyo Otaku Mode?

A: The products will also be offered for wholesale to local distributors in select territories, and we expect that they will in the future become available from retailers with access to these distribution channels.