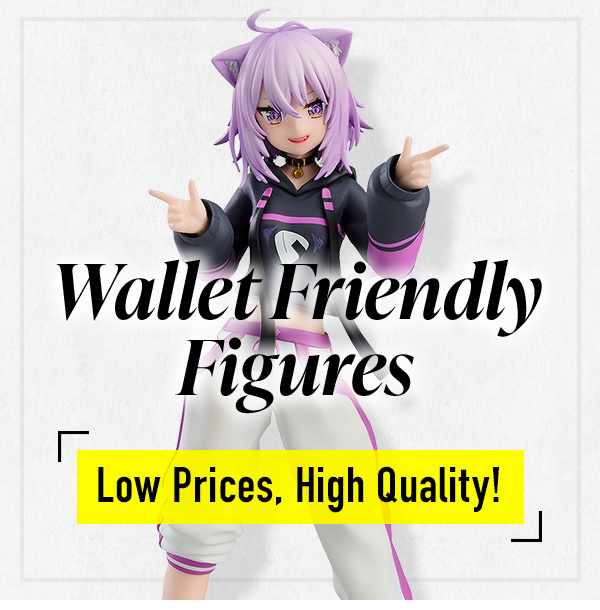 A number of highly anticipated low-price figures went up for pre-order this past week. This is the place to go if you want more bang for your figure-collecting buck!
Weekly Highlights
And of course, plenty of other figures (of all sizes, shapes, and price points) also currently come with bonus TOM Points for Premium members.
Ever taken a look at our line-up of TOM Exclusive Products? You might be surprised to discover collectibles and apparel featuring top characters, creators, and series. For example: Hatsune Miku, hololive, CLAMP, Key, Attack on Titan—and more!

Here's where you'll find all our Granblue Fantasy merch in one place. We've currently got over 80 different items available to choose from!
[New J-Fashion] The latest from Listen Flavor is now up for pre-order for a limited time only, including tops, hoodies & dresses in multiple colors and styles.
TOM Premium Exclusive
Reminder: our latest Premium exclusive giveaway will be open for entries until September 26 (PDT). Don't forget to enter if you haven't already!
Review of the Week
\Thanks for your review!/
figma The Table Museum: Maruyama Okyo's Yurei-zu
first experience with Figma, it's amazing
This is the first Figma figure I've ordered and I have to say I'm amazed at how detailed and poseable this is. Has a slightly transparent look which is done really well, lots of interchangeable parts and moving joints make for tons of ways to pose figure. Very well packaged, came with small ziplock bag for accessories, storage piece for hands, and plugs to ensure holes on extra pieces don't shrink, instructions in english and otherwise easy to figure out was a nice plus. Definitely looking to add fore Figma works to my collection, next may have to be the poseable Munch's Scream from this series which looks really fun. Highly recommend anything from this manufacturer.