Well...
I love SAO and had $50 to waste, so I purchased this Figure. Usually Figma figures are spot on with details and articulation. Not this time, the articulation was awful. I can't move his head up, his legs keep popping off and his feet WILL NOT MOVE! That being said, the details were perfect. I didn't really like the face plate choices, but they weren't terrible. Figma needs to make a Kirito 2.0 (and while they're at it, Asuna could use an update too)! Anyways, the only things I like about this figure is the fact that it's Kirito (and you CANNOT own an Asuna and NOT have her Kirito-kun) and he has a baby face complete with chubby cheeks. So if you have $50 ...Read moreClose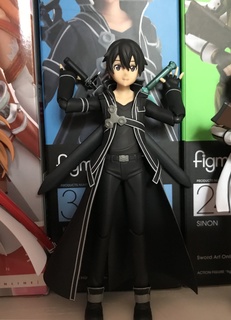 This Figma is legit!!
I have got to say, this figma is really cool!! Max Factory really captured Kirito's expressions and the articulation is amazing. It's a ton of fun to set up Kirito with Asuna in their ALO outfits! Totally recommend to any figma and sao fan.
Delete Review
Are you sure you want to permanently delete this Review?